Review: Samsung Galaxy Rugby Pro for AT&T
Article Comments 4
Dec 12, 2012, 12:25 PM by Eric M. Zeman @zeman_e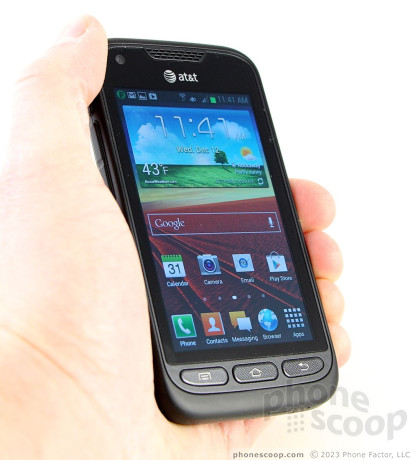 Samsung's rugged smartphone for AT&T offers both brawn and brains. It includes LTE 4G, Android 4.0, and push-to-talk calling, but it doesn't have much of a voice. Find out what we mean in Phone Scoop's full review.
AD article continues below...
Form
Is It Your Type?
The Samsung Rugby Pro for AT&T is a well-named device. The word "rugby" conjures up images of mud-splattered polo shirts and the burly men wearing them. The word "pro" at its base meaning suggests someone with acute business acumen. So it is that the Rugby Pro is a ruggedized Android smartphone that offers both brawn and brains.
Body
Rugged devices are quite often hideous looking. It's not that the designers want them to be ugly, mind you; they can only do so much with the appearance and still earn that rugged designation. That's why the Rugby Pro is so surprising. It's a handsome smartphone that, on first glance, doesn't betray its inner strength.
From several feet away, you'd never guess that the Rugby Pro is a rugged smartphone. Instead, it looks like any middle-of-the-road handset. At 12.7mm (half an inch), it's thicker than today's leading smartphones, but not by much. It's black-on-black-on-black skin has a matte finish. If it we were to equate its appearance to clothing, it's not a tuxedo, nor even a suit. Instead, it's a black leather jacket, man.
The materials of the Rugby Pro are incredibly tough--and they ought to be. The plastics are firm, tight, and feel solid as a rock. It's a dense and hefty device that feels as tough as it is. The smaller display (4 inches) means the overall footprint of the Rugby Pro is manageable. This is a phone that can be squeezed tightly. The plastics offer a mix of textures. The front and side surfaces are smooth, while the battery cover is textured with a diamond-shaped pattern. It isn't a problem to stick the Rugby Pro in your pocket, but the size and weight combined will remind you that it is there.
The front face of the Rugby Pro leaves plenty of bezel around the display. There's a large speaker grill above the display, and physical buttons below it. The three buttons (Menu, Home, Back) help to interact with the Android operating system. They are large enough to find and use with gloved hands. Interestingly, the buttons offer both physical and haptic feedback. The physical feedback — actually pushing the button down — doesn't have that much feel to it, but the haptic feedback buzzes through the button intensely. Combined, it is easy to tell that you've pressed these three keys.
There are plenty of buttons on the sides. The volume toggle and user-assignable button - which are on the left side - are large and easy to find (yes, even with gloves on). They have the same diamond pattern as the battery cover, which helps them stand out from the otherwise smooth side surface. The same goes for the screen lock button on the right edge. Travel and feedback of these buttons was OK, but not great. I would have prefered better definition on the user-assignable (default is for PTT) and screen lock buttons, in particular.
In order to make its MIL-SPEC 810 rating (protection from water, dust, and shock), the Rugby Pro is wrapped up tightly. That means all the ports are covered with thick rubber hatches. The micro-USB port (on the bottom) is buried under a monstrous hatch that requires some real thumbnail work to dig out. The hatch covering the headphone jack on top is somewhat easier to deal with.
The battery cover is one of those screw-on jobs. You have to use your thumbnail or a coin to unlock a screw that's near the bottom edge of the phone. The cover can only be removed after the screw has been loosened. Once removed, you'll notice a large rubber square on the inside of the battery cover. This serves as a gasket so when the cover is properly installed it keeps water out. The battery itself is removable, and in fact has to be taken out in order to access with the SIM card or microSD slot.
Performance
Screen
The Rugby Pro's display measures 4 inches across the diagonal and includes 800 x 480 pixels. Keeping the display to 4 inches helps keep the pixel density in an acceptable range. On a larger screen, the 800 x 480 pixels wouldn't cut it. As it is, I can pick out individual pixels quite easily when the phone is held about a foot from my eyes. The display uses Samsung's OLED technology, which makes it nice and bright no matter where you use it. Itis plenty colorful. Bottom line: the display is good, not great.
Signal
Unlike the Rugby Smart, which AT&T sold earlier this year, the Rugby Pro does bring LTE 4G to the table. In the week or so that I spent testing the Rugby Pro, it found and latched onto AT&T's LTE network with no problem. When I roamed out of LTE coverage, it seamlessly jumped onto AT&T's pervasive HSPA+ network. I didn't have any trouble connecting calls or zipping across the internet during my tests even under the worst network conditions. The Rugby Pro did manage to drop one call, however.
Sound
Voice calls (and PTT calls) were acceptable, but not great. The earpiece volume is barely adequate when set all the way up, and will probably not be loud enough for most users. The quality of calls was quite good, though. The speakerphone also qualifies as acceptable, but not great. As with the earpiece, call quality via the speaker was absolutely fine; volume is the problem. It's simply not loud enough, not even close. The same is true of the ringers. Even when set all the way up I missed several calls in noisy places. Many PTT device users expect their phones to deliver incredible volume and the Rugby Pro is simply not there. The vibrate alert is decent.
Battery
The Rugby Pro has an 1850mAh battery tucked inside and it delivers a full day of use with no problem. I used the device for the better part of a day under AT&T LTE coverage with email and social networks set to sync pretty much constantly. Toss in some phone calls, some music playback, and web browsing, and I'd call that a pretty normal day. The Rugby Pro easily lasted until about breakfast the next morning, but needed to be plugged in by my second cup of coffee. It needs to be charged every night.
Ruggedization
The Rugby Pro is not a fully ruggedized handset able to withstand the worst abuse, but it can suffer through drops into shallow water, some wind-blown dust and sand, and getting dropped or tossed about. your house or work site. I didn't smash it with a hammer, but I did kick it around my driveway for a while. I also dropped it. A lot. It had no trouble spending a few moments under running water, and sitting at the bottom of my full bathroom sink didn't harm it at all.
Basics
Menus
The Rugby Pro runs Android 4.0 (Ice Cream Sandwich) with the same TouchWiz user interface that has appeared on many of Samsung's devices this year. It includes customizable lock screen shortcuts, five home screen panels for customization, and a fully adjustable main app menu. Apps can be rearranged, viewed in grids or lists, and hidden from view entirely if you don't care to see them. The notification shade offers quick access to the radio controls, and there are plenty of widgets on board, too.
Performance of the Rugby Pro was great. It has a zippy Qualcomm Snapdragon S4 Plus processor on board, which handled every task in a jiffy.
Calls
The phone and contact applications work exactly as they do on other TouchWiz devices. The phone is dead simple to use and the contact application includes useful widgets and tons of data about your friends, family, and colleagues. It also meshes well with social networks.
Enhanced PTT
The big feature of the Rugby Pro is AT&T's new "Enhanced PTT" service. It's a rejiggered push-to-talk system that, according to AT&T, makes major improvements in call set-up speed and call quality. Oddly, neither of the review devices I received from AT&T had the service preinstalled. I had to download the "AT&T ePTT" application from the Google Play Store. It took about a minute to download, install, and then initiate with AT&T.
First things, first: The obvious PTT button on the side of the phone is not, in fact, a PTT button. Instead, it is a user-assignable button that can be linked to any application on the phone. Out of the box, it is not linked to anything. If you want it to launch AT&T ePTT, you have to manually set that youself. Once assigned, it will launch whatever app you choose with a long press.
The application itself is somewhat easy to use, but not instantly intuitive. It took me a few moments to figure out how to send a notification to another handset and then actually make a PTT call.
The app has some serious usability flaws. It doesn't natively sync with the on-device contact app. You can pull contacts from the main contact app to the ePTT app, but it is done one at a time rather than en masse. I don't know about you, but I don't have the time to move all my contacts over individually. The app itself supports up to 1,300 contacts and 130 different groups. You can also choose to set up a handful of favorites for faster access.
There are two different ways to reach out to people. The app supports presence, so you know when someone's phone is able to accept PTT calls. You can send an alert, which basically wakes up the other person's phone and lets them know you want to talk, or you can just fire off a PTT call directly without sending an alert. Either way, the PTT button can be used as normal (just like a walkie-talkie) for controlling the conversation. The app also includes a huge software button in the middle of the screen. The button is green when you are talking and red when the other person is talking. You can press this software button instead of the physical PTT button if you so desire.
What really matters is how the calls perform once you deal with the strange software. The calls connect in a blink, definitely in less than a second. As noted in the calling section above, the quality of PTT calls is perfect, but they are way too quiet on the Rugby Pro, even when the volume is set to the maximum. Any PTT session can be converted to a regular cellular phone call with the press of a button.
Messaging
As expected, the Rugby Pro offers the stock Gmail, email, SMS/MMS, Google Talk, Google+, and Google+ Messenger apps. Together with their associated widgets, they make an impressive arsenal for reaching out to and connecting with your friends, family, and colleagues.
The Rugby Pro also includes ChatON, Samsung's instant/text messaging application. Rather than send messages via SMS, it sends IMs as network data. ChatON natively syncs with your Google Talk contacts and the user interface is plain and simple enough to use. ChatON is a cross-platform application, meaning it will work on Android devices as well as iOS, Bada, BlackBerry, and Windows Phone.
Neither Twitter nor Facebook is preloaded. You have to download them yourself.
Extras
Media
The Rugby Pro stays in familiar territory when it comes to media consumption. The bare-bones music and video playback apps are on board and can be used with most sideloaded content. (Sideloading is a pain from Macs, which requires a crummy desktop app from Google.) The Rugby Pro is loaded with the the Google Play Store and associated apps for music, video, books, magazines, and apps.
The Rugby Pro also comes with Samsung's Media Hub and Music Hub. The Media Hub is an alternative place through which to purchase and/or rent movies and television shows. It works fine, but requires a Samsung user account. The same goes for the Music Hub for making music purchases.
Last, the Rugby Pro includes the AT&T-branded video streaming service, LiveTV. It costs money and doesn't work very well.
Camera
The Rugby Pro does not have a dedicated camera button, but the camera can be launched via the lock screen shortcut. It loads quickly.
The layout of the camera controls is typical for a Samsung smartphone. There is a control strip down each side; the viewfinder is positioned between them. The settings strip - which is fully customizable - offers access to features such as the flash, exposure controls, scenes, shooting modes, and so on.
Once you've spent a moment familiarizing yourself with the controls, the camera is a breeze to use. It focuses and shoots photos quickly. You can choose to use touch-to-focus if there is something in particular you want to be in focus.
Photos
The Rugby Pro's 5-megapixel camera does an admirable job. The images I captured with it were in focus, showed good white/color balance, and exposure was spot on. Shots taken outdoors under the sun looked impressive. Indoor shots showed a bit more grain than outdoor shots, (as is normal,) but still looked good. The bright flash goes a long way to making sure those pix of your friends turn out well. In all, the Rugby Pro can certainly serve to replace a point-and-shoot.
Video
The Rugby Pro shoots video at a maximum of 720p HD resolution. The sample video I took looked good. I was pleased with the focus and sharpness of the video, and the amount of detail visible. Color was a bit off, though. Bottom line: the Rugby Pro's video camera does a mostly fine job at recording video.
Gallery
The Rugby Pro's gallery application is very close to the stock Android 4.0 gallery app. The basic view includes a mish-mash of photos from all your accounts in one epically huge grid. Using the tools at the top of the page, you can shift the view to specific folders or collections of photos.
The Rugby Pro has the same photo-editing features that most Android 4.0 smartphones do. Images can be cropped and rotated easily. More intensive edits (straightening the image, killing red-eye, correcting exposure/color) are available, too.
Apps
The Rugby Pro is besotted with AT&T-branded apps and services. Some of the AT&T stuff includes Code Scanner, FamilyMap, Navigator, Live TV, myAT&T, and the Yellow Pages. Samsung's Media and Social Hubs are accounted for, as are Kies Air and a handful of others. Some of these apps can be deleted, some cannot. Even with all this stuff taking up space, there's plenty of room with a microSD card to store whatever you need (one is not included, you're on your own).
Bluetooth
The Rugby Pro's Bluetooth radio performs well. It paired easily with every device I threw at it. Unfortunately, the volume problems I experienced with the main phone carried over to Bluetooth. That means when I used the Rugby Pro with my car's hands-free system, I had to crank the volume nearly all the way up to hear anything at all. Bottom line, the Rugby Pro is just not loud enough to use effectively with a Bluetooth headset. Music sounded OK through stereo headphones, but was also a bit too quiet.
Browser
The Rugby Pro ships with the stock Android browser. The application itself is fine for browsing the web and does a good job of rendering web sites. It performed excellently on AT&T's LTE 4G network. Web pages appeared quickly thanks to the speedy power of LTE. There are plenty of alternative browsers available in the Google Play Store, however, if you're looking for something a little bit different.
Clock
There's a white digital clock on the lock screen. It's big enough to be seen at an arm's length, but it cannot be customized. There are a multitude of clock widgets available for the home screen.
GPS
AT&T Navigator and Google Maps are both available on the Rugby Pro. They both work well at general mapping tasks, such as routing directions and searching for nearby point of interest. The AT&T Navigator app costs $10 to use per month, while Google Maps is free. The GPS radio was excellent at pinpointing my location in about 15 seconds and to within 15 or 20 feet.
Wrap Up
As far as rugged smartphones go, the Samsung Galaxy Rugby Pro is a fine device. Nearly every feature works well, though there are a few notable exceptions.
The hardware is pleasantly functional and easy to use. It looks decent and doesn't come off like a brick. You probably can't run over it with a tank, but it is tough enough to survive a fair amount of abuse. The screen is decent, the performance on AT&T's network is excellent, and the battery life should be enough for most people.
The software, user interface, and most applications work flawlessly. Samsung has done a good job of refining TouchWiz over the years and the Rugby Pro offers a flexible platform for customizing its behavior.
The real failing of the Rugby Pro is not the awkward ePTT software, but the poor volume of the speakers. I tested two separate devices, so I can't write the problem off as something specific to my review unit. If there's one thing a PTT device needs to deliver, it's Judas Priest-like volume from both the earpiece and speakerphone. The Rugby Pro is simply not loud enough.
But Would it blend.?
thats something i would love to see in youtube. 😲
Blend or bend? Nice review. I just moved to New York to work as a graphic designer, and I've been looking for a mobile device that can handle the type of work I do. I think I'll get this. Not only does it have a gorgeous display, it runs on AT&T's...
(continues)
"It's a black leather jacket
...MAN."