Holiday Gift Guide 2012
Intro Basic Category Killers No Contracts Comments 5
Nov 19, 2012, 11:59 PM by Eric M. Zeman @phonescooper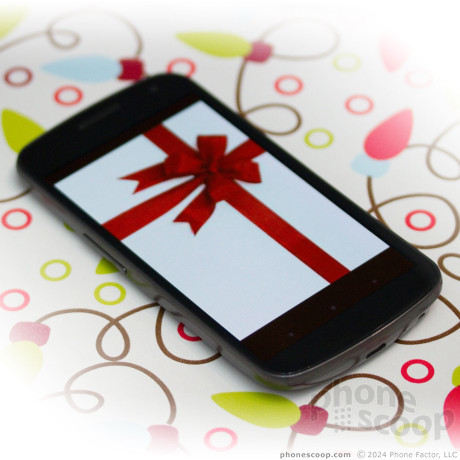 Phone Scoop's 2012 Holiday Gift Guide is the only tool the discerning shopper needs to pick out the perfect phone for the people on their list. Whether the intended recipients have been naughty or nice, everyone needs a phone. Here are options for every carrier, every device style, and every budget.
AD article continues below...
We've made it through yet another exciting year in the mobile phone industry and now the final days of the year are upon us. It's been an incredible year, with an unprecedented number of great new phones introduced. With so many choices, selecting the perfect gift for your family, friends, and loved ones can be difficult. That's why Phone Scoop is here to help.
As always, choosing the right phone often starts with choosing the right carrier. We assume most people have already settled on the carrier that best suits their coverage, service, and pricing needs. Many people are also locked into a long-term contract. That's why we make our recommendations based on each carrier and its line-up.
The year 2012 saw a sharper decline in the availability of inexpensive flip phones and other devices that don't require data plans. Even so, we managed to dig up a few for those of you still seeking simple voice and messaging services. The middle of the field is extremely crowded with low-cost smartphones. Many mid-range models are available for $50 or less with a contract (or under $200 with prepaid service). The price difference between mid-range devices and top-of-the-line smartphones has blurred further this year, and sometimes $100 is all it takes to get a killer device. With most flagship models retailing for $200 or less (thanks to sales), it's hard to recommend the multitude of so-so smartphones. You'll still find several mid-range handsets among our recommendations, though.
Now that smartphones do most everything, picking devices that specialize on one function isn't as necessary as it was in the past. Still, we looked over the field to pick the best low-cost phones for voice, messaging, and web services; the best smartphones for business, media, and camera functions; and the best prepaid phones and smartphones for those who are contract-averse. As long as you have a basic idea of what your friend, family member, or significant other prefers to do with their device, picking the right carrier and device should be a breeze.
After you've picked out the perfect phone, there's still one more thing to do. When you or the lucky person you're giving a phone to has moved everything off of the old phone, don't just toss it in your junk drawer or a closet corner, recycle it. Most wireless network operators (and even retailers such as Best Buy) accept recycled or traded-in phones year round.
I don't know....
I think there is a lot more places to fit the free iPhone 4 and the $100.00 iPhone 4s into the mix.
I dont know where they would fit. I mean they are iPhones afterall. I dont even know how the iPhone 5 made the list at all. But i could see the windows phone 8 in more categories
Thanks Eric!
Thanks Eric! I think you did a great job picking these phones. I cant wait to see the DNA in person. Haven't seen it yet....
Category Killer
Why don't you have an all around section like the best overall smartphone on the carriers?