Review: ZTE Anthem 4G for MetroPCS
Article Comments 2
Oct 4, 2012, 10:25 AM by Eric M. Zeman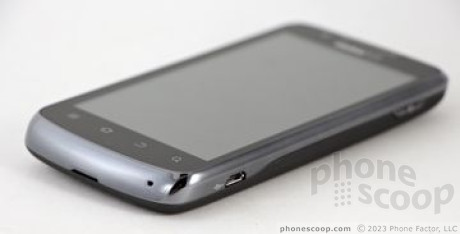 ZTE's first LTE smartphone for the U.S. is the Anthem 4G for MetroPCS. This phone includes a large display and other appealing features, but this Anthem is a little off-key.
Advertisements article continues below...
Form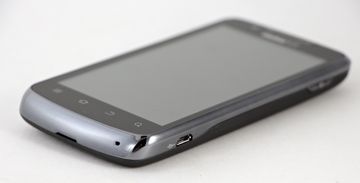 Is It Your Type?
The Anthem 4G from ZTE is a mid-range device for MetroPCS. It's offers a large screen, LTE data, and Google's Android operating system sprinkled with MetroPCS's apps and services. It's not a small device, and is somewhat weighty, too. Find out just where the trade-offs lay in Phone Scoop's full review.
Body
The ZTE Anthem 4G is by no means a dainty device. At 13.7mm (0.54 inches) thick, I'd call it downright bulky. The Anthem's looks are a bit blunt, and the rubberized back cover may be off-putting to some, but at least it has a personality of its own.
With naught but blacks, grays, and chrome-like surfaces, the Anthem's color palette is a bit limited. There's nothing bright about it, so it doesn't stand out in a crowd.
Many of today's smartphones are shipping with thicknesses measuring 10mm or less. Some of the most competitive devices are pushing measurements below 8mm. That's why the bulk of the Anthem is so noticeable. Put it on a table next to any high-end smartphone, and the size difference will be painfully obvious. You can argue that the Anthem is a mid-range phone, and not a high-end one, but the high-end smartphones are on the same shelves as the Anthem at MetroPCS retail stores. Toss in the length and width necessitated by the large display, and the Anthem is chunky phone.
This plays a role in how it feels to hold and use. I had a hard time getting my hands all the way around the Anthem. It's not too heavy, but it is no featherweight, either. I found it fits well in loose jeans pockets, but not so well if you're pushing the boundaries of fashion with spray-on denim.
Aside from the display, the front panel includes four capacitive buttons for interacting with the system controls. These four buttons worked well and offer good haptic feedback. They light up when pressed, but don't stay illuminated for very long.
The huge volume toggle, on the left edge of the Anthem, is impossible to miss. It produces an audible "clack" every time you press it, and the travel and feedback is quite good. The screen lock button is on the right. It, too, is sizable and offers plenty of good feedback.
The Anthem has a micro-HDMI port. This isn't something you see too often on mid-range devices. It makes it a bit easier to connect to an HDTV. The microUSB port is on the right edge and the headphone jack is on top.
The battery cover encompasses the entire back surface of the Anthem as well as some of the side surfaces. It's covered in a material that's not quite rubber, but much more than a soft-touch paint job. It's feels — and looks — like ZTE tossed some Goodyears on for added traction. The tactic works. The Anthem sticks firmly in your hand thanks to the grippy battery cover.
If you choose to remove the battery cover, which is easily accomplished, you'll find the removable 1780 mAh battery, SIM card, and microSD card. The microSD card can be accessed while the battery remains in place.
Performance
Screen
The Anthem rocks a 4.3-inch display with 800 x 480 pixels. This is a good, middle-of-the-road resolution befitting the Anthem's status as a mid-range smartphone. It's sharp enough that most of the stuff you'll look at will appear smooth. Hold it close, though, and the pixels pop out at you. The Anthem's display is sorely lacking when it comes to brightness. Set all the way up, it's fine for indoor use, but it falls flat outside. It's completely unreadable, even under dark, cloudy skies. I found it impossible to use for taking pictures on a sunny day.
Signal
The Anthem is ZTE's first LTE device for the U.S. market. It's a shame, then, that it performs so poorly. Despite the LTE network's availability, the Anthem's 4G powers never kicked into high gear. As a general rule, web sites were slow to load no matter what type of network was available. (Separately, the Anthem never registered more than a single bar of LTE coverage even in areas where MetroPCS's LTE network is robust.)
The Anthem didn't do any better on MetroPCS's CDMA network. Data sessions fell on their face when the signal bottomed out, and the Anthem dropped numerous calls in weak network coverage areas. It fared somewhat better when coverage was robust.
Sound
Phone calls were below average in both quality and volume. The calls I made were plagued by static and uneven quality. Sometimes words would be clipped or cut off, making it difficult to hold conversations. The earpiece generates enough volume for use in a quiet home or office, but doesn't suffice when you take it out into the real world. I consistently had trouble hearing callers when in places such as coffee shops or restaurants. The speakerphone is also fine for quiet environments, but is easily overwhelmed if you attempt to use it outside or in a car. Ringers and alerts are barely adequate. The vibrate alert is OK, but not great.
Battery
The Anthem's battery is acceptable if you live in an area that only has 3G coverage. If you plan to use it in one of MetroPCS's LTE markets, be sure you also plan to pack a charger everywhere you go. When used under LTE, I had a hard time coaxing the Anthem through more than six hours of battery life. There is no way to turn the 4G radio off. This phone needs to be charged every day, and then some.
Basics
Menus
The Anthem runs Android 2.3 Gingerbread. Yes, I know. I want to throttle MetroPCS and ZTE by the neck, too. Android 4.0 (Ice Cream Sandwich) has been out for a year now. There's very little excuse for this device to ship with Gingerbread. There's no word yet from MetroPCS if this device will ever be updated to Ice Cream Sandwich.
That complaint aside, the Anthem has the exact same user interface experience as found on the Coolpad Quattro 4G, Samsung Galaxy S Lightray 4G, and other recent smartphones offered by MetroPCS.
Here's what you need to know: There are no lock screen shortcuts. There are five home screen panels that are packed with MetroPCS stuff. You'll have to do a lot of rearranging to make the home screens your own. The main app menu can only be viewed as a grid, but at least you can move the apps around within the grid. Everything in the settings menu is stock Android.
In terms of customization, the Anthem doesn't offer more than the expected features. You can switch up wallpapers, use your own ringtones, and that type of stuff. The Anthem doesn't offer themes or profiles or any other fancy customization tools.
In terms of processor speed, the Anthem performs fine. I didn't see any problems or blips while using the device. The user interface and overall capabilities of the system software and processor were well matched.
Calls/Contacts
The only thing unique about the Anthem's handling of the phone and contact applications is the ZTE-designed contact widget. It'll fill one of the home screen panels with your assigned "Favorites" all arranged in a nifty little box. The animations are pretty cool, and the widget lets you quickly access this selection of contacts. Everything else about the Anthem's calling and contact features is identical to other Android 2.3 Gingerbread devices.
Messaging
The Anthem includes the stock Android messaging tools. The only additional tool is the MetroPCS IM and Social application, which acts as a messaging center for Twitter, FaceBook, AIM, Yahoo, and Windows Live. It's OK as far as collecting direct messages and sending responses are concerned, but it doesn't support advanced features, such as sending attachments. You're better off using the native Facebook and Twitter apps (which you have to download yourself) to do those things.
The Gmail, SMS, Google Talk, Google+ and Google+ Messenger apps all work fine.
Extras
Media
The Anthem is all about the Google Play Store and other Google content apps. The Play Music, Play Movies, and Play Books apps are all on board, as are the stock MP3 and video player apps. These apps all work just as they do on other Android handsets. Rhapsody is on board, too.
The Anthem is preloaded with Kung Fu Panda 2 (on the microSD card). You lose access to the movie if you swap out the microSD card, though. The Anthem also has a link to the Yahoo movie recommendation web site. It helps pin down movie listings and play times.
If you're looking for Slacker, Pandora, or other media apps, feel free to download them yourself from the Google Play Store.
Camera
The Anthem uses the stock Android 2.3 camera interface. The camera itself can only be launched from a home screen shortcut, as there is no dedicated camera button on the device.
As far as camera software goes, it's not bad, but it's not great, either. The viewfinder provides plenty of room for composing images, and the settings tools (found floating in the viewfinder) are self explanatory and fairly robust at fine-tuning the Anthem's behavior. I hate, though, that the flash can only be set to on or off; there's no auto setting.
Taking pictures takes time. There's a noticeable delay after you press the shutter button before the camera focuses, takes the image, and then stores it. The process lasts a few seconds, and flashes a review screen at your for 1 second before going back to the viewfinder. (This review screen can't be turned off.)
Photos
The Anthem's 5-megapixel camera is no good. Nearly all the photos I took were a disaster. Even though the Anthem has autofocus, few, if any, of the images I captured were clear and sharp. The flash never seemed to do anything other than blow out all the detail by dramatically overexposing each photo, and noisy, awful grain is everywhere.
I didn't take one picture that I'd be happy to share with friends and family — at least as far as the quality is concerned. (My crummy picture-composing abilities are an entirely different matter.)
Video
The Anthem's 720p HD video camera doesn't do any better. Grain alone ruined most of the video I captured. Add to that soft focus, improper white balance, and wavy smearing, and I was left with a bad taste in my mouth. When panned about, the Anthem produces nausea-inducing video. On a bright and sunny day, you might get lucky with some nice video, but I wouldn't count on it.
Gallery
The Anthem uses the stock Android 2.3 gallery application. Sharing options are good, but editing options are not. You can send photos to pretty much any social network you want to, but images can only be cropped or rotated. There are no other controls for manipulating the photos.
Apps
The Anthem ships with the usual amount of bloatware from MetroPCS. Most of the apps that come loaded on the Anthem can't be deleted, but there's adequate space (2.3GB) on board to store your own apps. The Anthem also includes a MetroPCS App Store, which is a selection of additional apps suggested by MetroPCS.
Bluetooth
The Anthem's Bluetooth radio had no problem connecting to anything I paired with it, including my car, speakers, and other devices. Unfortunately, calls sent to my car's hands-free system were, for the most part, unintelligible. However, music sounded really good through Bluetooth speakers.
Browser
The Anthem has the stock Android browser and a "browser" labeled "MetroWeb." MetroWeb is really just a bookmarked web site and not a browser unto itself. The Android browser itself performs fine, and does a good job of rendering both full HTML web sites and mobile-optimized sites — when using Wi-Fi. Under even the best MetroPCS LTE coverage, the browser was only OK and never very speedy. The browser was useless when under 1X coverage thanks to the Anthem's poor signal-collecting skills.
Clock
Need to check the time? Press the lock button, and the large, digital clock is visible on the lock screen. The clock is large and thick. It's easy to see inside, but not outside thanks to the dim display. The lockscreen clock itself can't be customized.
GPS
The GPS radio of the Anthem was OK. It took close to a minute to find me most of the time, and was accurate to within about 25 feet. Google Maps is the only navigation software on board. It is as feature-rich as ever. When used out in the real world with the Anthem, I noticed it was a bit laggy due to the overall network performance of the Anthem.
Wrap-Up
I have a hard time recommending the ZTE Anthem 4G to anyone. The size and weight are hard to ignore, but could be overlooked if the Anthem's performance warranted it. Sadly, the Anthem falls short just about everywhere else.
The network performance, poor call quality, and battery life alone are enough to sink the Anthem. Add in the year-old platform software, crummy camera and video camera results, and god-awful mobile web experience, and you have an all-around loser.
I might cut ZTE some slack, since this is its first LTE device for MetroPCS, but that doesn't mean consumers should have to suffer. There are plenty of LTE 4G alternatives available from MetroPCS that perform much, much better.
I don't hear any anthems being sung for the Anthem; but I might hear Taps.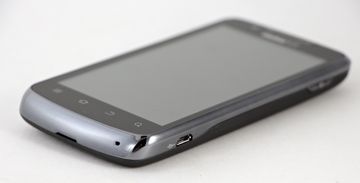 I used to recommend MetroPCS--
--as an alternative to other networks, but their implementation of 4G LTE has been horrific. I've never seen a 4G network run so damn slow. It's on par with Sprint's 3G, which is to say, slow.

And Gingerbread? Really? Why doesn't Metro just punch you in the face, as well.
So which is the best 4G device on metroPCS?
So far the Motion has the best review, right? or did i miss another one?