Review: Apple iOS 6
Core What's New Major Changes Tweaks Wrap-Up Comments 31
In addition to the new apps and heavily revised services in iOS 6, there are gobs of small features added that make iOS 6 just a wee bit better than iOS 5 in small, but meaningful ways.
Bluetooth
This is a small change, but an awesome one: The toggle control for the Bluetooth radio is now in the first level of the settings tools. Before, it was buried three layers down. Quick access to the radios is a big help, and it took Apple too long to move the Bluetooth radio control to an easier-to-get-to location.
AD article continues below...
Camera
The camera now shoots panoramas thanks to a new software tool in the camera. It has to be the most seamless panorama tool I've ever used. It works flawlessly at capturing wide vistas, and stitches the string of pictures together without awful seams and angles.
You also hold the phone vertically, not horizontally, and the app lets you pan from left to right or right to left. The result is full resolution images that end up being 28 megapixels in size.
Android smartphones have had the ability to shoot panoramas for years, but they often crush down the final image into something that's not always usable.
FaceTime
FaceTime now works over cellular networks. Using my iPad, which has an account with Verizon, I was easily able to launch a FaceTime video chat with my kids from New York City when there was no Wi-Fi in sight. It worked over both LTE 4G and CDMA 3G. Verizon and Sprint are allowing customers with iPhones to use FaceTime over cellular at no extra charge. I was not able to use it with my AT&T iPhone, though, unless I upgraded to a new Mobile Share plan. (Boo, AT&T!) Bottom line, though: FaceTime over cellular was way too long in coming.
It's worth pointing out that Apple offered to give its FaceTime tech away when the iPhone 4 was first announced in 2010. So far, that hasn't happened. By keeping its video chat software to itself, it limits how iOS devices users can interact — or, more accurately, cannot interact — with non-iOS device users. For example, iPhone users can't conduct FaceTime chats with Android users. Instead, they have to use other video-chatting software, such as Google+ Hangouts, which work flawlessly between Android and iOS.
iMessage
Apple finally did with iMessage and FaceTime what it should have done from the start: both are now tied to a single Apple ID. Previously, FaceTime calls were sent to an email address, and iMessages could be sent to either an email address or a text message. This has simplified my life dramatically. As a user of an iPhone, iPad, and Apple laptop/desktop, everything now syncs across devices the way I want them to. I can conduct an iMessage on one device and pick it up on another without missing a line of text. I can also switch to FaceTime if I want to. It's a welcome tweak to iMessage that should ease some of the conversation-syncing pains experienced by some users.
iTunes
The iTunes Store and App Store have both been given significant overhauls. They now looks similar to the iTunes Store on the iPad and the yet-to-arrive iTunes 11 for the desktop. Everything about it is bigger. The icons are bigger, and that means not as much content fits on the screen any more. You have to do more scrolling, but it looks a bit nicer. You can buy pretty much any sort of media content from the iTunes Store, including music, movies, television shows, podcasts and so on. If you choose to use Newsstand or iBooks, you can also subscribe to magazines and download books.
If there's one thing the iPhone 5 and iOS do well, it's to make sure you can continue to spend money on other Apple goods and services easily.
Sounds
After five years, Apple still hasn't expanded the selection of on-board ringtones and alerts. It's a pitiful and corny bunch of sounds that are part of iOS 6. Sure, you can buy ringtones from the App Store, but would it kill Apple to toss in a few novel ringtones with each new release of iOS? Apparently, it would. (The same goes for wallpapers. It's the same crummy collection that have been on iOS devices for five years. Ugh!).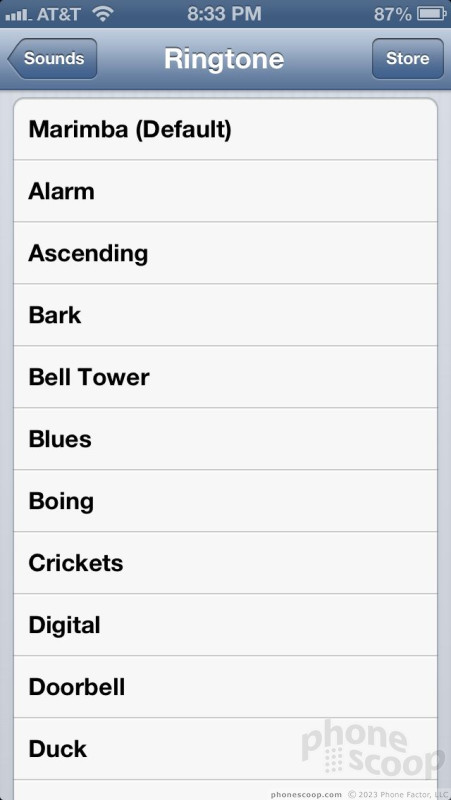 Vibrate
iOS no longer has one vibrate alert. There are six pre-loaded vibrate alerts, and you can create your own, too. Create your own vibrate alert? Yes, please!
Widgets
No, Apple did not add widgets to iOS 6, and that's exactly that point I'd like to make. The iOS home screens remain a static place, where the only sign of life visible is little red circles that appear when you have unread emails or text messages. Android has amazing home screen widgets that provide real-time weather information, as does Windows Phone with its Live Tiles.
Specifically, it would be great to see third-party APIs that can make use of the notification shade. Right now, the only dynamic content in there is the weather and the stock ticker. Why not allow other apps to provide dynamic content in the notification shade?
The notification shade also lets people share to Twitter or Facebook, but nothing else. What if I want to share the weather report to Tumblr, or Blogger? No such luck thanks to iOS 6's limitations.