Review: Motorola Atrix HD for AT&T
Article Comments 2
Jul 17, 2012, 5:24 PM by Eric M. Zeman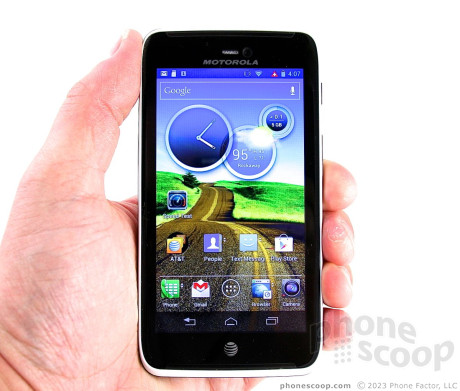 Motorola's third attempt at the Atrix brings the charms of a ColorBurst high-def display, LTE 4G, and a powerful 8-megapixel camera to the table. Is the Atrix HD lacking anything, or does it have it all?
Form
Is It Your Type?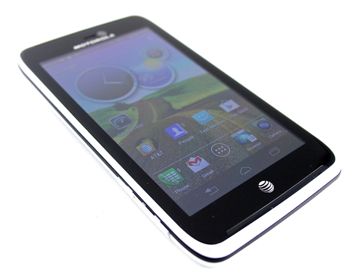 Motorola ports the design language it used on last year's RAZR to its Atrix line of devices for AT&T. For AT&T customers who pined over Verizon's exclusive RAZRs, the Atrix is likely a welcome sight. Not only does it bring over the iconic look, but bests its brothers in key elements.
Body
The Atrix HD isn't quite as sexy as the RAZR. It's, shall we say, less sharp. Where the RAZR has hard angles and corners, the Atrix HD has rounded edges and a smoother overall design. However, the Kevlar back cover and camera bulge are unmistakably from Motorola. Perhaps more importantly than its relationship with the RAZRs family, however, the Atrix HD is far and away better than the original Atrix and Atrix 2. It's thinner, lighter, and faster.
The Atrix is a sizable device thanks to its 4.5-inch display. It's wide and tall, but fairly thin front-to-back if you ignore the camera hump. Motorola sent us the white version of the Atrix, which I find appealing thanks to the contrasting shades of the Kevlar, front panel and white materials.
The Atrix isn't billed as a rugged device, but it's solid as heck. The build quality is outstanding, and all seams fit snugly together. It generally has a pleasant feel in the hand, and is comfortable to hold for long periods of time. I didn't find it fatiguing to use for several hours straight. It's well balanced and not too heavy. It will surely fit in your pocket.
One thing I disliked about the RAZR was the large bezel surrounding the display. The Atrix fixes that. The bezel is much thinner, contributing to a better overall look to the front face of the phone. Like the Samsung Galaxy Nexus, the Atrix HD completely forgoes menu and control buttons on the front of the device. Instead, when using the phone, the necessary controls appear at the very bottom of the display. Most of the time, those controls are the Back, Home, and Multitasking tools. They offer haptic feedback when pressed, though you can choose to turn that off.
Owners can access the SIM card and microSD card slots on the left side of the Atrix. Both are protected by the same hatch, which is positioned closer to the bottom of the edge. I don't like the hatch much. I found it to be a bit fussy, but it's one of those things with which most users will rarely interact.
Need to adjust the volume or lock the device? Those controls are located on the right edge of the phone. Motorola did a good job with these buttons. The lock button is located closest to the top. It has a chrome-y finish to it and is accented with ridges, which make it really easy to find. The travel and action are excellent. The volume toggle has the same chrome look, but loses the ridges. Don't fret; it's still easy to locate and use. The travel and action isn't quite as good as the power/lock button, but it's still decent.
All of the remaining ports are on the top edge. The microUSB and microHDMI ports are positioned closely together, which is a design choice made by Motorola on a wide number of its devices over the years. This design makes it easy to dock the Atrix with accessories. Notably, the Atrix HD won't work with Motorola's Lapdock accessory, but does work with multimedia and car docks. The 3.5mm headset jack is tossed up there, as well.
The Atrix's battery is sealed inside the design, and can't be accessed by the owner. That means you can't carry around a spare battery for emergencies, and you'll instead need to pay more attention to the Atrix's power resources.
In all, the Atrix is a decent piece of hardware. While it may not be as cutting edge (pun intended) as the RAZR line, it carves its own place on the retail shelves of AT&T stores.
The Three S's
Screen
The Atrix's display measures 4.5 inches and is packed with 1280 x 720 pixels — hence the "HD" moniker attached to the device's name. There's no doubt in my mind that it is the best display to date to grace a Motorola phone. The combination of pixel density and size mean that it's nearly impossible to pick out individual pixels. Thanks to what Motorola calls "ColorBoost" technology, the display is amazingly bright and colors are rich and vibrant. It looks fantastic inside, though suffers from some glare outside. Ramping up the brightness all the way makes the display easy to see under the sun, though. Lastly, the viewing angles are dramatically improved over what we saw on the RAZR and RAZR MAXX, which turned blue and dim when viewed from an angle.
Signal
The Atrix consistently outperformed other AT&T devices when it came to signal strength. It had no trouble connecting to AT&T's 3G and 4G networks in and around the metro NYC region. It never missed any calls, nor did it drop any, even in weak coverage areas. Data throughput varied by connection type (3G versus 4G), but was excellent all the time. The Atrix consistently hit 5Mbps downloads when surfing HSPA+ and often score higher than 15Mbps when it found AT&T's LTE network.
Sound
I found the Atrix to be very good voice phone. Quality was mostly excellent, but I noticed a few issues (static/noise) here and there. The Atrix has three mics in order to help eliminate background noise, and I'll be darned if it doesn't work exactly as Motorola advertises. I was able to conduct a phone call while standing amongst several thousand raucous attendees of a concert and I heard every word of the phone call. It helps that the earpiece is especially loud when set all the way up. I would say most of the time the volume can be set at about 50 or 60%. Only push it all the way up when necessary. The speakerphone offers quality calls, too, but its maximum volume setting wasn't enough for me. You shouldn't miss phone calls because you can't hear the Atrix's ringer — as long as you pick the right ringtone. Some of the included ringtones aren't as loud as the others. The best ones, though, will cause birds to drop from the sky it's so loud. The vibrate alert is good, but not great.
Battery
The Atrix HD's battery life was mixed. When under 3G-only coverage, it easily lasted an entire working day (7AM - 11PM). The device's lifespan was cut short when taken into areas covered by AT&T's still-growing LTE network. I saw the device last 7 hours (7AM - 2PM) and 9 hours (7AM - 4PM) on days when it was using mostly 4G. That's not good enough for most people. Mixing it up between 3G and 4G, the Atrix lasted about 12 hours. Worse, there's no way to turn off the 4G radio; it's always on. Bottom line, you really need to pay attention to the Atrix HD's battery life and develop a method that helps you get the most out of it.
Basics
Menus
The Atrix runs Android 4.0 Ice Cream Sandwich, which has been lightly skinned by Motorola. The most noticeable changes made by Motorola all appear on the home screen, as much of the deeper portions of the operating system are very close to stock Android 4.0.
Starting with the lockscreen, the Atrix include some shortcuts that can take users directly to the camera, phone, or messaging apps in addition to silencing the ringer/rejecting calls and unlocking the device. These shortcuts aren't customizable, but they are a welcome sight.
When first booted, the Atrix has only a single home screen panel. You have to add more yourself, and Motorola offers a selection of home screen panel templates (which are pre-populated with apps/widgets) as well as blank screens. No matter how many home screen panels you choose to add, the left-most panel is the home screen panel. This takes a bit of getting used to, as most Android phones use the central panel as the home screen.
Motorola has done a few other interesting things with the home screens. For example, key communications shortcuts - such as those for the phone, email, contacts, messaging, and browser - are interactive. Swiping up on one of these select app icons opens a little window that reveals the most recent list of missed calls, emails, messages, browser bookmarks, and so on. What's cool is that it lets you see each respective inbox without gobbling up screen real estate with a larger widget. It would be easy to miss this feature completely, however. The only reason I noticed it at all is because there are tiny (and I mean TINY) little arrows next to the app icons on the home screen. I discovered the swipe-up-to-open action quite by accident. Bottom line: it's a neat feature once you get used to it, but not intuitive.
Beyond these customizations, the Atrix runs a fairly clean version of Android 4.0 Ice Cream Sandwich. The drop-down notification shade, main app menu, and settings tools are all unadulterated Android.
In terms of performance, it was slightly mixed. Most often the Atrix was very fast, but every so often it got bogged down when transitioning between screens or opening apps. Not in a terrible way by any stretch, but it was noticeable.
Calls/Contacts
Pressing the phone button on the home screen brings you to the dialpad. You can swipe sideways to access the call log, and your favorite contacts. The call log provides some information about calls (time, duration) in addition to shortcuts for redialing or sending a text message to that number.
In-call actions are available via controls that appear on the bottom of the screen, You can easily call up the dialpad, turn on the speakerphone, mute calls, or add a line. I like that the button to end calls is absolutely HUGE, making it easier to hang up when you're done.
Contacts are automatically synced with your Google accounts, and your Google+ account. The contacts app grabs the Google+ profile data from your contacts who have Google+ accounts (images, links, videos, recent posts to Google+) and you can see it in the contact cards.
The contact cards are clean and organized in appearance. The tools for accessing, editing, sharing, and otherwise interacting with your contacts are all easily found.
As noted, you can place contact cards, or direct dial or direct message shortcuts to the home screens, which give you instant access to your besties. You can also add contacts to your Favorites list — which is visible in the phone application.
Last, Motorola carried over its own contact widget for the home screen, which appears in the form four empty boxes at the top. These are your contact favorites. Drag the set of boxes down, and the stacks will open up to show you a grid of your top 20 contacts, complete with photo ID. Tap the photo of your contact, and it will open a drop-down menu that offers a handful of quick actions, such as calling them, messaging them, or sending them a Facebook message.
Messaging
Motorola includes the expected bevy of communications tools on the Atrix HD along with one important extra.
The Atrix ships with a new home screen application/widget called Drive Smart. Drive Smart is meant to prevent Atrix owners from using their device to check/send messages when behind the wheel. It behaves similar to Motorola's Smart Actions, and requires users to carefully manage and set up the feature using triggers such as GPS, and so on. It can be set to automatically turn on when the device notices it is traveling at a high rate of speed. When activated, it can send automatic text message call rejections, and it works with Bluetooth headsets and in-vehicle Bluetooth systems. I tried it out over the weekend and found it worked pretty well. When driving at slower speeds around my town (< 35MPH) it took a while to kick in, but as soon as I got on the highway and reached any speed over about 45MPH it was much quicker to activate.
Beyond that, everything else is stock. The SMS application remains simple yet powerful. Messages are threaded in a conversational style, and media (photos, video, audio) fall in-line with the text. The usual two Android email applications are also present. There's the generic email app for POP3/IMAP4 and Exchange, as well as the native Gmail application. Both offer the home screen swipe feature mentioned above in the menu section.
On the instant messaging side of the equation, the stock Google Talk application is on board for Google IM users, but Yahoo, AIM, and Windows Live aren't supported out of the box. You'll have to go fish in the Google Play Store. Facebook is pre-installed, but Twitter isn't; you'll have to download that yourself.
Other social apps/services on board include Google Latitude, Google+, and Google+ Messenger. Qik's video chat application is also on board, which lets you conduct real-time, two-way video chats with other users of the Qik application. However, at this point, Google+ offers a much better video chatting experience that is free, and supports large group "Hangouts."
Extras
Media
Media options on the Atrix HD are the most limited I've encountered in a long time. At least, as it comes out of the box.
The only music application preinstalled is Google Play Music. No FM radio, no Slacker, no Pandora, not even the simple media player are available. As for video, there's the AT&T Live TV app, and a new movie rental service from AT&T. Add those to the Google Play Movies store and native YouTube app, and that's the sum total of all the media services on the Atrix. Of course, you can download anything you want from the Google Play Store.
In terms of performance, music that I played through the Google Play Music app sounded good, even when streamed over the cellular network. I wish the Google Play Music app had more controls for fine-tuning the sound, though. The Google Play Movies app is a fine video player for sideloaded, captured, or purchased content. Movies looked really good on the 1280 x 720 ColorBurst display, and sounded good on my favorite pair of earbuds.
Camera
Camera
The Atrix doesn't have a dedicated camera button, but the camera can be accessed from the lock screen. It launches quickly. The camera controls are nicely arranged and intuitive to use.
The Atrix's camera can shoot at a maximum of 8 megapixels if you shoot with a 4:3 aspect ratio. If you want to shoot in a 16:9 ratio — which is what matches most of today's TVs and computer monitors — images are 6 megapixels.
The focusing box hovers in the middle of the screen, but the Atrix also includes touch-to-focus if you want to be specific. There's a slide on the left of the display for zooming (and the volume key doubles as a zoom key.) Then there's a small button in the lower-left corner to access the Atrix's full settings.
Once pressed, a drawer pops out that provides access to six different control panels: Settings, Effects, Scenes, Shooting Modes, Brightness, and Flash. There's plenty to choose from when it comes to adjusting the camera's behavior. The effects are limited to colors, but the scenes range from portrait to landscape, and from close-ups to sunsets. It has an easy panorama mode for taking shots of wide vistas.
Overall, the camera functions well. It opens quickly, is quick to focus, and is fast to capture/save images. The Atrix can go from locked to snapping its first picture in about 3 seconds. That's faster than most point-and-shoot standalone cameras I've used.
Gallery
The main view of the gallery shows stacks of photos, images, and videos floating on the screen. They are broken down into groupings such as Camera Shots, All Photos, All Videos, and Screenshots. At the top of the screen, you'll see a drop-down menu that says "Albums." Press it, and you'll automatically see a list of all the photo albums associated with the phone and your online accounts, such as Facebook, Flickr, DropBox, or Picasa. You can easily access all the images you have online with this drop-down tool, which is pretty neat.
Once you drill down into the album of your choice, there are four buttons along the bottom for performing select actions (share, delete, play, more). You need to tap on an individual photo to load it. You can of course share photos through any social network/messaging service you want. You can set the images as your wallpaper, print it, see the photo's location on a map, etc.
Editing features are decent, though the bulk of them are simply different filters. For example, some of the "edits" that can be applied include: Fill Light, Shadows, Posterize, Vignette, and Fisheye. You get the point. Thankfully, you can also crop, eliminate red-eye, straighten, rotate, flip, and sharpen images. Editing tools stop short of adjusting white balance, contrast, and exposure, however.
Photos/Video
Photos
I gave the Atrix the ultimate camera test: I used it at a heavy metal concert. Concerts are an extremely challenging environment due to swiftly changing lights and colors. During the show, the Atrix managed to get a few decent shots, which is about what I expect from any camera during a concert. With those shots, I was able to drill down and see some pretty good detail on stage, despite my distant seat.
Shooting various stills of normal stuff around my house turned up better results. I found the camera offered sharp focus, good exposure, and accurate white balance in the majority of images I captured. Pairing the camera's controls with the gallery's editing functions means you have fairly significant control over the end results. Even using the "auto" functions for taking images, I achieved laudable results.
Video
The default video capture mode is set to 720p HD, though the Atrix supports resolution up to 1080p HD. The video I captured looked good to my eyes. Focus was excellent, colors were accurate, and exposure was as good as could be asked for. From time to time, 1080p HD results appeared shaky, but that's only when the Atrix is moved around quickly during video capture. Owners of the Atrix will be happy to share both the images and video they've captured with all their social networks.
Browse/Customize
Browse
The Atrix includes the stock Android browser. The controls are easy enough to use and the browser does a fine job of rendering both full HTML and mobile-optimized web sites. When used on AT&T's HSPA+ and LTE networks, the experience is quite good.
Browsing speeds felt Porsche Boxster fast on the HSPA+ network, but ramped up to Porsche 911 S speeds when using AT&T's LTE network. Most anyone will be satisfied with the performance of the Boxster, but once you get a taste of the thrill offered by the 911, you'll never want to go back to the Boxster. This is why we wish AT&T's LTE network had a bigger footprint. It's certainly growing, but it doesn't yet match what Verizon offers. I still have to drive about 20 miles east to find LTE coverage, and I live in the metro NYC region.
As I've noted in other reviews, Google's Chrome browser is a better option. It's not any faster, but the tools and features are far superior to the stock Android browser.
Customize
I'd rate the Atrix's customization powers as about average. You can add and delete home screen panels at will, stick all sorts of widgets, apps and shortcuts on them, and do all the normal things such as change-up ringtones, wallpapers, and such. It doesn't offer items such as different themes and you can't adjust the lock screen shortcuts. Most users will be happy with what they can adjust, but some power users may feel a bit limited.
Extras
Apps
The Atrix ships with an average number of apps at 48 installed out of the box. Some can be deleted, some cannot; either way, there's plenty of room for owners to install their own apps. None of those preinstalled really stand out as spectacular.
Bluetooth
The Atrix support a number Bluetooth profiles, including those that allow you to connect to mono and stereo headsets, other phones, PCs, cars, and so on. It paired with each device without issue and had no trouble communicating with other gear. Phone calls sent to Bluetooth headsets were excellent, as were those sent to my car's communication system. Music sounded OK when passed through stereo Bluetooth speakers.
Clock
If you're in a hurry to check the time, a quite press of the power key lights up the Atrix's display, making the large digital clock visible. The clock is white, so choose your wallpaper carefully. The behavior of the lock screen clock can't be adjusted, but of course there are myriad clock widgets for the home screen panels.
GPS
The Atrix includes Google Maps, Navigation, and Latitude, in addition to AT&T Navigator. You know the drill here. Google Maps is great for a free service, with cool features such as offline use and 3D maps, while AT&T Navigator is a bit more robust when it comes to turn-by-turn directions for an extra monthly fee of $10.
Video
Here is a short video tour of the Motorola Atrix HD. You can watch it here:
Or visit YouTube for more viewing and sharing options.
Wrap-Up
The Atrix HD is a solid effort from Motorola that I can't really knock for too many reasons. I would say battery life is the only real negative about the Atrix, as the battery barely makes it to dinner when used in 4G coverage areas. Also, the Atrix's lack of compatibility with Motorola's Lapdock accessories may be off-putting to some.
Aside from those, the hardware is solid, the call and network performance top-notch, and the communications tools varied enough that you have no reason to ignore so-and-so's recent communique. The Atrix's media powers are also strong. It has an excellent camera and video camera, and music and video playback were enjoyable thanks to good sound quality and the beautiful display.
Throw in the $99 price point and Motorola has a contender on its hands. It may lack the sex appeal of the RAZR and the battery life of the RAZR MAXX, but it is hands-down the best version of the Atrix yet.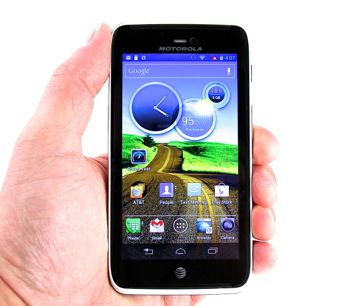 Dream Theater FTW!
You went to 'A Dramatic Tour of Events'! 😎
I am anxiously waiting for the concert on August 10Th (South American Tour).
Nice review, but I would get the Nexus! (though I am an iPhone user) 😁
Motorola Atrix HD for AT&T
Thats one ugly looking phone Motorola really need to get a new product designer seriously...