Motorola Outs the Kevlar-Lined Atrix HD with 4.5-Inch Display
Article Comments 10
Jul 5, 2012, 6:51 AM by Eric M. Zeman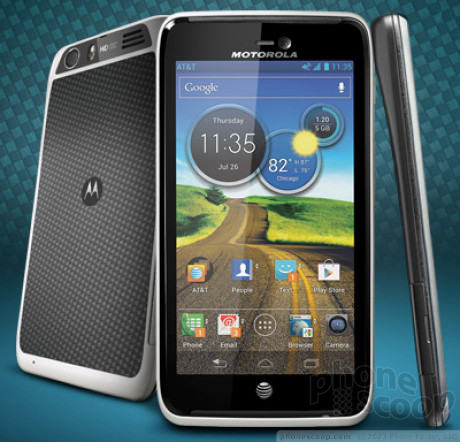 Motorola revealed the Atrix HD on its web site, a follow-up to its Atrix line of devices that joins the RAZR family in overall design and appearance. The Atrix HD runs Android 4.0 Ice Cream Sandwich and features a Kevlar back cover for added strength and a water resistant interior. The Atrix HD has a 4.5-inch 1280 x 720 HD display, with what Motorola calls 'ColorBoost" technology and Gorilla Glass. The device is powered by a dual-core 1.5GHz processor, which is accompanied by 1GB of RAM, 8GB of internal storage, and expandable storage up to 32GB via microSD cards. Other features of the Atrix HD include an 8-megapixel camera with autofocus, flash, and 1080p HD video capture; 802.11a/b/g/n Wi-Fi with mobile hotspot, Bluetooth 4.0 LE+EDR, USB 2.0 and microHDMI; and LTE Band 04/17, HDSPA 21.1Mbps, HSUPA 5.76Mbps, and 850/1700/1900/2100 WCDMA. The Atrix HD is powered by a 1780mAh embedded battery and measures 8.4mm thick. Motorola's web site did not indicate when the device might go on sale, nor which carriers might sell the device. However, the device supports AT&T's 3G network, and the image of the Atrix HD on Motorola's web site includes AT&T's globe icon and branding.
Kevlar is a Gimmick
Everybody hears kevlar, and they instantly think MY PHONE IS BULLETPROOF OMG!!!

wrong.

Kevlar used to mean something, these days, when I hear it being included in the linkes of Cellular phones, thats just ridiculous.

I don't see Sonim advertising they put kevlar in any of their phones, but I bet just about any Sonim phone is tougher than this one is.
I don't think they are indicating that you can shoot it with a gun. Just that it's not going to shatter when it hits the ground, as an iPhone does.
There's no such thing as 'bulletproof' anyway, it's just a question of how big a bullet is required to pierce it. And Kevlar can't deflect a straight shot anyway......

But I seriously doubt anyone is going to firing bullets at their phone because ...
(continues)
Hit or miss?
Size looks good, not too big like the S III might be. The only thing that has me worried is the battery and the fact you still need a media dock to see the display on the TV. Hopefully I've just miss understood that and it won't HAVE to have the dock.
Yeah after the Razr Maxx with the Excellent battery, anything less might be a failure. And I'd love to see one with a physical keyboard as well, like the Droid 4.

Add some great stereo speakers, and maybe offer Jelly Bean 4.1 version of Android, an...
(continues)
wooooooow!!
this thing looks amazing!! 😁