Review: Samsung Galaxy S III for Verizon
Article Comments 7
Jul 10, 2012, 2:32 PM by Eric M. Zeman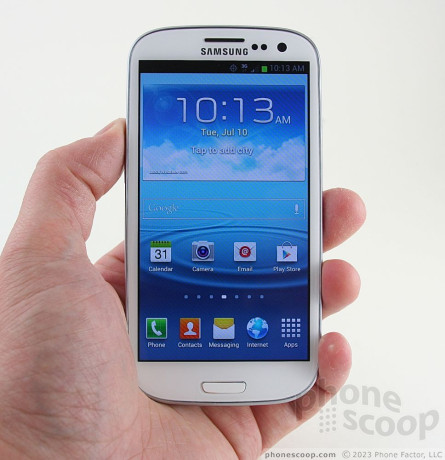 Phone Scoop takes Verizon's version of the Samsung Galaxy S III for a spin. Does anything set it apart from the AT&T, Sprint, and T-Mobile versions? We find out.
Advertisements article continues below...
Form
Is It Your Type?
The Galaxy S III - Samsung's flagship smartphone for 2012 - finally lands on Verizon's store shelves this month. The GS3 may be Samsung's most important phone this year. In the hyper-competitive smartphone market, Samsung needs the GS3 to fend off devices such as HTC's One series and Apple's iconic iPhone line. Can it? The GS3 is so packed with features, even advanced users will have a hard time putting them all to use. If you want to carry one of the most advanced smartphones available, the Samsung Galaxy S III fits the bill.
Since the Verizon Wireless version of the Samsung Galaxy S III is nearly identical to those sold by AT&T, Sprint, and T-Mobile USA, many portions of this review are identical to Phone Scoop's review of those phones. The proper sections of this review (primarily Camera, Signal, Sound, and Battery) have been updated to reflect the specific behavior of Verizon's variant.
Body
Back in 2010, Samsung pulled a major coup and announced the Galaxy S on AT&T, Sprint, T-Mobile USA, and Verizon Wireless all at the same event in New York City. It was the true inflection point of Samsung's smartphone business in the U.S. The Galaxy S eventually became a smash hit on all four carriers. Samsung topped it with the Galaxy S II in 2011. Here we are in 2012, and the Galaxy S III takes Samsung's evolving hardware and software to the next level.
Let's just get this out of the way: The GS3 is the best hardware Samsung has designed and manufactured. If you've regularly read my reviews of Samsung's smartphones, you know that I've complained about cheap materials and sometimes questionable assembly. The GS3 shatters those preconceptions. It is solid as a rock, feels amazing to use all day long, and though it's not made of brushed metal, the polycarbonate (i.e., fancy plastic) is leaps and bounds better than the old plastic shells of the Galaxy S and S II.
I have to give Samsung some credit for the colors. Blue may not be for everyone, but I am sick to death of black smartphones. The "pebble blue" is an attractive hue that impresses when outside under sunlight. The white is also nice. I wish the white had more of a matte finish than glossy, but the silver accents around the outer edge look great.
I think the overall shape and design of the GS3 is a bit conservative and simplistic, but I understand the angle Samsung is shooting for with its "inspired by nature" concept. Samsung needs the GS3 to appeal to as many potential customers as possible, so truly odd, unique designs are out. The edges are absolutely smooth; there isn't a hard angle or sharp edge anywhere on the GS3. Samsung says it was inspired by the shape and feel of a river stone. It feels like you're holding silk. Another way to say it: the GS3 is really slippery. It's thin and slippery enough that it will glide into any pocket in which you care to store the device.
Thanks to the 4.8-inch display, the GS3 is a large phone. It's not Galaxy Note in proportions, but it's still big and somewhat weighty. Samsung did its best to minimize the bezel around the display to create the smallest footprint possible, but there's only so much you can do with a screen this large. Above the display, the user-facing camera and sensors are plainly visible. Below the display, there are two capacitive buttons: one for the menu functions and one for going back. Samsung has foregone Android 4.0's dedicated multitasking key in favor of an (arguably more useful) menu key. These two buttons are separated by a physical home button. The home button has excellent travel and feedback and can be found quite easily by the user's thumb. A long press opens the multitasking tool, and a double press brings up the S Voice app.
There are few other controls offered by the GS3. The volume toggle is on the left edge of the phone. It's a bit on the small side, and could use some nubs to make it stand out better, but that wouldn't gel with the rounded and smooth feel of the device. Bottom line, the volume toggle is perhaps the weakest element of the hardware. The power/lock button is opposite on the right edge. It, too, is a bit small, but is still easy to find and offers decent travel and feedback. I'd prefer to have the lock button on top, but Samsung typically puts it on the side. There's a 3.5mm headset jack on the top and a microUSB port on the bottom.
Samsung has bucked recent industry trends and offers a removable back cover on the GS3. It's no problem to remove, and lets users access the battery, microSD port, and SIM card slot. The GS3 uses the microSIM card that's become popular in devices such as the iPhone 4/4S, HTC One X, and Nokia Lumia 900. This means if you're upgrading from a Galaxy S or SII, you won't be able to use the same old card.
The GS3 also includes a near-field communications chip for tap-and-go actions. The NFC chip itself is built into the battery. That's something to keep in mind if you choose to switch out the stock battery: you may lose the NFC capabilities.
To put it simply, few devices in the rosters of U.S. carriers are going to offer more overall appeal that the Samsung Galaxy S III. It's a damned fine piece of hardware.
Performance
Screen
The GS3 sports a 4.8-inch, 1280 x 720-pixel HD display. It uses Samsung's Super AMOLED technology and a PenTile pixel design. The GS3 is the first smartphone to get a PenTile display right. Every other PenTile display I've used really bugged me. The GS3's doesn't. What does that mean? You're going to love the display. You're really going to love the display. It is incredibly bright, works perfectly outdoors, and is razor sharp. Pictures, web sites, video content, you name it... it looks fantastic on the GS3's vibrant and impressive screen.
Signal
The GS3 performed very well on Verizon's EVDO and LTE networks. In the 3G-only area I live in, the GS3 had a rock-solid connection to the network and never dropped nor missed calls. Data speeds via 3G were average, but I have to say that 3G is really starting to feel slow compared to 4G. We're truly spoiled by 4G networks. The GS3's performance on Verizon's LTE was nothing short of breathtaking. Network speeds bordered on the ridiculous when I roamed in 4G land with the GS3.
Sound
Phone calls connected via Verizon's network were the best of the GS3 bunch. Voices in the earpiece sounded as if the person were speaking to me in person, such was the quality and clarity of the calls. The earpiece speaker was not quite as loud as I would have liked it to be, but it was good enough for most uses. Calls routed to the speakerphone were also excellent in terms of quality, and I found them to be loud enough to suit pretty much any environment in which you might need to conduct a speakerphone call. The ringers and alerts — or, sounds of nature, as Samsung is keen to remind you — were loud and clear, but I wish the vibrate alert were a smidge stronger.
Battery
As with its AT&T, Sprint, and T-Mobile USA brothers, the Verizon variant of the GS3 showed very good battery life. It includes a massive 2100mAh battery that powers the device through a full day's use with no problem, though it won't last much beyond a single day when under 4G LTE coverage. I had the Wi-Fi radio on, as well as GPS, and used both for checking email, taking/sending pictures, reading through my RSS, checking social networks, and many other tasks. Most users of the GS3 in markets where 4G LTE is available will need to charge every night. Users who live in 3G-only markets may be able to squeeze some extra battery life out of the GS3.
Basics
UI and Communications
Menus
The GS3 runs Android 4.0 Ice Cream Sandwich (ICS) with the latest version of Samsung's TouchWiz software floating on top. The blend of the two makes for some neat innovations and interesting give-and-take compared to other Android 4.0 devices.
The lock screen, which can be unlocked by swiping anywhere, in any direction on the display, offers four customizable shortcuts. By default, those are to the phone, messaging app, S-Note app, and the camera. Just touch the app you want to open, swipe it, and you'll go directly there. The notification bar is visible from the lock screen, so you know if you've got unread emails, messages, and other items waiting, and you can access notifications from the lock screen, which appear when the display wakes up.
The basics of the menu system are essentially the same as on other ICS phones. The GS3 has seven home screens, up to four of which can be deleted. They can be packed with widgets, apps, shortcuts, contacts, and so on. The tool for customizing the home screens is a cinch to use, and I particularly like the widget tool.
The main app menu is a completely customizable set of grids. Apps can be rearranged to suit user preferences, as well as deleted, hidden, shared, and so on. It's the most comprehensive set of tools I've seen yet with respect to managing applications, and is easy to understand thanks to the plain layout and use of the Menu hardware key.
Speaking of which, it is great to have a Menu button, but it conflicts at times with the software-based menu tools that are part of Android 4.0. At times, the three little dots that have become a part of the ICS user experience are missing, which signals the user that the menu button needs to be used instead. In essence, Samsung has taken ICS back a step. The menu button always works whether or not the dots are there, but having two options for some apps might confuse some users.
The drop-down notification shade takes on a lot of responsibility. Not only does it allow you to triage your various missed calls, messages, and other notifications, it also allows you to toggle on/off all the radios and access the full settings menu.
Performance of the user interface software is second to none. It's lightning quick. Transitions are smooth and seamless, apps open in a blink, and the device never became hung up on a task or application. It uses the same dual-core Qualcomm Snapdragon S4 chip that is in the U.S. variant of the HTC One X. This chip is Qualcomm's best effort to date, and it shows in the GS3's performance. It rocks.
Calls/Contacts
Managing the phone and contact applications couldn't be easier. The phone app itself is more or less the stock version of the Android dialer. It's got a huge software dialpad, with tabs that run across the top for accessing the call history and contact groupings.
The dialer offers a killer set of custom options that floored me a bit. When the dial pad is visible, tap the menu button and you'll see an options screen for the phone. It includes normal settings, such as call rejection behavior, alerts, answering/ending calls, setting up voicemail, and controlling the TTY functions. The best part if the In-Call Sound EQ Settings. These are incredible to customizing the sound of voice calls. You can turn on/off noise cancellation, as well as dial in your own preferences for volume, clarity, and warmth. Here's the best part: you can customize the behavior of the earpiece speaker depending on which ear you hold the phone to when making calls. It takes a moment to set up, but once you do, you'll be stunned by the difference in audio quality. Using these tools significantly improves in-call performance and boosts the device into "excellent" territory.
The contact app behaves more or less like the stock Android contact app. One thing I noticed is that the GS3 is more aggressive when it comes to linking Google+ contacts with contacts that have also been tagged by Facebook and/or LinkedIn. Be careful when setting up your accounts for the first time, lest you link accounts you don't want or mean to.
Other features I liked are the different widgets for controlling and connecting with your contacts. You can stick direct access to a contact on the home screen panels, as well as a direct dial, direct message, and direct access with social network status attached. This last one basically shows the contact shortcut plus their most recent Twitter or Facebook update floating next to them. I suppose this could be used to give you a heads-up on their mood before you give them a call.
Oddly, what the GS3 doesn't have is a widget for all your contacts. Often, there's an Android widget that lets you stick a handful of contacts, such as favorites or other groups, on the home screen in a single widget. The GS3 has no such widget.
Messaging
As expected, the GS3 offers the stock Gmail, email, SMS/MMS, Google Talk, Google+, and Google+ Messenger apps. Together with their associated widgets, they make an impressive arsenal for reaching out to and connecting with your friends, family, and colleagues. If you've used Android, you know how these apps work; there's nothing different about them on the GS3.
One app the GS3 offers that's semi-unique is ChatON. ChatON is Samsung's instant messaging app. Rather than send messages via SMS, it sends IMs as network data. The idea is to get a bunch of your buddies to use ChatON instead of SMS and avoid SMS-related fees. The idea has merit. ChatON natively syncs with your Google Talk contacts. Others using the ChatON app who are in your contact database will appear automatically in your buddy list without requiring the user to add them individually. The user interface is plain and simple enough to use. ChatON is cross-platform, meaning it will work on Android devices as well as iOS, Bada, BlackBerry, and Windows Phone. I like the native GTalk IM app better (partly because it also supports video chat), but GTalk is limited to interacting with only other Android device users.
On the social networking front, the native Twitter and Facebook apps are of course present. Each sinks its tendrils fairly deep into the system software (as does Google+), allowing users to fire off tweets or update their Facebook status from pretty much anywhere in the user interface.
Samsung's Social Hub is nowhere to be found. Social Hub is (was?) Samsung's catch-all social network utility that bundles all the networks together under one umbrella. Samsung hasn't said why it is absent from the GS3.
The last big addition, however, is Flipboard. Flipboard was originally an iPad app that eventually found its way to the iPhone and now Android — starting the with GS3. It is a reader/news aggregation app, but it's also highly social. You can pull in your Facebook and Twitter feeds and view them as a digital magazine, compete with flipping pages. For anyone sensitive to design aesthetics, Flipboard will make your soul happy. The way it packages together all the various feeds to which you subscribe is nothing short of visionary. And of course, everything can be shared with everyone. There are tools that make it a cinch to email articles, post them to Facebook or Google+, respond to the original poster, and so on. It's a great app, and definitely worth checking out.
Browse/Customize
Browser
The GS3 ships with the latest version of the Android browser on board. It's a decent browser, no doubt, and the way in which it's connected to many of the phone's other apps makes it at least partially social. (I like the Google Chrome browser much better, though. It offers more features and simply looks better.)
The GS3 performed really well on Verizon's 3G and 4G networks. Speeds on the 3G network averaged about 1Mbps and speeds on the 4G network averages about 7Mbps. That's right inline with what Verizon advertises for both. Paired with the capable processor and beautiful display, and browsing via the GS3 is a great experience.
Customize
Each new version of TouchWiz makes dramatic improvements in the customization department and the newest variant - as realized on the GS3 - is the best yet. I found it very easy to adjust the home screens, the menu layout, the notification behaviors, and, stunningly, the incredible sound-bending tools of the phone app. Worried about themes, wallpapers, ringtones, etc.? Yeah, that can be changed, too.
Extras
Imaging/Media
Camera
The GS3 includes an 8-megapixel shooter that is literally bursting with options (pun intended). The GS3 does not have a dedicated camera button, but the camera can be launched via the lock screen shortcut. It takes a hair longer than I'd like it to to load, maybe 2 or 3 seconds.
The layout of the camera controls is typical for a Samsung smartphone. There is a control strip down each side; the viewfinder is positioned between them. The left strip - which is fully customizable - offers access to features such as the flash, exposure controls, scenes, shooting modes, and so on. I particularly like the automated panorama setting, which makes it so easy to take panoramas that my 7-year-old could do it. The results weren't half bad, either. The right control strip, as usual, includes a large on-screen shutter button, a toggle for the camera/video camera and a link to the photo gallery.
Once you've spent a moment familiarizing yourself with the controls and perhaps even customized them to your own liking, the camera is a breeze to use. It focuses and shoots photos faster than a blink. You can choose to use touch-to-focus if there is something in particular you want to be in focus. It's a fast and feature-rich camera.
Gallery
The GS3's gallery application is very close to the stock Android 4.0 gallery app. The GS3 automatically syncs your Picasa and/or Google+ photos if you have them, as well as other configurable online accounts, including Flickr.
The basic view includes a mish-mash of photos from all your accounts in one epically huge grid. Using the tools at the top of the page, you can shift the view to specific folders or collections of photos.
When it comes to handling photos, the GS3 falls a bit short. Sure, images can be shared via every network or online service possible with but a few swipes, but editing options are few. Images can be cropped and rotated, as well as renamed. That's it. There are no filters nor other options to adjust the appearance of photos. That's kind of crummy. There's no third-party photo editing app on board, either.
Photos
I took the GS3 for a spin in my neighborhood on a sunny day and was pleased with the results. I found it to be very accurate to reality. Focus was nearly always perfect, exposure spot on, and colors looked vibrant and rich. The only thing I would complain about is grain. I thought some of the images had a bit too much visible grain. Not a terrible amount, but noticeable.
The photos are good enough to share via whichever social network or medium you prefer. Going on vacation this summer? Leave the point-and-shoot behind. You won't need it.
Captured Video
I often found myself surprised that the video I captured with the GS3 came from a phone and not a dedicated video camera. That clarity is outstanding, focus is sharp, exposure is accurate, and white balance is spot on. My only complaint would be grain, which I saw in videos shot in dark environments. Most of the time, you're going to be pleased with the results, whether you capture them in 1080p, 740p, or even 480p.
Music
There are so many options for listening to music on the GS3, it's hard to pick. Naturally, a simple music player and Google Play Music are on board. The media player will find and play back any music files stored on the device. It's limited in functionality, but wins points for its simple nature. I find using Google Play Music a bit more frustrating, but it scores well for offering such a vast array of music and features. You can use it to stream and/or purchase full music tracks in addition to renting movies.
Then there's the Samsung Media Hub. The Media Hub lets GS3 owners rent/download movies, videos, and television shows. It requires an account with Samsung and a credit card on file. Based on what I saw, the Google Play Store has a richer set of options than the Music Hub. If you need more options than this, you may have a music problems.
Music sounded great played back through each and every service. The plain music app has an EQ, but even the apps that don't have their own customizable sound controls still manage to get the mix neutral enough that it sounds good to my picky ears.
Prerecorded Video
Pretty much the same goes for video. The GS3 has the native YouTube application, a simple video player app that will work with any content on the device, and the Google Play Video app. This last option is reserved for watching movies you've rented or purchased from the Google Play Store. All of these apps work well, and offer easy controls for watching video. Sound is also excellent. The luscious display makes the experience all the better.
Verizon left its V CAST Video app off the GS3, but you can download it from the Play Store if you wish.
S Voice, Etc.
S Voice
One of the stand-out features of the GS3 is Samsung's S Voice. Like Apple's Siri, it is a voice-controlled assistant for the GS3. Double tap the home key and S Voice launches, asking you what you want help with. You can search for contacts, dictate SMS messages, check the weather, see alarms, and so on. It definitely has limitations. You can't use it to start and address an email, for example, but you can dictate the text therein. You can have it start the media player, but not to automatically open the camera and take a picture.
S Voice's performance was mixed at best. At times, it was very fast and very accurate. Other times it was fast but inaccurate. Samsung is not marketing S Voice as a beta product, like Apple's Siri is, but it feels less refined over all. Even so, once you get the hang of it, I am sure plenty of GS3 users will be pleased with it.
S Memo
S Memo is basically a trimmed down version of the same S-Pen software that came with the Galaxy Note — but without the actual pen (AKA, stylus). Perhaps this is why the app has been renamed to S Memo.
S Memo is pretty much what the name implies, a note-taking application that works with your finger rather than a stylus. Using S Memo, you can write notes on a picture, erase portions of it, crop anything (not just squares or circles, but really fine-tuned cropping), rotate the image, and share it via a social networking and so on.
S Memo also lets you take notes. You can fire up a new note and compose a message — either by writing the note yourself as you would on paper, only with your finger instead. (I will admit that Swype works WAY better with the S-Pen than with your thumb, as the S-Pen allows you to be much more precise.) Notes can be multiple pages long, and S Memo includes handwriting recognition software to try to figure out stuff you write yourself. You can import images, clip art, or maps, you can skip the pen and keyboard entirely and dictate notes, and of course you can send the notes to others via email, social networks, etc.
S Suggest
In case you're not confident of your ability to find apps in the Google Play Store, Samsung offers S Suggest. As the name implies, S Suggest will occasionally suggest that you explore certain apps based on the apps and services you've already downloaded to your device. In addition to the suggestion, it also acts as a repository for apps that Samsung likes or wants to promote. It works both as a full app, and as a home screen widget. I turned it off.
AllShare
One of the cool innovations given to the GS3 by Samsung is AllShare. This app allows one user to share their content with a group of other GS3 users. For example, say I choose to share a photo album with you. Not only can you see it (this is all accomplished over WiFi, by the way), but you can interact with it. Other participants can swipe through the gallery, which is cached locally on the participants' devices, as well as write notes on the images or other content being shared. It's pretty neat. Samsung showed the feature working with about 25 GS3s, which were all displaying the same content in unison, sort of like how Best Buy shows the same thing on all it's TVs at once in the show room.
BuddyPhotoShare
The idea behind Buddy Photo Share is to instantly share photos with a group of people at once. The way Samsung pitched it is as follows: say you're at a party with a bunch of other Samsung GS3 users. If everyone sets Buddy Photo Share on, all the photos taken that evening by all the attendees will automatically be synced and shared with the other participants. This means everyone in the group gets to see all the photos captured by the entire group. It's a cool idea, but certainly something which requires a bit of discretion. It's easy to set up, and it even automatically tags people in the photos.
PhotoShare
One last photo-sharing app on the GS3 is a bit more personal. Essentially, you set up a connection with a single other user by tapping phones, and transfer an image directly from one phone to another (over Wi-Fi.) It basically lets people share photos immediately without the need to send the file via email, SMS, or Dropbox, etc.
TecTiles
The last bit of tech Samsung stuffed into the GS3 is TecTiles. TecTiles are programmable NFC stickers that will interact with the GS3. Using an app, GS3 owners can set up each tag to perform one of about a score of actions. For example, use one at work to turn on the Wi-Fi radio and automatically connect to your corporate network. Or use one to initiate a phone call to your significant other when you get home. Or set checkin on FourSquare, or send a Tweet, or your Facebook status. Programming the TecTiles is a cinch. Samsung is selling the stickers in packs of 5 for $15, which I feel is horribly overpriced. The entire exercise, however, is to teach consumers how to use their device's NFC capabilities. This way, when more advanced features, such as making automated payments, become available, the user behavior and familiarity with how it works is already there.
Extras
Apps
Between Samsung and Verizon Wireless, the Galaxy S III is stuffed with software and other junk you may not want. Thanks to the menu tools, some of the apps can be deleted entirely. Others cannot, but at least you above the option of hiding them. Hidden apps remain the handset, but are no longer visible in the menu and app management tools. If the 48-odd preinstalled apps aren't enough for you, point your device at the Google Play Store and have fun.
Bluetooth
The GS3 has Bluetooth 4.0, which is cool, but a bit ahead of its time, as Bluetooth 4.0 devices are few and far between at the moment. Of course, it works with any old Bluetooth thingamabob you have laying about, including mono and stereo headsets, cars, speakers, and so on. The GS3 worked flawlessly with all of the above. Phone calls sounded excellent through standard Bluetooth headsets; music sounded very good though stereo Bluetooth headphones; and the GS3 worked with Bluetooth keyboards and other accessories with no problem.
Clock
There's a white digital clock on the lock screen. It is big enough to be seen at an arm's length, but be careful with the wallpaper you pick. Light or white backgrounds will make the clock impossible to see. Dark wallpaper works much better, especially for outdoor readability.
GPS
The GS3 ships with Google Maps (complete with Navigation and Latitude), as well as VZ Navigator. VZ Navigator works great and offers an extremely rich set of features that would be perfect for the GS3 did they not require a $10 per month subscription. Google Maps is free, and offers nearly identical features. For basic navigation, free trumps $10 in my book. It's also worth pointing out that Google Maps offers 3D buildings and landscapes, as well as indoor maps of cool stuff such as museums, bolstering the usefulness of the app.
Wrap-Up
As with the other variants of the Samsung Galaxy S III, the Verizon version is a solid smartphone, and certainly one of the best to reach the shelves of Big Red's stores. Samsung went for broke and packed the device with features that may lead to mass adoption of burgeoning technologies such as NFC. Even if it's used only to share pictures, NFC traction has to start somewhere.
Beyond the bells and whistles, the Galaxy S III is a damned good phone. It excels at nearly every feature. The hardware is the best ever from Samsung and the performance backs it up. The stunning camera and video camera are good enough to record your wedding day, and watching it over and over on the GS3's gorgeous display will make you smile from here until death you do part.
Looking at Verizon's current stable of devices, there are few that can compete with the GS3. Samsung has raised the bar with the Galaxy S III. It will be hard for many other manufacturers to reach it, let alone vault over it.
For Android fans, the Galaxy S III is the only phone worth getting. Nothing else comes close.
EVERYONE PROMISES A BETTER CAMERA,SAMSUNG ACTUALLY DELIVERS
Fantastic phone. Received my white 16GB pre-order yesterday, and have been having fun with it ever since. I'm impressed with the battery life considering it's using the battery-hogging 4G LTE signal. Speaking of which, I am coming from a 3G phone and I have to say that 4G is a godsend; I live in Riverside County, CA and get great 4G signal -- this thing loads web pages just as fast as a high quality WiFi connection. The display is beautiful and is usable in direct sunlight.
http://www.careace.net/2012/06/07/a-review-ofhtcs-ri ... »
FM tuner
I was under the impression that the S3 came with a built in FM tuner. This is a pretty standard feature. However, I don't seem to be able to locate it on the phone or find any information about it. It is a nice feature when there are TVs at the gym with certain stations to tune into in order to listen. Does anybody have any insight into whether the S3 has an FM tuner?
HotSpot on S III???
Did you have a chance or does anyone know how the S III holds up to use as a HotSpot? My Thunderbolt is useless as a Hotspot. It won't hold a signal for more than 5 minutes and when it does have a signal the speed is ridiculously slow. I would like to take advantage of my Unlimited Data with Verizon when I get my Nexus 7 and also be able to let the kids sync up their Nooks too when we are on the road or out and about.
I'm curious to know more about the HotSpot capability as well. I currently have the Samsung Charge and the HotSpot feature works great (I've used up to 4 devices at once for periods of 30-60 minutes at a time). Hoping the GS3 can do the same or better...
(continues)