Review: Samsung Galaxy S III for Verizon
Form Basics Extras Wrap-Up Comments 76
Is It Your Type? Body Performance
Jul 10, 2012, 2:32 PM by Eric M. Zeman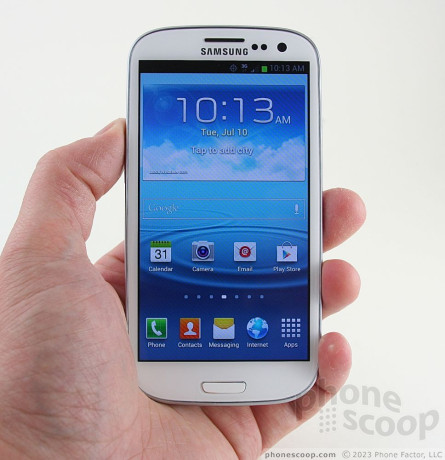 Phone Scoop takes Verizon's version of the Samsung Galaxy S III for a spin. Does anything set it apart from the AT&T, Sprint, and T-Mobile versions? We find out.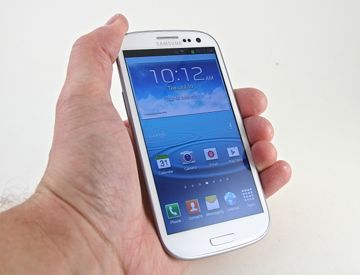 The Galaxy S III - Samsung's flagship smartphone for 2012 - finally lands on Verizon's store shelves this month. The GS3 may be Samsung's most important phone this year. In the hyper-competitive smartphone market, Samsung needs the GS3 to fend off devices such as HTC's One series and Apple's iconic iPhone line. Can it? The GS3 is so packed with features, even advanced users will have a hard time putting them all to use. If you want to carry one of the most advanced smartphones available, the Samsung Galaxy S III fits the bill.
Since the Verizon Wireless version of the Samsung Galaxy S III is nearly identical to those sold by AT&T, Sprint, and T-Mobile USA, many portions of this review are identical to Phone Scoop's review of those phones. The proper sections of this review (primarily Camera, Signal, Sound, and Battery) have been updated to reflect the specific behavior of Verizon's variant.
EVERYONE PROMISES A BETTER CAMERA,SAMSUNG ACTUALLY DELIVERS
Fantastic phone. Received my white 16GB pre-order yesterday, and have been having fun with it ever since. I'm impressed with the battery life considering it's using the battery-hogging 4G LTE signal. Speaking of which, I am coming from a 3G phone and I have to say that 4G is a godsend; I live in Riverside County, CA and get great 4G signal -- this thing loads web pages just as fast as a high quality WiFi connection. The display is beautiful and is usable in direct sunlight.
http://www.careace.net/2012/06/07/a-review-ofhtcs-ri ... »
FM tuner
I was under the impression that the S3 came with a built in FM tuner. This is a pretty standard feature. However, I don't seem to be able to locate it on the phone or find any information about it. It is a nice feature when there are TVs at the gym with certain stations to tune into in order to listen. Does anybody have any insight into whether the S3 has an FM tuner?
HotSpot on S III???
Did you have a chance or does anyone know how the S III holds up to use as a HotSpot? My Thunderbolt is useless as a Hotspot. It won't hold a signal for more than 5 minutes and when it does have a signal the speed is ridiculously slow. I would like to take advantage of my Unlimited Data with Verizon when I get my Nexus 7 and also be able to let the kids sync up their Nooks too when we are on the road or out and about.
I'm curious to know more about the HotSpot capability as well. I currently have the Samsung Charge and the HotSpot feature works great (I've used up to 4 devices at once for periods of 30-60 minutes at a time). Hoping the GS3 can do the same or better...
(continues)