Review: Huawei Prism for T-Mobile
Article Comments 2
May 29, 2012, 6:03 PM by Eric M. Zeman @zeman_e
updated May 29, 2012, 6:26 PM
Huawei's latest U.S. device is the Prism, an entry-level Android smartphone for T-Mobile. The Prism may lack pizzazz, but it makes up for it with strong core feature performance.
AD article continues below...
Form
Is It Your Type?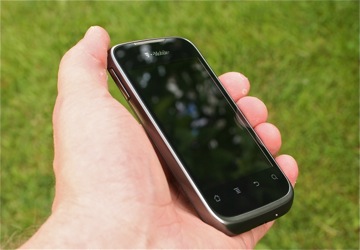 The Huawei Prism for T-Mobile is an entry-level smartphone. Its unassuming hardware and ho-hum design still manage to include enough, however, to satisfy smartphone shoppers seeking simple over spectacular.
Body
The Huawei Prism strongly resembles the Android smartphones of late 2009 and early 2010. It's a bit chubby, it's a bit pedestrian looking, and its gray-on-black-on-gray color palette is among the more drab I've seen in recent memory (it's also available in red, according to T-Mobile's web site). For such an inexpensive phone ($20 on contract, $220 off contract), I wasn't expecting the Prism to raise the bar in the style department, but I was hoping it wouldn't put me to sleep.
The Prism is compact and solid. All of the seams fit together well, and the quality of the materials and manufacture belie the low cost of this phone. The smooth, rounded back is covered in a textured paint job that is pleasing against the palm of your hand. It's comfortable to hold and use, and easy to wrap your entire hand around and hold it firmly. It will easily fit into any pocket.
The front fascia is maybe 75% screen and 25% everything else. There's plenty (read: too much) bezel above and below the screen for my tastes. The earpiece is a thin slit that runs along the top edge of the front. The colored indicator light is hidden in this strip of meshed metal and is easily visible from any angle. The standard Android 2.x control buttons are positioned directly below the display. These four buttons are capacitive and provide haptic feedback when pressed. I found they were easy enough to find without looking.
The volume toggle is on the left edge of the Prism, very close to the top. It's about an inch long. Though the travel and feedback are good, I wish it had nubs or some other physical marking so that finding the up versus down sides of the toggle were easier. The microUSB port is on the bottom of the phone, and there are no controls or buttons on the right edge.
The lock button is on top, as is the 3.5mm headset jack. The lock button is OK. I'd be happier with it if it were slightly larger, but the action was good and it's a cinch to locate with your finger.
The battery cover is a shell that makes up the entire back surface of the Prism. There's no notch in the cover's edge for your thumbnail, which means it's a pain to remove. You really have to dig your nail into the seam to pry it off. Once off, you have access to the battery, SIM card, and microSD card. All three can be removed.
The Three S's
Screen
The Prism's display matches that of the original (pre-Retina) iPhone. It measures 3.5 inches across the diagonal, and includes 360 x 480 pixels. The size and resolution mean that it's pretty easy to pick out individual pixels. You can see the pixels along the edges of text and icons, and the screen door effect is apparent on some screens. It doesn't look horrible, but it is about as low-end as it gets with respect to the competition. The real weakness of this phone's display, however, is the brightness. It's barely bright enough for indoor use, let alone outdoor use. The screen is unreadable when taken out under a relatively bright sky. This means taking photos outdoors is going to be difficult and will include more guesswork than I'd like.
Signal
The Prism is a 3G phone, not a 4G phone. It supports HSPA at 7.2Mbps, and shows a "3G" icon next to the signal meter. In terms of signal performance, the Prism consistently found and connected to T-Mobile's HSPA network without problems the majority of the time. Signal strength varied, but the Prism was always able to connect phone calls on the first dial and never missed any while I used it.
Sound
Call quality impressed me. The Prism's earpiece produced warm voice tones and clear conversations. I didn't notice any static or noise during calls, and calls were free of fade outs and other nonsense. The earpiece produced excellent volume and could easily be heard over a raucous lunch crowd in a busy restaurant. The speakerphone was also good with quality and volume. Using it for calls didn't introduce any problems and the speaker was loud enough for use in the same noisy restaurant (though, yes, I got a few well-deserved dirty looks). The ringers and alerts were all loud enough, but the vibrate alert is too weak.
Battery
With its HSPA radio, smaller and lower-resolution screen, and single-core processor, the Prism is a battery life champ. I had no problem getting through nearly two full days of moderate use with the Prism. With Wi-Fi, GPS, and 3G pinging networks and pulling down email and social networking feeds consistently, I was able to manage a busy holiday weekend schedule with power to spare. Well done, Huawei.
Basics
Menus
The Prism runs a stock build of Android 2.3.6 Gingerbread. Anyone familiar with the basic underpinnings of the Android operating system won't have a problem mastering the Prism in about 30 seconds.
It has five home screen panels for customization. While that ought to be be plenty of most users, the small screen size and lower resolution means things are packed more tightly on the home screen paensl. Widgets, in particular, are real estate hogs and can consume entire screens easily.
The main app menu is a vertical grid that can show 16 apps at a time. You scroll up and down to see all of them. The main app menu can't be customized at all, which is a bit disappointing. The apps are listed alphabetically, and cannot be rearranged, moved, or otherwise reordered to suit individual tastes.
As far as performance goes, the Prism does OK. It has a 600MHz Qualcomm S1 processor. That's old-school, man. Despite the slower engine and lack of multiple cores, screen transitions were mostly smooth and I didn't notice any stuttering or other performance problems. All the apps preloaded on the device performed flawlessly, but some photo-editing apps I downloaded were slow to respond to input.
Calls/Contacts
Calls
The Prism makes use of the stock Android 2.3.6 phone application, and Huawei hasn't done anything to dress it up. That's just fine. In-call features run the typical set: send to Bluetooth, speakerphone, mute, merge calls, etc. The Prism does include T-Mobile's Wi-Fi calling feature, which works well when under the wireless umbrella of Wi-Fi.
Contacts
The Prism uses the stock contact application, as well. With access to myriad different contact databases, the Prism lets you carry a virtual white pages in your pocket. Each contact entry lists gobs of details, and makes calling or sending messages a cinch from any contact card. I like that you can easily switch from seeing a contact's information to your history with that contact (calls, emails, IM, SMS, etc.) and even their photos. Searching through the contact database is a breeze with the built-in search tool.
Messaging
The Prism doesn't stray too far from the beaten Android messaging path. It offers the same core functions found on most stock Android devices.
The stock email, Gmail, SMS, Google Talk, voice dialer, and voicemail applications are representin'. I was unable to find any differences between what the Prism's version of these apps offer when compared to any other Android device. They all work well.
CMAS is installed, which will deliver emergency alerts to the Prism via text message. The alerts include warnings about severe weather as well as Presidential alerts about serious threats and emergencies. You can opt out of some of the lower-grade threats, but not Presidential alerts.
On the social networking front, Facebook is pre-loaded, but Twitter is not. Facebook can also be integrated into several services on the Prism, such as the contacts app. Google's Latitude app is also on board, but Google+ isn't.
Extras
Media
Music
The stock Android music application is preloaded as a music option. It doesn't bring anything new to the table, unfortunately. You can also make use of the Google Play app for purchasing music and Google Music app for playback, if you care to download those apps on your own. Either way, music playback sounds good whether it's from local storage or streamed across the internet.
The Prism offers an FM radio, which I found worked well, but internet radio services such as Slacker or Pandora will need to be downloaded from the Google Play Store.
Video
The stock Android video application is on board for video playback. It will play side-loaded content as well as any video captured on the device itself. It offers bare-bones functionality (play, pause, stop, etc.). The YouTube app is the same old one that's on every other Android phone.
T-Mobile TV is also on board. It offers streamed video content in bite-size portions. I didn't have much success with it. Video playback is choppy at best, and the quality is just plain awful.
Camera
Camera
The Prism uses the standard Android camera interface, which is a solid performer and offers plenty of options for the budding photographer inside you. There's no physical camera button, so you have to access it from a shortcut or the app menu. It launches in a snap. The basic shooting screen uses about 80% of the display's real estate as the viewfinder. In the other 20%, there is a simple control strip that includes a camcorder toggle, shutter button, and access to the gallery.
The Prism has five small controls floating in the viewfinder to access other features. What I like is that using these controls doesn't take you away from the viewfinder. For example, press the little "1X" icon, and a pop-up menu appears allowing you to adjust the zoom level. After several seconds, it goes away with no further action required. The other options include adjusting the flash, white balance, location, and then the full settings menu.
The full settings menu can be used to adjust effects; control the ISO (camera's sensitivity); choose different metering modes; adjust color, contrast, and brightness settings; set different focusing modes, and so on.
The camera doesn't offer touch-to-focus, and is a bit slow to capture photos. There's perhaps a 1-second delay between when you press the shutter button and the when the camera actually fires off the shot. If you're not careful, you can move the camera in that timespan and get a blurry shot as a result.
Gallery
The gallery is the stock Android option. Photo albums float in stacks in the main gallery view, and you can sift through them in the chronological timeline in which they are arranged. It has a neat 3D look and feel to it. If you have photos stored in Google's Picasa service, they are also included in the gallery and you can sift through them with ease. The gallery does the normal things, such as slide shows and allow for photos to be shared via social networks.
As for editing, the Prism only allows for crop and rotate. That kind of stinks.
Photos/Videos
Photos
The Prism's 3.2-megapixel camera showed me every problem in the book. Lack of focus, grain, poor exposure, and poor white balance were each visible in most pictures, and many shots showed two or more of said problems. Pair overall crummy quality with the slow behavior of the camera app itself, and you have the Prism's one real failure (which also happens to make the device exceptionally poorly named, IMHO). It's just not a good camera. Period.
Videos
The same goes for the video quality. With a max resolution of 480p, it shoots low-grade video to begin with it. Add in poor focus, terrible sound, and questionable stability issues, and the video camera is barely worth using.
Browse/Customize
Browser
The Web browser on the Huawei Prism is the standard Android browser. Web performance was OK, for the most part. As noted above, the Prism did an excellent job of maintaining a good connection to T-Mobile's network. That led to acceptable performance under crummy conditions, and good performance under excellent network conditions. It's a bummer about the Prism's processor, though. Since the Prism's processor is limited to 600MHz (and the Prism is limited to 7.2Mbps HSPA at max), the overall browsing experience was a bit inconsistent.
Customize
The Prism offers the standard laundry list of customization features for any Android 2.3.6 device. Sure, it lets users adjust the ringtones, wallpapers, and such, but doesn't include themes or support for different ringer profiles, for example.
Extras
Apps
The Prism ships with the usual assortment of T-Mobile-branded apps on board. Some of them can be deleted, some of them cannot. Overall, however, the Prism has the least number of apps preinstalled that I've seen on a device in recent memory. Aside from the T-Mobile stuff, the rest is stock Android.
Bluetooth
Bluetooth worked without issue on the Prism. Pairing with mono and stereo headsets, as well as PCs and other phones, was a snap. Sound quality of voice calls through mono headsets and my car's hands-free system was very good. Music sounded acceptable through stereo Bluetooth speakers, but I'd shy away from this feature if you have a good cable handy as that will offer superior sound.
Clock
The Prism offers the same lock screen clock that most Android 2.3 phones do. When initially woken from sleep, it shows the time in a larger, digital read out. The time can be gleaned with but a glance. There is also a full-featured clock application within for all your timing, alarming, and stopwatching needs.
GPS
The Prism includes Google Maps and Navigation. There are no other navigation apps on board. It also comes with Google Places and Google Latitude for local searching location-sharing. I like the way Places integrates with Google Maps for finding nearby restaurants, and then generates driving directions. The GPS performance was spot on in terms of pinpointing my location. Network and phone performance were just good enough to make the app usable for navigating from point A to point B.
Wrap-Up
The Huawei Prism isn't ever going to be an iconic smartphone that everyone — or anyone, really — lusts over. It's not that kind of device. Instead, it hopes to provide a simple feature set in an inexpensive wrapper to those seeking the basic entry-level smartphone. In that quest, it succeeds.
The Prism is no stunner in the design department, and the middling specs will scare off anyone looking for even a moderately capable smartphone. What the Prism lacks in looks and extravagant software powers, it makes up for with solid performance in the core features.
The one real exception is the camera. In short, the Prism's camera stinks. If that's a vital feature for you, look elsewhere.
Otherwise, the Prism does an excellent job of connecting to T-Mobile's network, offers outstanding voice performance, and has enough battery power to keep the phone alive for two full days. Throw in decent system performance and the functional communications tool set offered by stock Android 2.3.6 Gingerbread, and you have a fairly good basic smartphone that's well worth the $20 contract price.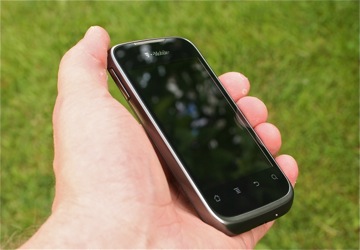 I am glad that it is not me who is reviewing a low end phone........
because my reviews would always say that the phone is trash...lol...I guess I am spoiled...I only like high end phones, dual/quad core processors, nice displays, etc..I would have a hard time saying anything good about a low end phone like this.

So Eric is a better man than me, being able to be objective and say something good about a phone with the specs of the Huawei Prism 🙂
yourvoiceofreason said:
because my reviews would always say that the phone is trash...lol...I guess I am spoiled...I only like high end phones, dual/quad core processors, nice displays, etc..I would have a hard time saying anything
...
(continues)