Hands-On with the Kyocera Rise
Article Comments 5
May 8, 2012, 6:00 AM by Rich Brome @rbrome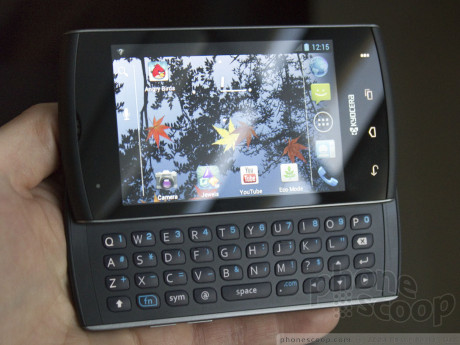 Kyocera's new Rise stands out for having a physical keyboard, when other manufacturers seem to be moving away from such things. We spent some time with it. Read on for our first impressions.
Advertisements article continues below...
In a market filled with unremarkable slabs of black plastic that look all too much like an actual ice cream sandwich, the Kyocera Rise stands apart for having a slide-out QWERTY keyboard. That doesn't make it truly unique, but unfortunately, the feature seems to be increasingly rare. It's nice to see someone stepping up to fill the void, and Kyocera's strategy recently is to identify those gaps in the market in fill them.
At first glance, the Rise looks an awful lot like the Sony Ericsson Play. The design - with straight sides and crescent ends - is almost identical. Fortunately, it's a clean, sexy design, and Kyocera has done a good job implementing it.
It both looks good from all angles and feels nice in the hand. The soft-touch black finish at the ends adds bit of distinction and feels nice. The rest of the outside is cheaper-feeling plastic, although the build quality still feels good.
The spring-assisted sliding mechanism is absolutely excellent. The side keys are equally good. The QWERTY keyboard is easily the best I can recall from Kyocera, and more than holds its own against any competitor. The layout and spacing is perfect, the keys feel good, and they have just enough "click" as you type. I wish the keys had a tiny bit more travel, but they have just barely enough, and that's a common issue with sliding keyboards, where compromises must be made to keep thickness down.
Speaking of, the Rise is a surprisingly thin phone given its slide-out keyboard. The phone is a great balance in terms of size, weight, screen size, and keyboard size. It should slide into pockets with ease.
We're glad to see a camera key on the Rise. Not enough phones have one. Also , as with the Hydro, we're glad to see a dedicated menu key on the front. Google would prefer to get rid of hardware "menu" keys on Android 4.0 phones, but they've been roundly criticized for the way they've made that change, so it's nice to see manufacturers like Kyocera listening to users and giving them the menu key they want.
Even better, Kyocera has given the menu key the same three-dot icon that Android 4.0 uses for on-screen "menu" buttons. Not everyone agrees that it's the best icon, but at least the consistency between the hardware icon and software icon makes for a consistent user experience. (It suddenly seems stupid that Samsung uses a different icon for the hardware menu key on the Galaxy S III.)
Speaking of software, the Rise runs standard Android 4.0 (Ice Cream Sandwich), with only a few minor tweaks. First is the lock screen, which gains a camera shortcut. Second is Kyocera's "eco mode" app, which helps users control settings that affect battery life from one easy interface. A home-screen widget helps users keeps tabs on efficiency, much like the digital readouts in most hybrid cars. It also provides quick acces to changing the settings.
The rest of the Rise's specs and features are relatively basic, and nearly identical those of the Hydro. This isn't a bargain-basement freebie phone, but it's nothing anyone would call high-end, either. The camera, display, and processor are all on the low end of the spec/performance curve, without being at the absolute bottom.
This is a CDMA phone; we wouldn't be surprised to see this show up with Sprint (and/or Sprint's prepaid brands, Virgin and Boost.) For those wanting an affordable Android phone with a thumb-worthy keyboard and pretty face, the Rise may be worth a good look.
See Samsung...
Stock ICS even makes a cheap low end device like this look good!