Motorola Q
Info Photos News Forum 100+ Reviews 100+

A video tour of the highly-anticipated, ultra-thin Motorola Q messaging phone with Windows Mobile 5.
---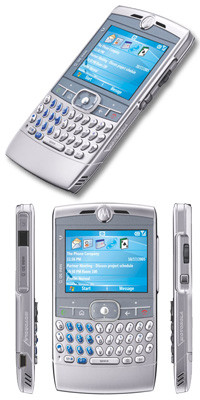 Motorola tonight announced the Q, the smartphone that has long been rumored as the RAZRberry. This super thin, extremely small device only measures ; 4.6 x 2.5 x 0.45 inches despite its 240 x 320 widescreen display and full QWERTY keyboard. The Q will be one of the first Windows Mobile 5.0 devices, and will be running the Smartphone version. Windows Mobile 5.0 for Smartphone features Windows Media Player 10, advanced synchronization with Exchange, photo caller ID and speaker independent voice recognition.

In addition to the QWERTY keyboard, the Q features a D-Pad and all the keys required for Smartphone navigation as well as a thumbwheel to ease one-handed operation. The keyboard has EL backlighting like the RAZR, however it features raised individual keys. The Q also has a 1.3 MP camera and LED flash, Mini SD slot and Bluetooth. It is expected in Q1 of 2006.
---
On-the-scene report from the MOTONOW media event and Motorola's annual financial analyst meeting in Chicago. Hands-on with the new Q and A910, plus exclusive photos of the next RAZR and the ROKR music phone.
---