Motorola Lenovo ThinkPhone
Info Photos News Forum 1 Hands-On ›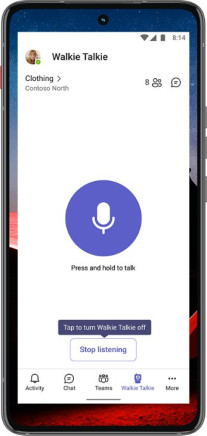 Motorola and Microsoft are bringing new business-oriented software features to the business-focused Lenovo ThinkPhone by Motorola. The new features are: fully integrated support for Windows 365 cloud capabilities, and Push To Talk (PTT) integration with the Walkie Talkie feature on Microsoft Teams. The Windows 365 cloud feature lets users stream a full instance of a Windows PC from the cloud, much like a streaming game service. Users can connect an external display (via USB-C), keyboard, and mouse (via Bluetooth) to the phone for a full desktop experience. The new Teams-based PTT function can be assigned to the Red Key on the side for quick access.
---
The new Lenovo/Motorola phone optimized for business users is available via enterprise channels starting today, and will be available online for consumers starting April 28th. "The Lenovo ThinkPhone by Motorola will be available through select B2B channels in the U.S. beginning April 26. Enterprise consumers can purchase the device through their trusted Lenovo business partner or directly through their Lenovo sales representative." Consumers will be able to purchase the (universally unlocked) ThinkPhone on Motorola.com and Lenovo.com for $700 starting on Friday. It will also be available via Lenovo Pro with "special business pricing".
---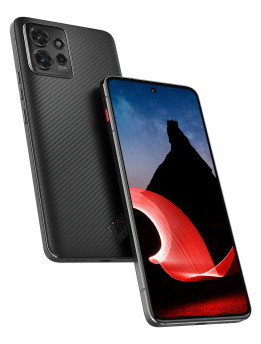 Motorola's newest phone is the Lenovo ThinkPhone, a mobile phone designed to appeal to business customers and integrate seamlessly with Lenovo ThinkPad laptops. The ThinkPhone has high-end specs, a durable body, and extensive security features. A full array of connectivity features with ThinkPad laptops includes Instant Connect seamless discovery when nearby, Unified Clipboard, drag-and-drop file sharing, and Instant Hotspot with 5G. Android apps can be opened on the laptop, including launching with one click from Unified Notifications. Advanced Webcam lets you use the phone's 50-megapixel camera for higher-quality online meetings. Other phone specs include a Snapdragon 8+ Gen 1 processor, 8–12 GB RAM, 128–512 GB storage, 6-inch FHD+ OLED display, Wi-Fi 6E, and USB 3.1. It has a 5,000 mAh battery, 68-watt fast charging (68W charger included), and wireless charging. It comes with Android 13 and four years of security updates. A secondary rear camera offers 13 megapixels of 120º wide-angle, while the front camera is 32 megapixel. An aircraft-grade aluminum frame, Kevlar-like "lightweight aramid fiber that's stronger than steel", and Gorilla Glass Victus give the phone durability as well as an IP68 rating for proper water resistance. In addition to ThinkShield and advanced enterprise mobile device management, the ThinkPhone comes with Moto KeySafe, "a separate processor ... that adds an additional layer of security to better protect the most sensitive data in the smartphone. It isolates PINs, passwords, and cryptographic keys, storing them in a tamper-resistant environment protecting the data from the inside out." The ThinkPhone will be available to US business customers and unlocked online "in the coming months". Pricing was not announced.
---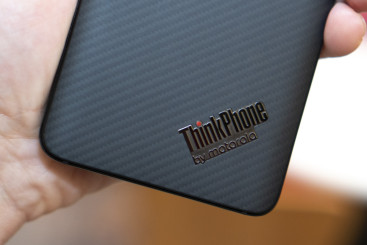 Motorola has a new phone specifically for "business" folks. It's a high-end phone with a design inspired by Lenovo's ThinkPad laptops. The Lenovo ThinkPhone by Motorola has the full range of enterprise software you'd expect, plus it's built to last with a durable body. Motorola has expanded the capability of its Ready For software to create seamless links between the ThinkPhone and a ThinkPad laptop. So what's it like in person? Read on for our first impressions.
---