Motorola moto g 5G
Info Photos News Forum Hands-On ›
Motorola is offering deep discounts on its newest unlocked phones, with some models 40–50% off. The Moto g stylus 5G is now just $200, 1/2 off, and the flagship edge+ is down to $600, a $400 savings.
---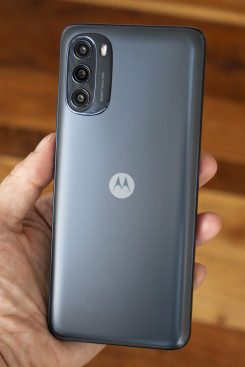 Motorola has a new affordable 5G phone that they're calling simply "moto g 5G". It has a 50 megapixel camera with a wide array of Motorola's distinct camera software features. It also has some extras like 90 Hz display refresh and a fingerprint reader. But it's a pretty straightforward-seeming phone overall. But what is it like in person? We walk you through the details in this hands-on report.
---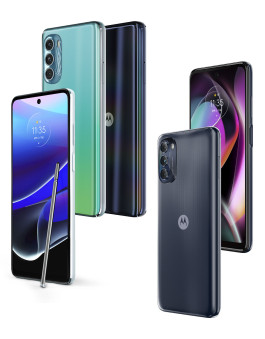 Motorola has announced two new mid-range phones with 5G. Both are essentially 5G upgrades of existing 4G models already announced for 2022. Both will come to a wide range of US carriers, including AT&T, Cricket, Boost, US Cellular, and Xfinity Mobile. Both have a 50 megapixel main camera, 5,000 mAh battery, 10-watt fast charging, fast-refresh display, water resistance, fingerprint reader, expandable storage, and a headset jack.
The moto g stylus 5G (2022) has a three key upgrades compared to both last year's model and this year's 4G model: a 120 Hz display (a first for the g series in the US), a Snapdragon 695 chip, and NFC. The LCD display measures 6.8 inches with FHD+ resolution. The phone also has an 8 megapixel wide/macro camera and 16 megapixel front camera. Naturally, it has a built-in stylus. While the base version has 4 GB RAM and 128 GB storage, versions will also be available with 6 or 8 GB RAM and 256 GB storage. Verizon will also offer a version with mmWave 5G. Motorola will sell it unlocked for $500 starting April 28th. Carriers are expected to sell it for less, at dates to be announced. It will come in two colors: seafoam green and steel blue.
The moto g 5G is essentially a 5G version of the moto g power (2022). Like that model, it has a 6.5-inch LCD display with HD+ resolution and 90 Hz refresh. The selfie camera does get a bump up to 13 megapixel. Extra rear cameras are a depth camera and 2 megapixel macro camera. It's powered by a MediaTek Dimensity 700 chip paired with 4 GB RAM and 64 GB storage. An unlocked version will also be available with 6 GB RAM and 256 GB storage. Motorola will sell it unlocked for $400 starting May 19th. Carriers are expected to sell it for less, at dates to be announced.
Both phones come with Android 12 and Motorola promises one major OS upgrade (to Android 13). Motorola is also committing to three years of bi-monthly (every other month) security updates.
---