Hands on with the moto g 5G
Article Comments 1
May 19, 2022, 8:00 AM by Rich Brome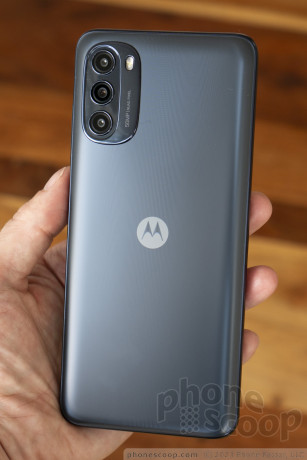 Motorola has a new affordable 5G phone that they're calling simply "moto g 5G". It has a 50 megapixel camera with a wide array of Motorola's distinct camera software features. It also has some extras like 90 Hz display refresh and a fingerprint reader. But it's a pretty straightforward-seeming phone overall. But what is it like in person? We walk you through the details in this hands-on report.
The moto g 5G has fairly typical specs for an affordable 5G phone these days. Even the 90 Hz display refresh is starting to become more common on mid-range phones roughly like this one. The 50 megapixel camera may sound impressive, but that's also becoming common. We expect features like the fingerprint reader, 5,000 mAh battery, and fast charging.
There are a couple of things that put this at the lower end of "mid-range", though. The display is only HD+ resolution instead of full-HD+, something you might notice on a display this large (6.5 inches) if you have good eyesight. Personally, I'd prefer better resolution to the fast refresh rate, but I know some people would disagree. There's also no NFC for tap payments. And the extra cameras are just depth and a 2 megapixel macro camera. (Why bother?) A better mid-range phone would have a decent wide-angle camera, at least.
Hardware
The size and design of this phone are fairly typical for 2022. It's large and tall. It helps that it's not too wide, and the curves and materials make it feel nice — very nice — in the hand. The matte finish all around is great, but especially nice on the back; it's silky. The bezels around the display are a smidge thicker than some phones, and there is a chin, but none of this is egregious given the price.
The combination lock button and fingerprint reader is in a good enough location, but you'll probably have to adjust your grip to reach the volume control. One nice touch is an LED indicator light at the top.
I always appreciate a phone with a headset jack and a memory card slot. Now that phones are as large as they are, (because people want large displays, but also for some technical reasons around 5G antennas,) there's no reason not have these basic features that take up just a little extra space inside.
Overall, I really like the look and feel. It won't wow you, but Motorola did a very good job with the basics here.
Software
Honestly, there's not much to say about the software that I haven't already said in my hands-on articles for the moto g stylus 5G (2022) and moto g power (2022). The software experience is nearly identical across Motorola phones for the past two years or so. And it's good.
But I'll recap a bit. It's a version of Android that looks and feels "clean", both visually, and in that it's true to Google's excellent original design principles. Motorola has added a ton of customization options and extra software features, but they've done a good of integrating them into Google's software so that it still feels like Android should. I don't love Motorola's "Moto" app for controlling all of its custom software, but you'll probably only dive in there once or twice when you first get your phone, then leave it alone.
I do like Motorola's camera app. Some lower-end Motorola phones strip a few features out of the camera app if the processor can't handle them. But the MediaTek Dimensity 700 chip inside seems capable of powering nearly everything Motorola has come up with, including relatively intensive features like Dual Capture for video (where it records video using front and rear cameras at the same time), and the fun Spot Color for video.
There is a very tiny amount of bloatware on the phone. It's not much, but it is there. You might even appreciate that Facebook and TikTok are pre-loaded, but it's disappointing to see a travel-shopping app pre-installed.
Summary
My first impressions are that I like both the hardware and the software. What's here is done well.
My only gripes are the things that Motorola left out. Personally, I need NFC, and there are phones with NFC that cost less than this. But if that's not something you use, no problem. I would also have preferred the utility of a wide-angle camera of some kind instead of a macro camera with pitiful resolution. But again, you may not care about that, either.
Whether I would recommend this phone depends on the price that US carriers sell it for, which we don't know yet. Motorola is charging $400 ($350 for a limited time) for an unlocked version with extra RAM and storage ( 6 / 256 GB). But US carriers will sell a cheaper version with less RAM and storage (4 / 64 GB). Plus, US carriers always sell Motorola phones for less than Motorola charges these days. It will almost certainly sell for $300 or less. I would say it starts becoming a good value at $260 or less.
This phone will be sold by a good number of US carriers, including AT&T, Cricket, Boost, and Consumer Cellular.
Side note: This may also be one of the first phones to support Dish's new standalone, built-from-scratch 5G network, a rollout that will be interesting to watch this summer.
No messages