Samsung Galaxy Z Flip3
Samsung has revealed that it sold more Galaxy Z Fold3 and Z Flip3 phones in the first month of sales than all the foldable phones it sold in 2020. Samsung's total foldable phone shipments for 2021 were four times that of 2020.
---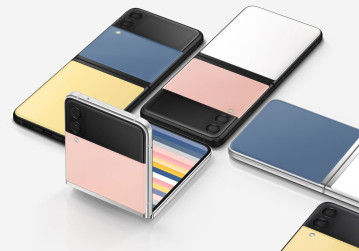 Samsung announced the Galaxy Z Flip3 Bespoke Edition today. For a $100 premium, Samsung will now let you choose your own frame color, as well as the outer cover glass colors. Samsung is offering five different colors for the outer cover glass (Blue, Yellow, Pink, White, or Black), which can be different for the top and bottom. You can also choose from black or silver for the metal frame. The Galaxy Z Flip3 Bespoke Edition is available today from samsung.com, starting at $1099. Samsung also announced a future service to swap cover glass colors "for a fee" "later on".
---
The Samsung Galaxy Z Fold3 and Z Flip3 include a new "Protect battery" option that stops charging when the battery reaches 85%. The feature should extend the useful life of the battery over several years.
---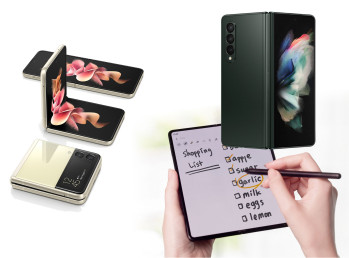 Samsung's third-generation foldable phones are slimmer, lighter, more durable, and more affordable. The Galaxy Z Fold3 and Galaxy Z Flip3 both feature IPx8 water resistance as well as bodies crafted from a new "Armor Aluminum" material and Gorilla Glass Victus. The flexible displays inside use Samsung's Ultra Thin glass, but with updated protective layers that that are stronger and more durable. The displays now offer adaptive refresh up to 120 Hz, including on the cover display of the Z Fold3. The Z Flip3 now supports mmWave 5G, and has a 4x larger outer display. The Z Fold3 now supports Samsung's S Pen stylus. A standard S Pen for the Z Fold3 runs $50, while a new S Pen Pro for $100 supports other Samsung phones and supports remote-control and mid-air gesture features. The Z Fold3 also has Samsung's first under-display camera, on the main (inner) display. Both phones sport Qualcomm's flagship Snapdragon 888 chip. The two phones are otherwise similar to their predecessors in design and features, including camera specs. The Galaxy Z Flip3 will come with 8 GB RAM and 128 or 256 GB storage, starting at $1,000. It will be offered in cream, green, lavender, and matte black. Samsung's web site will also offer it in pink, grey, and white. The Galaxy Z Fold3 will come with 12 GB RAM and 256 or 512 GB storage, starting at $1,800. It will come in green, silver, and black. Pre-orders for both phones start today, with full availability August 27th. Pre-order customers get a credit of $150–200 to spend with Samsung on accessories, etc. All three national US carriers will offer both phones. Verizon is offering a Samsung Fold Cover and S Pen bundle for free with the Fold3 "while supplies last".
---