Motorola moto g stylus 5G (2021)
Info Photos News Forum Hands-On ›
Boost Mobile started selling the new Motorola moto g stylus 5G this week. Cricket starts selling the phone today, and AT&T will start sales July 16th. All three brands are offering the phone for far less than the $400 that Motorola is asking for the unlocked version. Boost's web site lists the full price as $250 but is currently selling it for $200. Cricket's price is $100 for new customers or $150 for existing customers. AT&T is selling the phone for $180 on a 36-month installment plan ($5/month) with an unlimited plan (for both new and existing customers, for a limited time). The version offered by carriers has 4 GB RAM and 128 GB storage, while Motorola's pricier unlocked version has 6 GB RAM and 256 GB storage (though the phone has expandable storage.) T-Mobile and Metro are also slated to sell the phone soon.
---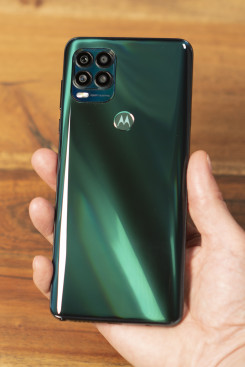 Motorola's moto g series has long had an option for people who want an affordable phone with a large screen and large battery. Recently, that's been the g stylus, which gives you something extra to use with that big screen. Motorola already has a moto g stylus for 2021, but now there's a version with 5G, and it brings with it an even larger battery. So what is this interesting mid-range phone actually like in person? Here's our hands-on report, with a plethora of photos for you.
---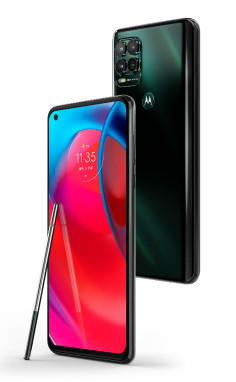 Motorola today announced the moto g stylus 5G, a version of this year's moto g stylus with 5G and a larger battery, for $400. The new 5G model has excellent support for all 5G and 4G networks in the US, (except mmWave 5G.) The battery has been bumped up from 4,000 mAh to a whopping 5,000 mAh. The 5G model has a Qualcomm Snapdragon 480 chipset instead the Snapdragon 678 in the 4G model. Although the 480 is a 4-series chip, it's newer than the 678 and offers similar performance. The 48 megapixel main camera offers access to the full 48 megapixel resolution, and the fingerprint reader is located on the back instead of the side. Other specs and features are similar to the 4G model, including a huge 6.8-inch full-HD display, wide camera, macro camera, 16 megapixel selfie camera, fast charging, memory card slot, and headset jack. The software is Android 11 with a nearly stock Google interface. Added stylus-oriented software includes the Moto Note app, Coloring Book app, and a customizable shortcut bar that appears when the stylus is removed. The stylus itself has been redesigned to be easier to remove and replace, and has a new feature that can help you find the stylus if you lose it. New features in the camera app include Spot Color for video and Dual Capture, which combines video from the front and rear cameras. The moto g stylus 5G will come in Cosmic Emerald. AT&T, Cricket, T-Mobile, Metro, Boost, Xfinity, and Spectrum will offer a version with 4 GB RAM and 128 GB storage (launch timing and pricing TBA), while the unlocked version sold by Motorola (plus B&H, Best Buy, and Amazon) will up that to 6 GB RAM / 256 GB storage. The unlocked version goes on sale for $400 on June 14th.
---