TCL 10 5G UW
Info Photos News Forum Hands-On ›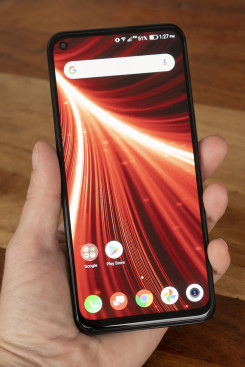 In late 2020, the focus of the mobile world is still on 5G, but it's not on flagship phones; the hot race is who can offer the best $400 5G phone. Verizon's big bet in this race is on the TCL 10 5G UW, which stands out for including faster mmWave 5G, a feature that usually carries a price premium. And this phone has a number of other specs usually found only on much pricier phones. So what corners did TCL cut to reach this low price? Is the phone actually any good? We took it for a quick spin to find out. Here are our first impressions.
---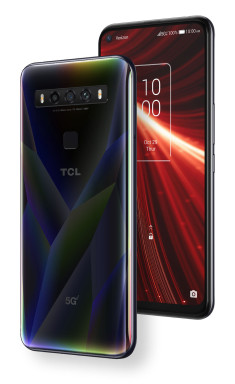 Getting a 5G phone for Verizon just got a lot more affordable with the introduction of the TCL 10 5G UW. The phone is notable for several reasons. First is the $400 price point, a full $150 lower than Verizon's cheapest 5G phones before today. The $400 price point matches T-Mobile's cheapest 5G phone, the REVVL 5G, which is also made by TCL. In fact, the two phones are closely related, sharing many specs and the same "T790" technical model number. The TCL 10 5G UW is also notable for including faster mmWave 5G, a feature that usually carries a price premium. No competing phone near this price point includes mmWave, and Verizon's 5G phones usually carry a $50-100 premium because Verizon requires that all of its 5G phones include mmWave. The 10 5G UW is also notable for being the first TCL-branded phone in the postpaid lineup of Verizon, the largest carrier in the US; this marks a major milestone for the TCL brand. Finally, the 10 5G UW includes several high-end specs one might not expect in such an affordable phone, such as a Qualcomm Snapdragon 765G — a chip also found in some flagship-level phones — as well as 6 GB RAM, HDR10 display, and a 48-megapixel main camera. The premium design sports Gorilla Glass 3 on the front and 3D curved Gorilla Glass 5 on the back covering a subtle, dark prismatic crystal design. Additional specs include a 6.53-inch full-HD display, 128 GB storage plus memory card slot, 4,500 mAh battery, fast charging, and Super Bluetooth for connecting up to four audio devices simultaneously. It also has a wide-angle camera, macro camera, NFC, rear fingerprint reader, and a headset jack. It ships with Android 10 but TCL promises an update to Android 11 is on the way, along with at least two years of quarterly security updates. The TCL 10 5G UW will be available from Verizon starting this Thursday Oct. 29th.
---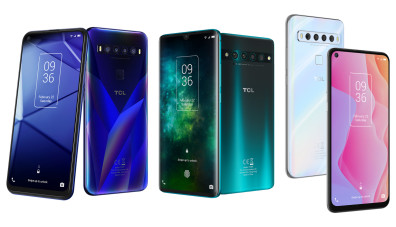 After "soft-launching" with the Plex phone last year, TCL is now previewing its first widely-available lineup of own-brand phones: the 10 series, all of which offer premium features for under $500. TCL officially announced very few details of the three phones, but shared more with Phone Scoop in a hands-on session. All three models offer four rear cameras. The TCL 10 5G offers sub-6 GHz 5G powered by the new Qualcomm Snapdragon 765 chip and an extra-large battery. It also has a large display with a "hole punch" for the selfie camera in the top-left corner. A fingerprint reader is located on the back. The 10 Pro has a premium design with a curved-edge AMOLED display, in-display fingerprint reader, matte glass back with reflective gradient effect, and metal frame. It will be available in black and green. The 10L (L for Lite) is similar in design to the 10 5G, but thinner and lighter. The 10L and 10 Pro will be available in the US unlocked for under $500 in the second quarter. TCL did not announce launch details for the 10 5G, but said it would also be priced starting under $500. Further details on the 10 series will be announced at the MWC trade show in late February. Read on for more details and our hands-on impressions.
---