Samsung Galaxy Note20
Info Photos News Forum Hands-On › Video ›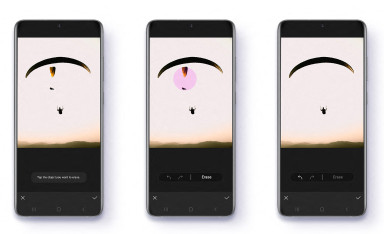 Samsung today announced the availability of its One UI 3.1 software update, which brings select software features of the new Galaxy S21 series to most higher-end Galaxy phones from 2020 and 2019. New features include an improved "Single Take" camera mode, which captures a variety of still and video formats simultaneously. It also brings Object Eraser (shown), an intelligent photo editing tool to cut out unwanted parts of photos. "If you want to edit out distracting objects, simply tap the area you wish to remove and it will be automatically selected and deleted." Other new features include Private Share, to control who is allowed access to the content you send and how long it is available, and Eye Comfort Shield, which automatically adjusts the display's blue light output based on the time of day. Finally, there's Multi Mic Recording, which, when in Pro Video mode, allows you to simultaneously record audio through both your phone and a connected Bluetooth. The One UI 3.1 update is available starting today for the following Galaxy phones: S20 series, Note20 series, Z Fold2, Z Flip, S10, Note10, Fold, A71, A51, A90, A80, A70, and A50. All of those phones will receive the new Single Take, Object Eraser, Private Share, and Eye Comfort Shield features. Multi-Mic Recording will only be available on 2020 flagship phones: Galaxy S20 series, S20 FE, Note20 series, Z Fold2, and Z Flip 5G.
---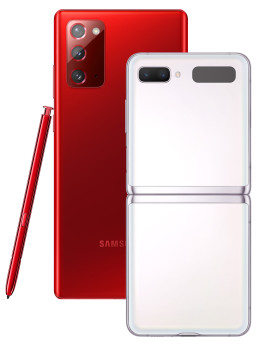 Samsung today launched new color options for two of its flagship phones, available "in limited quantities". The Galaxy Note20 will be available in a new Mystic Red color. This new color joins the current line-up that also includes Mystic Bronze, Mystic Green and Mystic Gray. Also, the Galaxy Z Flip 5G will be available in Mystic White, which joins Mystic Bronze and Mystic Gray. Samsung.com is offering special deals on both phones when trading in an eligible phone.
---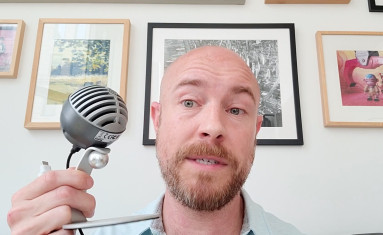 Samsung's Note series phones are pricey and aimed at road warriors. So you might think they're ill-suited for 2020. But they do have very unique capabilities that can help you up your video conferencing game as you work from home, as we demonstrate in this video using the Galaxy Note20 Ultra.
---
Samsung has provided key details on a new commitment to offer major new versions of Android to existing phones. All Galaxy S, Galaxy Note, and Galaxy Z (foldable) series devices will receive "three generations of Android operating system (OS) upgrades". For example, current models that shipped with Android 10 will receive an update to Android 11, plus the next two major versions. Higher-end Galaxy A models — such as the A51 and A71 — are also included, as well as last year's models (the S10 and Note10 series) and the original Galaxy Fold. Samsung also revealed that the S20 series will be its first models to receive the Android 11 update, "with other devices to follow shortly thereafter." Samsung briefly mentioned the new commitment during its Note20 launch event, but did not elaborate on the details until today.
---
Samsung just announced the Galaxy Note20 and Note20 Ultra. The specs are impressive, but what else should you know about these super-phones? We take you a bit deeper with some first impressions, point out some things you may have missed, and explain some things that might be confusing at first glance.
---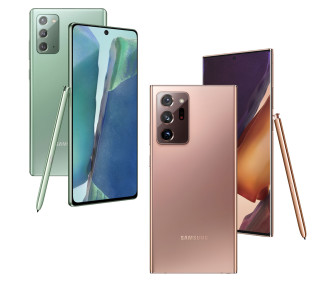 Samsung today revealed its latest Galaxy Note phones: the Galaxy Note20 and Galaxy Note20 Ultra. On the software side, the new Note phones include an overhauled Samsung Notes app with free cloud sync, PDF annotation, nested folder structure, personalized handwriting neaten-ing, sound recordings time-synced with your own notes, and sync with both OneNote and Outlook. The S Pen supports five new gestures, allowing general Android navigation using only the S Pen as a remote control. The Note20 series also includes advanced video features such as 8K video capture, multi-track audio including remote mics (USB or Bluetooth), manual controls, variable-speed zoom, and the ability to use the extra mics in the new Galaxy Buds Live earbuds to better cancel out background noise. Updated Link to Windows integration now lets you access your mobile apps directly from your Windows 10 PC. The Note20 series also features 120 Hz display refresh, brighter screens, Snapdragon 865+ processor, 25W fast charging, 15W wireless charging, 5G (including mmWave in most versions), and IP68 water resistance. The standard Note20 has a more rounded design, flat 6.7-inch FHD+ display, 4,300 mAh battery, 8 GB RAM, and 128 GB storage. The Note20 Ultra has a more sharp-cornered design, 6.9-inch QHD+ display with curved sides and the new Gorilla Glass Victus, 4,500 mAh battery, 12 GB RAM, 128 or 512 GB storage, and a memory card slot. The Ultra also adds UWB for precise relative positioning, similar to a feature introduced in the iPhone 11. At launch, the Note20 Ultra will support UWB for Point To Share file-sharing and digital key applications, with more uses planned. On the camera side, the two models take different approaches to implementing zoom, much like the S20 series. The standard model has a 12 megapixel standard camera, plus a 64 megapixel camera for 8K video and up to 3x real zoom. The Ultra model has a 108 megapixel main camera for 8K video and 1–4x zoom, plus a 5x optical tele camera (12 megapixel). Samsung's "Space Zoom" adds 10x digital zoom, for total zoom of 30x on the Note20 and 50x on the Ultra. Both models also have a 12 megapixel wide camera and 10 megapixel selfie camera with auto-focus. The standard model will come in Mystic Bronze, Mystic Green, and Mystic Gray, while the Ultra will come in Mystic Bronze, Mystic Black, and Mystic White. Select colors have a "haze" effect matte finish that resists fingerprints. Pre-orders start August 6th, will full availability on the 21st. The Note20 Ultra will start at $1300, while the standard Note20 will start at $1000. Most US carriers will offer the Note20 series, including Verizon and Xfinity Mobile. The phones will also be available unlocked. All pre-orders include a credit to spend with Samsung on accessories, etc.: $100 for the Note20 and $150 for the Ultra. The credit can be used for an Xbox Game Pass Ultimate Bundle, which includes a Bluetooth game controller and 3 months of Xbox Game Pass Ultimate with cloud gaming.
---