Samsung Galaxy Note20 Series: Beyond the Specs
Article Comments
Aug 5, 2020, 9:00 AM by Rich Brome
updated Aug 6, 2020, 12:24 PM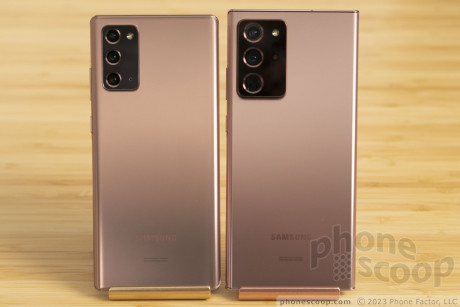 Samsung just announced the Galaxy Note20 and Note20 Ultra. The specs are impressive, but what else should you know about these super-phones? We take you a bit deeper with some first impressions, point out some things you may have missed, and explain some things that might be confusing at first glance.
The Note20 series is mostly what you've been expecting if you follow Samsung. These phones have all the hallmark features of a high-end Samsung, and the Note series in particular. As always, they build on the S series flagship models introduced earlier in the year, adding the S Pen and taking things even higher-end.
The specs for both phones are very high-end, and very similar. Where they do differ, such as in amount of RAM, display size, display resolution, battery size, and camera specs, the Ultra is obviously more high-end. But here are some differences you may have missed:
The Ultra has a memory card slot. The standard model is only available with a non-expandable 128 GB of storage.
The Ultra's display is protected by Gorilla Glass Victus, Corning's newest glass that resists both drops and scratches better than any other display glass. The standard model uses a more traditional Gorilla Glass.
The back of the standard model is made from Glasstic, Samsung's proprietary advanced plastic that looks and feels like glass, but is more durable. The Ultra has a glass back.
The Ultra comes with UWB for relative positioning, like the iPhone 11. This enables features like Point To Share, which lets you send a file to a specific nearby phone by simply pointing your Ultra at that phone.
The Ultra has a "folded" periscope-style telephoto lens (like the S20 Ultra) to achieve true 5x optical zoom. But the standard Note20 technically doesn't have a telephoto lens / optical zoom at all. Its "telephoto" camera only has a 1.1x lens, but has high enough resolution (64 megapixel) that it can deliver optical-quality 3x zoom by cropping to the center of the sensor. (Samsung does this in part so the same camera can double as the 8K video camera.)
The Ultra has laser auto-focus for faster, more accurate camera focusing.
The standard Note20 has a flat display. It's the first Note in many years to not have a display with curved sides. (The Ultra still has them.)
The Ultra has adaptive display refresh up to 120 Hz. The standard model refreshes at 60 Hz.
The standard Note20 has rounded corners that make it look more like an S series phone, compared to the very rectangular, sharp-cornered look of the Ultra and previous Note models.
The Ultra has a much smaller hole punch in the display for the selfie camera. It's quite tiny.
The Ultra has a much larger camera hump. It really sticks out. But that's not terribly surprising, as it contains the special 5x optical zoom. (It's the same with the S20 Ultra and its similar camera setup.)
The Ultra's S Pen has better latency. On the standard model, it's 40% improved over last year's Note. On the Ultra, it's 80% better.
A lot of traditional Note customers want every feature known to mankind and the very best specs. For that, this year, you will definitely need to spring for the Ultra. The standard model seems a little like the best Note Samsung could offer for a target price $1,000. Don't get me wrong, it's still an extremely high-end, capable phone; I wouldn't call it "compromised" by any stretch. But this isn't just the same phone in two sizes.
I was surprised by the slightly inconsistent design language. Not only does the smaller model have a flat display and more rounded corners, but the Ultra has a glossy metal frame, while the smaller model has a brushed finish on the top and bottom.
In my brief hands-on, I thought they both felt great. The weight and width are right where they should be for this class of phone. They both feel thin and high-quality, as expected. The "haze" matte finish on the back looks and feel fantastic, and resists fingerprints well.
Last year's Note10 also came in two sizes, but the small one was much smaller. I really liked that unusually small option, even if its battery was a tad undersized. This year, your choices are big and bigger. But neither is out of line with the competition; all high-end phones are big these days.
I was shocked to learn that the standard model uses Glasstic for the back. Even holding both phones in my hands at the same time, I couldn't tell the plastic from the glass; the Glasstic is that good. I was not as impressed when I first touched this material on last year's A30 and A50. I don't know if it's the new "haze" finish or something else Samsung has tweaked, but whatever they've done is great. I can't say if it will still feel that way after some wear and tear, but out of the box I can tell you it feels exactly like glass.
The Ultra has almost everything, but it's interesting to look at what Samsung dropped compared to last year. Gone is the ToF camera. In past years, Samsung dropped the heart rate sensor and iris scanner. I understand those decisions, but I'm a little sad about the ToF camera, as that technology (3D scanning, basically) still has a lot of potential. But Samsung never seemed to get the software side working.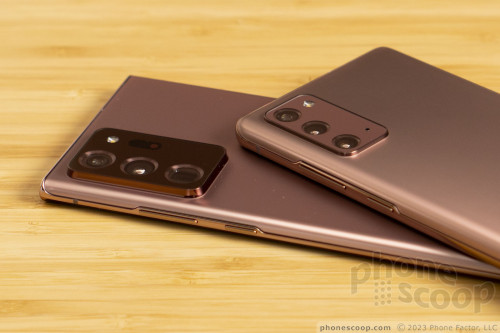 The camera hump on the Ultra is no joke.
I found it interesting that Samsung really focused on new note-taking features this year, since that's something that hasn't been a big focus in recent years. They added a ton of neat features to their Notes app, including free cloud sync and storage, personalized neaten-ing of your own handwriting, and PDF annotation.
But my favorite is time-synced audio recordings. You can record a conversation while taking notes, and when playing it back, it will replay your note-taking in sync with the audio. That makes it really easy to scrub through your notes visually to find the audio you want. For example, when reviewing notes from a lecture, you could quickly and easily check if you mis-heard something. Or instead of taking full notes, you could use writing to annotate the audio. For example, if you write just "great idea!" at one point during a lecture or conversation, you can use that to quickly scrub to that part of the audio and hear whatever it was you thought was a great idea. This feature is a great idea.
I was impressed with the advanced new video features, packing in some real pro-level stuff. You're in control of which mics are used for video, whether it be the front mic, rear mic, both, a USB mic, or even a Bluetooth mic. The zoom control while recording video is not only smooth, but variable-speed, a feature LG debuted a few years ago, but is welcome here nonetheless.
In all, the Note20 series looks like a solid update. It keeps pace and even surpasses my expectations in a few places, especially around video. And note-taking might not seem exciting, but it's nice to see Samsung put real effort into the namesake feature that supposedly defines the Note series. After a few years of wondering why the S Pen still exists, I feel like Samsung finally has a real answer.
No messages