Samsung Galaxy Z Flip
Info Photos News Forum 6 Hands-On ›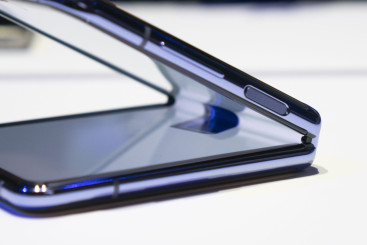 Samsung's second foldable phone takes a different approach: instead of folding larger, it folds smaller, much like Motorola's new razr foldable. It's cheap for a foldable, but still quite pricey. Sprint and AT&T will carry it in the US. After the Galaxy Fold debacle, is this one more durable? How does it feel to fold? What about the crease? Will it last? More than with most phones, you need a hands-on report to give you an honest assessment of this unique phone. Here it is.
---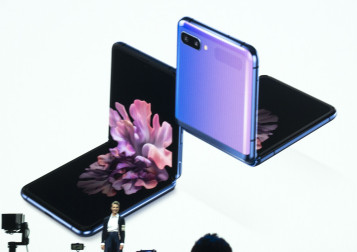 Samsung today announced the Galaxy Z Flip, its newest foldable phone. The phone forms a tall slab of a smartphone when open, but closes to a small square with a small outer touch-screen. It uses a new, ultra-thin flexible glass material to cover the flexible 6.7-inch screen that bends in the middle, The glass is designed to fold up to 200,000 times. "Flex Mode" enables a special split-screen interface in select apps when the phone is opened to an angle less than fully open. This can be used to set the phone down on a flat surface to take a long-exposure photo without a tripod. Purchase of the phone includes YouTube Premium. The phone will sell for $1,380 starting February 14th. It will be available in three color-shifting hues: Mirror Purple, Mirror Black, and Mirror Gold. In the US, Sprint and AT&T will offer it starting this Friday in Mirror Purple and Mirror Black, in "limited quantities".
---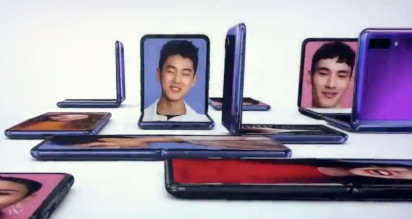 Samsung aired a television commercial during the Oscars award show tonight that showed the company's next, unannounced foldable phone in detail. The ad was rich in visuals but light on details, encouraging viewers to tune in to the company's Unpacked event on Tuesday. Rumors say the phone will be called the Galaxy Z Flip. The flexible-screen form factor is roughly similar to that of the Moto razr. The ad shows a small, full-color outer touch-screen, and a hinge mechanism that can hold in place at multiple angles.
---
Two interesting new approvals for unannounced Samsung phones appeared on the FCC web site this week. The limited info available in the FCC filings indicate that they are flagship-level phones, which will presumably be announced at next month's Unpacked event in San Francisco. One model appears to be a new foldable, while the other is a 5G model in the flagship Galaxy S series that will replace the current S10 series. The SM-F700 is the foldable, as indicated by the model number as well as text in the approval that says the phone is "capable of operating in folded closed and unfolded open configurations". (The Galaxy Fold had model number SM-F900.) The only variant approved by the FCC so far does not appear to be US-specific, although it does support 4G LTE in bands 2, 4, 5, 12, 13, 25, 26, 29, 30, 41, and 66. It does not include any 5G in any US frequency bands. Rumors suggest this model may be called the "Galaxy Z Flip". The other model just approved is the SM-G981U. The model number suggests that this is a US-specific variant of a new Galaxy S-series flagship phone, but not a top-end "plus" model. (The Galaxy S10+ had model number SM-G975.) It supports 5G, but only in sub-6 GHz bands, not mmWave (which is faster but has limited coverage). It supports 5G NR in bands 2, 5, 41, 66, and 71; and 4G LTE in bands 2, 4, 5, 7, 12, 13, 14, 25, 26, 29, 30, 38, 41, 46, 48, 66, and 71. It also includes CDMA for Sprint's network. That translates to excellent support for all 4G and sub-6 GHz 5G networks launched or announced in the US to date. The SM-G981 also supports NFC, MST (Samsung Pay), and two-way wireless charging, according to the FCC docs. Rumors suggest this model may be called the "Galaxy S20 5G".
---