Hands On with the Samsung Galaxy Z Flip
Article Comments 4
Feb 11, 2020, 7:49 PM by Rich Brome
updated Feb 14, 2020, 10:27 AM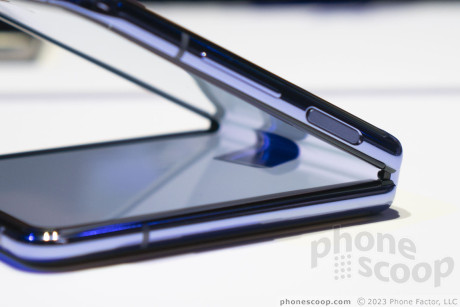 Samsung's second foldable phone takes a different approach: instead of folding larger, it folds smaller, much like Motorola's new razr foldable. It's cheap for a foldable, but still quite pricey. Sprint and AT&T will carry it in the US. After the Galaxy Fold debacle, is this one more durable? How does it feel to fold? What about the crease? Will it last? More than with most phones, you need a hands-on report to give you an honest assessment of this unique phone. Here it is.
The Hinge and Bend
The Galaxy Z Flip is a fascinating phone. The engineering is unlike other folding phones to date. Actually, it borrows ideas from both the Galaxy Fold and Motorola's razr. It doesn't fold 100% "flat", meaning when it's closed, there is a slight gap between the two halves at the hinge end. But it's a much thinner gap than what was on the Galaxy Fold. It's small enough that, at quick glance, you might not even notice it.
tight bend radius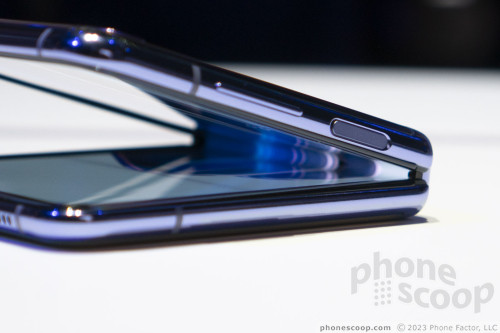 tight bend radius
And yet, unlike the razr, there doesn't seem to be any special mechanism that gives way to let the screen bend with a gentler curve radius. The screen really does just bend in half with a shockingly tiny radius, almost like folding a sheet of paper. I worry about the long-term durability of a screen that bends so sharply, but Samsung says I shouldn't, that its unique engineering — particularly the ultra-thin flexible glass layer — will keep it working reliably. And that bending glass layer is part of the real magic of this phone. It should provide dramatically better durability, and it also changes the feel of the screen.
the crease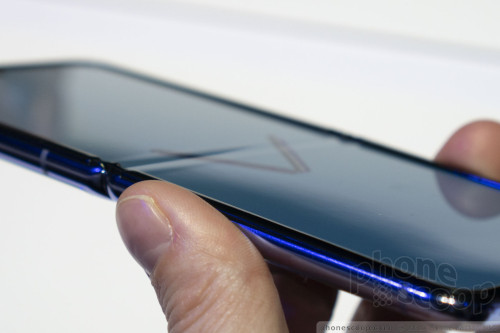 the crease
The screen does indeed feel much better than the plastic screens on other foldables; it's much smoother. It feels far more durable. But there's definitely a "crease" at the hinge, even on brand-new units. If you feel for it, you'll find it quickly, and if you look for it in reflections off the screen, it's pretty obvious. But in normal use, it's not noticeable. In terms of feel, it's definitely better than the multiple mechanical seams you can feel through the razr's thin plastic screen as you swipe up and down.
One key advantage of this hinge design and tight bend radius is that there's a lot more room inside the body for things like a decent-size battery. (The razr has a lot of empty space near the hinge to let its screen bend more gently.)
I like the size and feel of the Z Flip. Its design feels solid and inspires confidence, more so than I expected, and more than any other foldable before it.
The Z Flip snaps fully open with a satisfying click, and easily stays perfectly flat without wobble. It also "snaps" closed with what feels like small magnets. The actions feels good. However, it's almost impossible to open one-handed. This is not a phone you can easily flip open like those old flip phones. Closing it one-handed is only slightly easier, requiring awkward hand angles and shifting the phone around in a way that makes it likely to fall. Plan on using two hands any time you open or close this one.
Between the open and closed positions, the hinge operates smoothly, but with enough stiffness that it will firmly stay at a variety of angles, such as 90º, or open like the world's smallest laptop. It's a neat gimmick. Samsung has tried to make this more useful by adding software that makes the two halves act like separate displays. This mode only works in a few apps, but it's activated automatically when you put the phone into one of those funny angles.
Where the funny hinge angles come it really handy are when taking low-light photos, time-lapse videos, and group portraits. You don't need a tripod anymore! Just set the phone down on any flat surface and bend it until the camera is pointing where you want. Brilliant!
I also like that the mechanism appears to be slightly simpler than other foldables so far. Simpler is better, and hopefully that helps with longevity. Samsung has also put a special new "sweeper" technology using nylon fibers to keep out dirt. Samsung is determined to not repeat the mistakes of the Fold. That's good.
The Rest
The design is on the plain side, if you ask me. It's a rounded square. That's it. Samsung is relying heavily on the flexible screen to bring all the sexiness. It's a classy enough design, but holy smokes does it ever collect fingerprints! You might actually want to carry a cleaning cloth around with you, it's that bad.
Fingerprint city!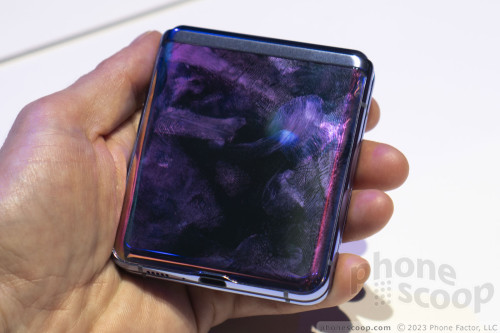 Fingerprint city!
The screen is bright, sharp, and colorful, as we'd expect from a Samsung AMOLED panel.
The outer display is not nearly as impressive. It's tiny, kinda low-res, and washed-out. I'm kinda shocked Samsung would put a screen like this in a phone this expensive, especially when the razr it competes with has such a lusciously large, sharp outer display.
Surprisingly, the outer screen is a touch screen. You can swipe sideways to access different status and notification info. You can also use it as a viewfinder to shoot selfies with the better outer cameras, and tapping the screen switches between normal and wide lenses.
The camera system has two 12 megapixel cameras: one standard and one wide. The main camera is f/1.8, OIS, and shoots HDR10+ video, so it's not an afterthought kind of camera. The camera app is the same as in Samsung's Galaxy S flagship phones. The camera quality should be excellent, and miles better than the razr.
The Z Flip sports most of the features you'd expect on a high-end Samsung, such as a split-screen view. Samsung demo'd this as something special with one app on each half when folded at an angle, but it's a standard split-screen multi-tasking feature.
The battery rates 3,300 mAh. The processor is a Qualcomm Snapdragon 855+ and there's 8 GB of RAM. It's only a 4G device, but it supports Cat. 16 LTE, which is fairly fast. It has NFC. The fingerprint reader is built into the lock key on the side, similar to the Galaxy S10e. There's no audio jack, just like the new S20. It does have Wireless charging and Wireless PowerShare. The 6.7-inch display is full-HD resolution. (Full specs here.)
The Galaxy Z Flip is a curious beast. It's no gimmick: the foldable technology is far more mature than last year, and the specs are decent. I half-expected there to be some deal-breaker, but I didn't find one. And yet... I don't find it as as sexy as the razr, and the only compelling use for the folding screen that I found was taking certain types of photos without a needing a tripod. That's not enough for me, personally. But if this phone really appeals to you... yeah, I think Samsung did a great job with the Galaxy Z Flip.
Was the compactness not compelling?
I didn't get the drift of this sentence in the conclusion:
"and the only compelling use for the folding screen that I found was taking certain types of photos without a needing a tripod."

Did you mean "besides the compact form factor ...", and therefore would still be compelling for people who value pocketability? Or was the compact form factor just not as compelling as one would think, like maybe it was bulky in the pocket?
Or was the compact form factor just not as compelling as one would think, like maybe it was bulky in the pocket?
Indeed, it's thicker than I would like for my pockets.
Reincarnation
The look of this phone is similar to the "makeup compact" style of the old LG Lotus phones that Sprint carried years ago.