Apple iPhone 11
Info Photos News Forum 4 Hands-On ›
Mophie has a new line of Powerstation portable battery packs that are designed specifically to support the connectors and charging options of the iPhone 11 series. All three of the new Powerstations can charge an iPhone quickly using 18W fast charging. The Powerstations themselves are charged with a built-in Lightning power input, for easy use with existing Apple chargers. The standard Powerstation has a 6,000 mAh battery and outputs power via a USB-C port designed to work with the USB-C-to-Lightning cable included with the newest iPhones. The step-up Powerstation Plus is similar except it has a built-in Lightning cable instead of USB-C port. The larger PowerStation Plus XL is similar to the smaller Powerstation Plus, but has an 8,000 mAh battery and adds Qi wireless charging (at 5W) for charging an additional device. All three new Powerstations also have a full-size USB port for charging other devices using common USB-A cables. All three are available now in black, gray, navy, and pink, from mophie.com, apple.com and in select Apple stores. The Powerstation is priced at $60; the Powerstation Plus at $80; and the Powerstation Plus XL at $100.
---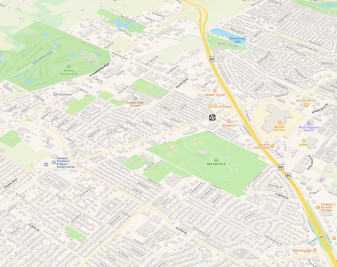 Apple today announced that it has completed the US roll-out of revamped, more-detailed map data for its Maps app. Apple claims the new map data offers "faster and more accurate navigation and comprehensive views of roads, buildings, parks, airports, malls and more". Apple also today added real-time transit information for Miami. The new map data will begin rolling out across Europe in the coming months.
---
The popular Mophie Juice Pack Access battery case accessory is now available for Apple's iPhone 11, 11 Pro, and 11 Pro Max. The cases include a large extra battery that keeps the iPhone topped up via wireless charging, and can themselves be charged wirelessly. Wireless charging leaves the iPhone's Lightning port free. The Juice Pack Access includes its own USB-C port for charging. Pass-through charging will charge the phone first, and then the case. The versions for the 11 and 11 Pro add a 2,000 mAh battery to the phone, while the case for the 11 Pro Max contains a 2,200 mAh battery. All versions are $100. They're available now in black, and coming soon in pink and (PRODUCT)RED.
---
Getting a new iPhone? The back may be a lovely honed finish this year, but it's still all glass, so consider getting a case. We took a look at a few options from three established companies offering good protection at affordable prices. And since design is a core part of the iPhone's appeal, we also focused on options that show off or complement the Apple aesthetic, including various types of clear cases. These cases are all shipping now, support wireless charging, and cost $40 or less.
---
Comcast's Xfinity Mobile is offering $250 back when new customers switch from another carrier and purchase a new iPhone. Customers must keep their account for 90 days, after which they will receive the $250 as a prepaid card within a month.
---
Sprint is offering a free iPhone 11 to new customers when they trade in an iPhone 7 or newer. The old iPhone can be in any condition but must be unlocked. The deal requires a new line activation and an 18-month "lease" that costs $0 after a monthly credit is applied. Verizon is offering a similar deal of a free iPhone 11 for new customers with trade-in. T-Mobile is offering 50% off the new iPhones with trade-in.
---
Walmart and Verizon are both offering substantial discounts and offers for customers buying a new iPhone this year. New and existing customers of Verizon, AT&T, and Sprint can pre-order the new iPhone 11 models from walmart.com starting this Friday and receive $50 off the usual phone price when choosing a device payment plan and picking up their phone in a Walmart store (starting Sept. 20). Existing customers of Verizon and AT&T can instead opt to have the phone shipped to them with free two-day shipping, and receive the same $50-off pricing. Separately, Verizon is offering deals on iPhones for customers activating new Unlimited lines, and deals on other Apple devices for all customers. Customers activating a new Unlimited line can get up to $700 toward a new iPhone 11 (making the base model iPhone 11 free) with device trade-in. The trade-in credit of up to $500 is applied over 24 months, with the remaining $200 delivered as a prepaid card. Or customers can get a second iPhone Xr for free when purchasing the first iPhone Xr on a payment plan and activating a new Unlimited line. Verizon customers can also get a $250 discount off any iPad when purchasing any iPhone (with both devices on Verizon payment plan; discount applied over 24 months.) Verizon customers purchasing a new Apple Watch can get a second one for up to 50% off.
---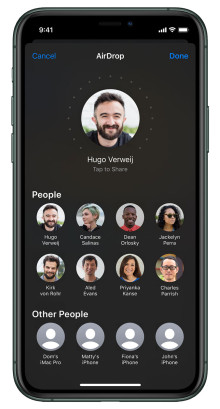 Apple's new iPhone 11 series of phones includes a new U1 chip, which uses ultra-wideband technology to determine the relative location of other devices with U1 chips nearby. Apple promises "amazing new capabilities" thanks to the new chip. The first new feature to utilize the U1 is AirDrop, which now lets you choose who to send a file to by simply pointing your phone at theirs.
---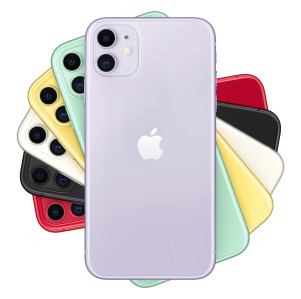 The new iPhone 11 from Apple sports a new dual-camera system with two 12-megapixel cameras, one "wide" and one "ultra-wide". It replaces the iPhone Xr and has the same 6.1-inch display size. It's the most affordable of today's three new iPhones at just $699. It's powered by Apple's new A13 Bionic chip, which is 20% faster than last year's A12 chip while using less power. It also include Face ID, IPX8 waterproofing, 1 hour extra battery life compared to the iPhone Xr, and Wi-Fi 6. The front camera has also been updated with higher resolution, wider field of view, and the ability to shoot both 4K video and slow-motion video, which Apple calls a "Slowfie". The main camera also now supports portrait mode for pets and objects, and has a new automatic night mode. The iPhone 11 has a milled glass back and comes in six colors: cream, yellow, mint, lavender, Product Red, and black.
---