iPhone 11 Case Options Compared
Article Comments
Sep 20, 2019, 11:01 AM by Rich Brome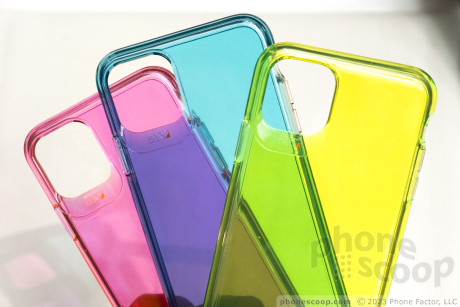 Getting a new iPhone? The back may be a lovely honed finish this year, but it's still all glass, so consider getting a case. We took a look at a few options from three established companies offering good protection at affordable prices. And since design is a core part of the iPhone's appeal, we also focused on options that show off or complement the Apple aesthetic, including various types of clear cases. These cases are all shipping now, support wireless charging, and cost $40 or less.
Tech21
The appeal of Tech21 cases is mainly the $30 price, which is lower than most other name-brand cases. Despite the low price, you get an anti-microbial coating, something not found on many pricier cases. They offer attractive "Studio Color" options that look like they could be designed by Apple. And they're better for the planet, being made from 30-40% plant-based material. It's rated for drops up to 8 feet.
Their clear case runs $40, but has a better drop rating at 10 feet. It also has the same anti-microbial coating and is also made using plant-based material. I appreciate that the tech21 branding is relatively subtle.
Speck
Speck offers three styles of its Presidio cases: Stay Clear, Pro, and Grip. It should be pretty obvious which are the Stay Clear and Grip. They're all $40, and, like the Tech21 cases, they offer an anti-microbial coating and the branding is subtle.
Speck is one of the oldest and best-known names in cases, so you know you're getting a quality product. Their cases offer better drop protection at 4 meters (a little over 13 feet). The Stay Clear case is designed to live up to its name, which a special material that resists yellowing due to UV light and other elements. The Grip cases have rubber ridges that are indeed very grippy, to keep the phone firmly in you hand, or on a surface like a dashboard.
gear4
gear4 is a brand of Zagg, the accessory giant that also counts Mophie, Braven, Invisible Shield, and iFrogz among its brands.
Their lineup is rated for 13-foot drops just like the Speck cases, although they don't offer an anti-microbial coating. What they do offer is a very wide variety of transparent cases to suit all tastes. These include plain clear, frosted smoke, neon hues, and a unique iridescent option.
The "Hampton" model offers a frosted finish and a smokey tint in either light or dark. It's the cheapest at $35.
The Crystal Palace line runs $40 and comes in clear as well as three neon hues: pink, yellow, or blue. These resemble the cyan, magenta, and yellow inks used in the printing industry.
iridescent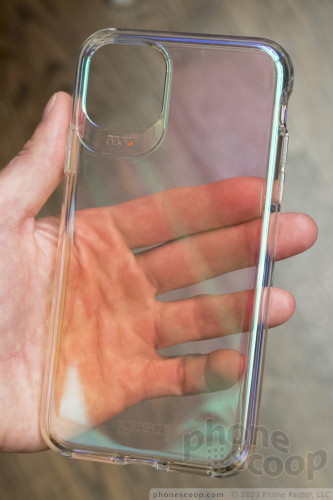 iridescent
The most interesting "color" might be the iridescent one. This might look like a clear case at first glance, but it has a special coating that reflects a subtle rainbow of changing colors in bright light. It's much like the material that Apple recently applied to its flagship Cube retail store in NYC, but not as in-your-face. Instead of something eye-searing, it looks more like a pretty oil slick. Fancy finishes that reflect a rainbow of colors are all the rage in phone design this year, so this is a great way to bring that trend to your new iPhone.
D30 logo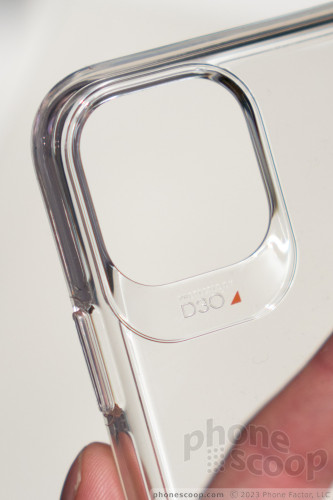 D30 logo
The only thing I dislike about the gear4 cases is the extra logo near the camera opening. It's supposed to remind you that they use D3O, "the same material used by the military and professional athletes", but two logos on a phone case is overboard, if you ask me. It takes away from the aesthetics of your pretty new iPhone. But if you don't mind that, these are otherwise well-made and attractive cases.
No messages