Samsung Galaxy Note10+ 5G (T-Mobile, AT&T)
Samsung has provided key details on a new commitment to offer major new versions of Android to existing phones. All Galaxy S, Galaxy Note, and Galaxy Z (foldable) series devices will receive "three generations of Android operating system (OS) upgrades". For example, current models that shipped with Android 10 will receive an update to Android 11, plus the next two major versions. Higher-end Galaxy A models — such as the A51 and A71 — are also included, as well as last year's models (the S10 and Note10 series) and the original Galaxy Fold. Samsung also revealed that the S20 series will be its first models to receive the Android 11 update, "with other devices to follow shortly thereafter." Samsung briefly mentioned the new commitment during its Note20 launch event, but did not elaborate on the details until today.
---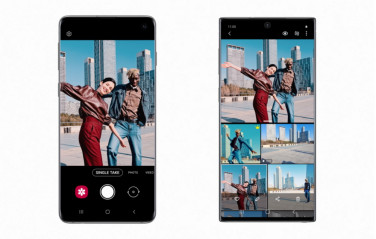 Samsung has started rolling out a significant software update for last year's Galaxy S10 and Galaxy Note10 series phone, which adds major new features first introduced on the company's latest S20 phones. In the Camera app, new features include Single Take, improved Night Mode, Night Hyperlapse, Custom Filters, and Pro Video (manual mode for video). In the Gallery app, Clean View uses AI to group similar photos together. The update also brings Quick Share and Music Share to the S10 and Note10. The update will be available "through an upcoming software update starting from March".
---
Google is expanding the list of phones supported by its Stadia game-streaming service on February 20th. Initially supported only on its own Pixel phones, Stadia will support Samsung flagship Galaxy S and Note series phones (S8 and newer), as well as gaming phones from Razer and Asus (ROG Phone and ROG Phone II). For a controller, gamers can either connect a Stadia controller via USB, or third-party controllers via Bluetooth. Stadia competes with Microsoft's xCloud and Nvidia's GeForce Now. Like those other game-streaming services, Stadia runs full console-quality games on powerful servers in the cloud, streaming video of the rendered graphics to the user's device. Such services benefit from the higher data rates and lower latency of 5G networks. Forthcoming 5G SA networks will further reduce latency and improve data rates.
---
AT&T is launching sub-6 GHz 5G service for consumers in 13 new markets this week. In California, the new markets are Bakersfield, San Luis Obispo, Santa Barbara, Oxnard, and Modesto. In Massachusetts, Boston and Bedford are getting 5G this week. The remaining markets are Liberty, GA; Wichita, KS; Frederick, MD; St. Louis, MO; Atlantic City, NJ; and Dayton, OH. With these new launches, AT&T's 5G network for consumers will cover 50 million people across 32 markets. AT&T says it remains on track to offer the service nationwide by the middle of 2020. Separately, AT&T's "5G+" service for businesses is now available in parts of 35 cities across the US. AT&T's "5G+" service uses new mmWave frequencies, which offer high speeds but limited coverage. AT&T's "5G" service for consumers uses more traditional cellular frequencies below 6 GHz (specifically, band 5 at 850 MHz), offering better coverage than mmWave, and speeds that are faster than 4G but not as fast as mmWave 5G. The only phone currently offered by AT&T that supports its consumer 5G network is the Samsung Galaxy Note10+ 5G.
---
AT&T has finally launched 5G service for consumers as of today, using far-reaching low-band radio frequencies (band 5 / 850 MHz). As the company promised last month, the launch cities include Indianapolis, Pittsburgh, Providence, RI, Rochester, NY, and San Diego. However, AT&T managed to accelerate its schedule and launch five additional cities today: Los Angeles, San Francisco, San Jose, CA, Milwaukee, and Birmingham, AL. The company has released 5G coverage maps for all consumer launch cities. The only phone AT&T currently offers that supports the service is the Samsung Galaxy Note10+ 5G, which runs $1,300. This particular 5G service is distinct from the company's "5G+" service, which uses higher mmWave frequencies and is only available to business customers. mmWave frequencies offer higher data speeds but much more limited coverage. AT&T's phone lineup does not yet include any phones that can access 5G on both low-band and mmWave frequencies. Neither 5G service should be confused with "5Ge", which is merely AT&T's branding for the fastest type of 4G LTE. AT&T has also confirmed that its next 5G launch cities will include Boston, Bridgeport, CT, Buffalo, NY, Las Vegas, Louisville, KY, and New York City. The company promises "nationwide" 5G coverage by the middle of 2020.
---
T-Mobile will launch the first 5G service for US prepaid customers on its Metro brand this Friday, Dec. 6th, the same day the company's nationwide 5G service becomes available to T-Mobile customers. T-Mobile "launched" its nationwide 5G network today, but compatible 5G phones won't be available with either T-Mobile or Metro until Dec. 6th. Metro will offer the Samsung Galaxy Note10+ 5G. T-Mobile will offer that phone as well as the OnePlus 7T Pro 5G McLaren. T-Mobile's new "nationwide" 5G network covers 5,000 cities and towns across the country, 200 million people, and more than 1 million square miles. It uses low frequency bands that have the same coverage as 4G service, unlike mmWave 5G that can only cover small areas.
---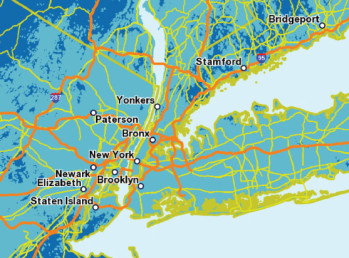 AT&T is launching 5G for consumers in the coming weeks, and has detailed its launch plans for both sub-6 GHz (low-band) and mmWave launches in the coming year. The company promises "nationwide" 5G in the first half of 2020. AT&T is branding low-band 5G (which offers coverage similar to 4G) as "5G", and this is the service it is launching for consumers. Its mmWave service (with faster speeds but more limited coverage) will be branded "5G+", and remains limited to business customers. Neither designation should be confused with "5Ge", AT&T's misleading designation for 4G. AT&T is launching its low-band 5G in band 5 (850 MHz), which is one of the lower-frequency bands in AT&T's spectrum portfolio, offering the good long-range and in-building coverage. The launch cities for low-band 5G will be Indianapolis, Pittsburgh, Providence, RI, Rochester, NY, and San Diego. Those cities will be followed by Boston, Las Vegas, Milwaukee, New York City, San Francisco, Birmingham, AL, Bridgeport, CT, Buffalo, NY, Louisville, KY, and San Jose, CA. AT&T has published coverage maps for all of the listed launch cities. AT&T's first phone to support low-band 5G will be the Samsung Galaxy Note10+ 5G, which will only support low-band 5G and not mmWave "5G+". It will be available for pre-order on Nov. 25th. 5G service is included in AT&T's Unlimited Extra and Unlimited Elite plans. AT&T's mmWave "5G+" service for business customers is currently offered in parts of 21 cities, expanding to 30 in "early 2020".
---