Samsung Galaxy Note10
Info Photos News Forum 1 Hands-On ›
Samsung has provided key details on a new commitment to offer major new versions of Android to existing phones. All Galaxy S, Galaxy Note, and Galaxy Z (foldable) series devices will receive "three generations of Android operating system (OS) upgrades". For example, current models that shipped with Android 10 will receive an update to Android 11, plus the next two major versions. Higher-end Galaxy A models — such as the A51 and A71 — are also included, as well as last year's models (the S10 and Note10 series) and the original Galaxy Fold. Samsung also revealed that the S20 series will be its first models to receive the Android 11 update, "with other devices to follow shortly thereafter." Samsung briefly mentioned the new commitment during its Note20 launch event, but did not elaborate on the details until today.
---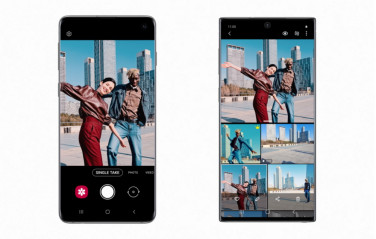 Samsung has started rolling out a significant software update for last year's Galaxy S10 and Galaxy Note10 series phone, which adds major new features first introduced on the company's latest S20 phones. In the Camera app, new features include Single Take, improved Night Mode, Night Hyperlapse, Custom Filters, and Pro Video (manual mode for video). In the Gallery app, Clean View uses AI to group similar photos together. The update also brings Quick Share and Music Share to the S10 and Note10. The update will be available "through an upcoming software update starting from March".
---
Google is expanding the list of phones supported by its Stadia game-streaming service on February 20th. Initially supported only on its own Pixel phones, Stadia will support Samsung flagship Galaxy S and Note series phones (S8 and newer), as well as gaming phones from Razer and Asus (ROG Phone and ROG Phone II). For a controller, gamers can either connect a Stadia controller via USB, or third-party controllers via Bluetooth. Stadia competes with Microsoft's xCloud and Nvidia's GeForce Now. Like those other game-streaming services, Stadia runs full console-quality games on powerful servers in the cloud, streaming video of the rendered graphics to the user's device. Such services benefit from the higher data rates and lower latency of 5G networks. Forthcoming 5G SA networks will further reduce latency and improve data rates.
---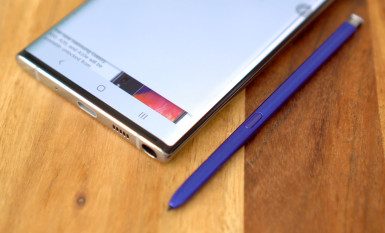 A video mini-review of the Samsung Galaxy Note10, the smaller of the two Note models this year. Here are the things that stood out to me after using the Note10 as my main phone for two weeks. It's a good phone, but a few design choices and quirks made it not the phone for me. Find out why in this video.
---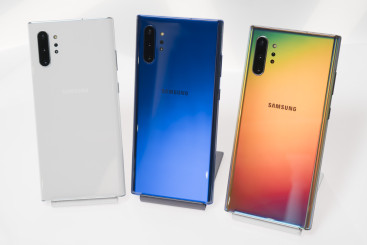 The Note10 is a huge update to the Note series. It now comes in two sizes, the design is truly all-screen, and a number of features have been removed to make room for new ones. There are also variants with 5G, different storage options, and a complex array of color options. We break it all down for you in this in-depth hands-on.
---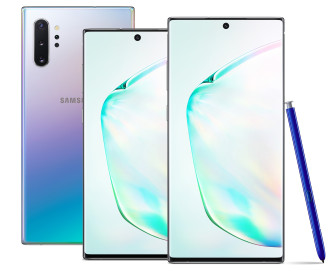 Samsung today announced the Galaxy Note10 and Note10+. The company's super-flagship Note series for 2019 comes in two sizes: The Note10 packs a screen similar to the Note9 into a smaller body, while the Note10+ sports a larger display in a body similar in size to the Note9. The Note10+ will also be available in a 5G version. The Note10 has a 6.3-inch full-HD display, 3,500 mAh battery, and 8 GB of RAM, while the Note10+ has a 6.8-inch quad-HD display, 4,300 mAh battery, and 12 GB of RAM. The Note10+ also adds a ToF camera for 3D scanning, and a memory card slot. Both new models are thinner and lighter than the Note9. Samsung accomplished this by removing the headphone jack, iris scanner, and heart rate sensor. Key features from the S10 have been included, including triple rear cameras (dual-aperture plus tele and wide), in-display ultrasonic fingerprint reader, and Wireless Power Share. The included S Pen now has a motion sensor, allowing it to support mid-air gesture shortcuts. The DeX feature that turns the phone into a computer now works via USB connected to a PC or Mac, where the phone's desktop is displayed via a new app, which supports both copy-and-paste, and file drag-and-drop between desktops. A 25W charger is included, and the Note10+ supports an optional 45W charger that can provide a "full day" charge in 30 minutes. All US models are powered by a Snapdragon 855 processor and come with at least 256 GB of internal storage. All four top US carriers will offer all three models — including the Note+ 5G — although Verizon will offer the 5G model first for a short exclusivity period. 256 GB models will be available in white, black, and a prismatic Aura Glow. Models with 512 GB of RAM will only be available in black. Best Buy will also offer the Note10+ in an exclusive Aura Blue color. All three models will go on sale August 23rd, with pre-orders starting tomorrow, August 8th. Pre-orders include a credit of $100-$150 to spend on samsung.com. The Note10 starts at $949, the Note10+ at $1099, and Verizon will sell the Note10+ 5G starting at $1300.
---