Hands On with the Samsung Galaxy Note10
Article Comments
Aug 7, 2019, 3:00 PM by Rich Brome @rbrome
updated Aug 9, 2019, 11:59 AM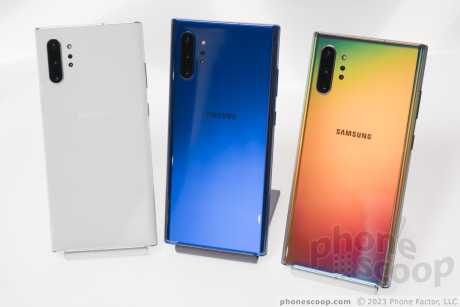 The Note10 is a huge update to the Note series. It now comes in two sizes, the design is truly all-screen, and a number of features have been removed to make room for new ones. There are also variants with 5G, different storage options, and a complex array of color options. We break it all down for you in this in-depth hands-on.
Advertisements article continues below...
The most obvious change is that the Note now comes in two sizes:
Note10 vs. Note10+
The smaller Note10 takes a screen similar to the Note9 and puts it into a smaller body. It's thinner and much lighter, too. They accomplished this by taking out the iris scanner and heart rate monitor (did anyone use those?) ...but also by taking out the headphone jack and memory card slot. (Ooof!) But this is actually the smallest Note ever, and it's an intriguing new option.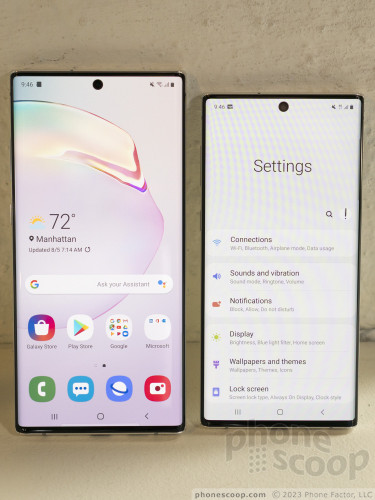 Technically, the Note10 only has a full-HD display instead of quad-HD, but the vast majority of people can't tell the difference in everyday use. I certainly can't. Quad-HD is only truly useful for VR, and neither of these phones supports VR. It looks like GearVR may be on the way out.
The larger Note10+ is roughly the same size as the Note9, but gives you a much larger display (6.8 inches and quad-HD). It also gives you back the memory card slot and adds a ToF camera for 3D object scanning. But there's still no headphone jack, unfortunately. The 10+ also has more RAM (12 GB vs. 8) and the option for more storage. While all Note10 models have at least 256 GB to store apps and media, you can get the 10+ with 512 GB for an extra $100, if you like. Note that you'll be limited to the black color if you choose the extra storage.
Speaking of colors, the Note10 series comes in black, white, and a prismatic "Aura Glow" option that basically shoots rainbows into your eyes. Best Buy will also offer the Note10+ in an exclusive Aura Blue color that has a metallic shimmer to it. This was by far my favorite color in person; it's really fetching. I can imagine this steering a lot of people toward Best Buy to buy their Note10+.
Note10+ 5G
The 10+ also comes in a 5G variant, called the Galaxy Note10+ 5G. It truly is just a 5G variant of the same phone, not a whole different model like Samsung did with the S10 series. The 5G version has the same design and exact same dimensions as the 4G Note10+. The color and storage options are the same, as well. Literally the only physical difference is 2 extra grams of weight for the 5G parts inside. (2 grams is basically nothing.) Oh, and the price, of course: you'll pay a $200 premium for 5G.
Verizon has an short exclusive on the Note10+ 5G, after which AT&T, T-Mobile, and Sprint will offer it as well.
Hardware
The Note10 series has everything else you'd expect it to, including the latest tech and features carried over from Samsung's S10 series: The processor has been updated to the latest-and-greatest Qualcomm Snapdragon 855 across the board. (Rumors that US models would get a Samsung Exynos chip have turned out to be wrong. Beware the rumor mill!) The Note10 series also gains the ultrasonic in-display fingerprint reader, Wireless Power Share, and triple rear cameras, just as on the S10.
Those triple rear cameras include a 12-megapixel main lens with Samsung's unique dual-aperture technology. It's widely regarded as an excellent camera sensor. There are also telephoto and wide-angle lenses, with 12 megapixel and 16 megapixel resolution, respectively. Having that higher resolution is important for wide-angle shots, so I'm glad to see it.
The smaller model has a 3,500 mAh battery, which is... fine. The larger 10+ has a 4,300 mAh battery, which is quite good. Compare that to the 4,000 mAh battery in the Note9. Samsung says the larger battery is the main thing that didn't leave room for the headphone jack. But the Note10+ is thinner and slightly lighter than the Note9, so... did they really need to make it thinner? The Note9 was already quite thin.
To charge those batteries, Samsung is including a 25W fast charger in the box, which can charge from 0-100% in just an hour. The Note10+ also supports an optional 45W charger that can give a "full day" of charge in just 30 minutes. They also support fast wireless charging, of course.
But if you really appreciate thin and light phones, you'll be delighted to hear that both models do manage to feel impressively thin and light. And yet they certainly don't feel cheap; the metal and curved glass feels every bit as high-end as you'd hope.
Surprisingly, there's no dedicated Bixby button, just volume and lock. You can assign Bixby to a double-press or press-and-hold of the lock button, or you can assign the double-press shortcut to launching the camera, or any other app.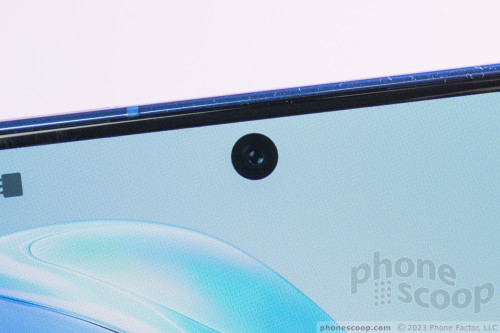 At first you won't notice the speaker at the top. Is it even there? Does it use bone conduction are something? Nope, it's a regular speaker, it's just practically invisible. The width of a hair and and inch long, the opening is tucked between the glass and the metal frame. I've never (barely) seen anything like it.
New Features
Samsung has given DeX a big upgrade with the Note10. DeX turns your phone into something like a full-on PC when you connect it to a full-size monitor and keyboard. It used to require a bulky and pricey dock accessory. Last year they shrunk that to a small HDMI dongle, and that option still works with the Note10.
DeX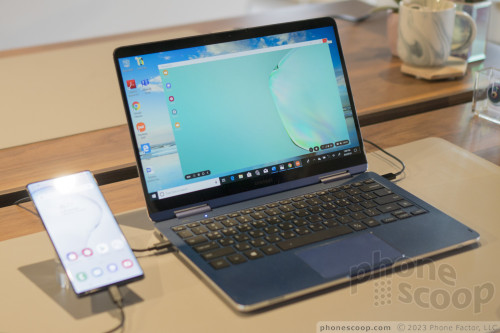 DeX
But now there's also an app you can install on your PC or Mac to bring the whole DeX desktop to a window (or full-screen) on your laptop or desktop computer. And all you need to connect it is the USB cable that comes with the phone. You can even drag-and-drop files between your computer desktop and your DeX desktop, and copy-and-paste between them. Neat!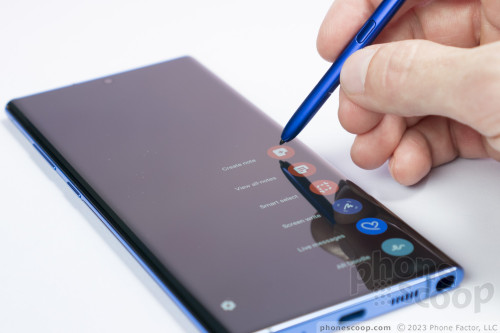 The S Pen still has Bluetooth, so it can serve as a remote control for the camera or presentations, etc. But this year they've added a motion sensor so you can use mid-air gestures as shortcuts. For example, when taking a selfie with a tripod, hold down the S Pen button and make a circular gesture to zoom in, or hold down the button and swipe sideways to change camera modes.
S Pen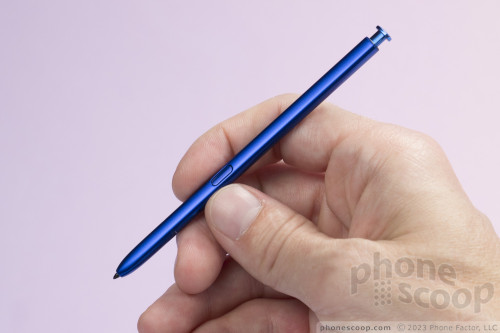 S Pen
The Notes app for the S Pen also has a few upgrades. It has AI-trained handwriting recognition in dozens of languages, and it can automatically recognize handwritten lists. It can also quickly export notes as Word or PDF files.
Camera
The camera software will look familiar to anyone that's used a recent high-end Samsung. It has just about every feature, including Bixby Vision, AR Emoji, Live Focus (portrait mode), night mode, food mode, pro (manual) mode, etc. For video, it supports super-slow-motion and hyperlapse. Samsung claims the image stabilization has been improved. (It doesn't hurt that two of the cameras have OIS, or hardware stabilization.)
There are so many options that the interface can look a little busy. It helps that you can choose and arrange the main camera modes however you like, hiding ones you never use and putting your faves one swipe away.
I remain unimpressed with Samsung's portrait effects, but I'm infamously picky about that feature. I do love the zoom range afforded by the three lenses. I'm also happy to see a good manual mode with long exposures up to 10 seconds, which is enough for dramatic night shots and creative light painting.
AR Doodle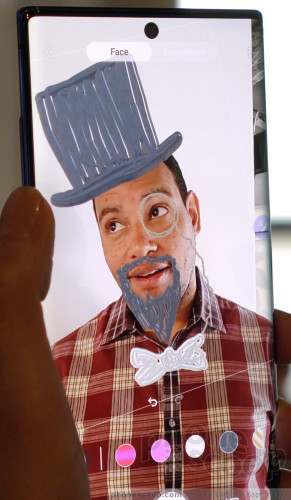 AR Doodle
The new trick Samsung is eager to show off is AR Doodles, which lets you draw on your face — or a friend's face — and have your drawings move as they move, in full 3D. So feel free to give yourself bunny ears or horns, or a mustache, monocle, or full mask. Give yourself a bow-tie and that will stay "attached" to your shirt, while things on your face move with your head. It is pretty fun and works well enough.
Software
The interface is Samsung's new One UI, which is much better than older Samsung software. It still has a distinct Samsung style, as opposed to Google's aesthetic, but it's much cleaner than before.
It has all of the best options and smart features of past Samsungs. There's still that Edge panel that you can summon with a swipe from the side. It can keep the screen on as long as you're looking at it. The S Pen supports "screen off memo". It supports Bixby Actions.
They've also taken Microsoft's Your Phone app and baked it right in, so it will link to the Your Phone app on a Windows PC without installing anything extra on your phone. It lets you access phone notifications, messages, and photos right on your Windows desktop. That's handy.
Get One
All three models launch August 23rd. The smaller one starts at $949, while the larger Note10+ starts at $1099. Verizon will charge you $1300 for the Note10+ 5G. Pre-orders start on August 8th and grant you a $100-150 credit toward accessories on samsung.com.
As usual, Samsung has some neat accessories ready at launch, such as this flip case with a window that activates a special always-on display mode:
view case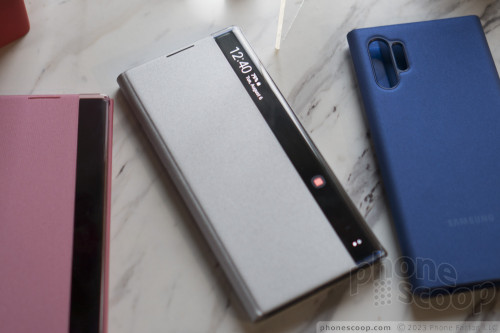 view case
We have a great video, as well, that shows most of these features in action. Check it out:
No messages