Motorola razr (2019)
Motorola and Verizon are running a Valentine's Day sale offering a $500 discount on the flex-screen razr (2019) and the 5G edge+. Both are normally priced at $1000, so the discount cuts the price in half, to just $500. That is, by far, the lowest price for a foldable phone to date. This discount is available to both new and existing customers, and does not require a new line nor trade-in, but it does require a "select unlimited plan" and is only available online. The sale started February 4th and runs through February 14th. Further discounts can lower the price to zero with an eligible phone trade-in. The companies are also offering a buy-one-get-one-free (BOGO) deal on the edge+ "with new line activation and premium unlimited plan."
---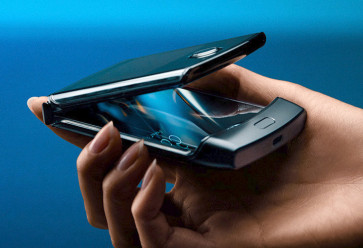 Verizon has pegged February 6th as the new launch date for the Motorola razr. Pre-orders open up at 12:01am ET on January 26th. The $1,500 phone is available exclusively from Verizon in the US. Verizon is offering special deals for new customers who switch to Verizon and pre-oder a razr: a $200 prepaid MasterCard, plus up to $500 when customers trade in an existing phone and sign up for a specific Unlimited plan. Existing Verizon customers upgrading to the razr can save up to $300 with a phone trade-in. Verizon is also offering the razr for $62.49 a month for 24 months. The razr was originally slated to ship January 9th, but was delayed. The 2020 razr resembles the original RAZR V3 launched in 2004, with its thin metal clamshell form factor. The new model features a 6.2" flexible, folding OLED main display and runs Android.
---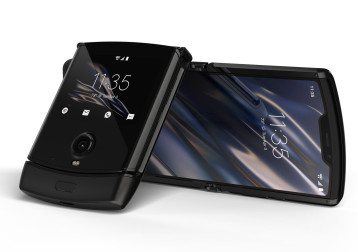 Motorola today unveiled its new razr phone for 2020. In line with a long-running stream of teases and leaks, plus today's FCC approval, the phone matches the design of the original RAZR V3, but with an inner surface that is one continuous 6.2" HD touchscreen that bends at the hinge, like Samsung's Galaxy Fold. The new razr will be exclusive to Verizon in the US and cost $1500. Like the original RAZR V3, it has a "chin" that sticks out from the bottom half, and side keys located in the top half. The top half also contains a large outer display and a 16-megapixel camera. The 2.7" outer display is a touchscreen that lets users respond to notifications, take selfies, play music, use Google Assistant, and more. The flexible OLED main display has curved top and bottom edges, with a notch in the top. The phone is powered by a Snapdragon 710 chip. It has 6 GB of RAM, 128 GB of storage, 2,510 mAh battery, NFC, and dual-band Wi-Fi. It has a 5-megapixel selfie camera, although the main camera can also be used to take selfies using the outer display. To keep the phone thin, the phone lacks a 3.5mm audio jack or memory card slot. It also relies on an eSIM instead of a physical SIM card. It does have a USB-C port centered on the bottom that supports fast charging. USB-C razr earbuds are included, which are "professionally tuned" by Denon. Verizon is accepting pre-orders starting December 26th, with full availability on January 9th, 2020.
---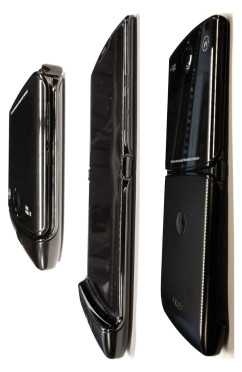 The unannounced new Motorola RAZR with a foldable display has been revealed in public documents for its FCC approval. Photos in the documents match previous leaks, including a very tall, narrow screen that folds in half, inside a body very much like the original RAZR, including a "chin" at the bottom. The outside sports a camera and large outer display in the top half. The chin section houses an oval button and/or fingerprint reader on the front, and a USB-C connector on the bottom. The draft user manual submitted to the FCC mentions Verizon, that the phone has an eSIM instead of a physical SIM card, and a fingerprint security option. The back includes "razr" branding. Photos of the internal components confirm that the RAZR is powered by a Qualcomm Snapdragon 710 chipset. A battery rated 1185 mAh is also shown, although the phone may have two batteries, one in each half. The approval in question is not for the US version, as it supports neither LTE band 12 nor hearing-aid compatibility. But Motorola usually offers multiple versions of each model for different parts of the world, so a separate US version seems likely.
---