Motorola razr Ships February 6th
Article Comments 2
Jan 22, 2020, 12:13 PM by Rich Brome @rbrome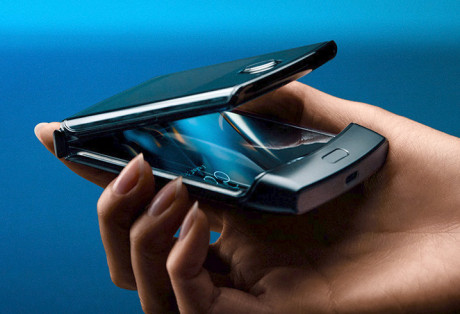 Verizon has pegged February 6th as the new launch date for the Motorola razr. Pre-orders open up at 12:01am ET on January 26th. The $1,500 phone is available exclusively from Verizon in the US. Verizon is offering special deals for new customers who switch to Verizon and pre-oder a razr: a $200 prepaid MasterCard, plus up to $500 when customers trade in an existing phone and sign up for a specific Unlimited plan. Existing Verizon customers upgrading to the razr can save up to $300 with a phone trade-in. Verizon is also offering the razr for $62.49 a month for 24 months. The razr was originally slated to ship January 9th, but was delayed. The 2020 razr resembles the original RAZR V3 launched in 2004, with its thin metal clamshell form factor. The new model features a 6.2" flexible, folding OLED main display and runs Android.
PTT
I'm wondering if Motorola will include a physical PTT smart key on the side. If they did, it would likely bolster their sales to businesses who still rely on some method of push-to-talk. In 2020, such a feature could be designed to work with Sprint Direct Connect, Zello, Voxer, or any other platform of choice.
No.

That kind of button is common on rugged phones. The razr is essentially the opposite of that type of phone.

This is a phone the CEO might might buy for themself, not a phone the CEO would buy for their employees.