Sony Xperia 1
Info Photos News Forum 2 Hands-On ›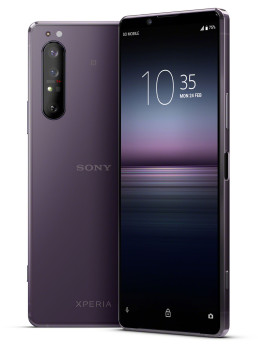 Sony has updated its Xperia 1 flagship phone with the new Xperia 1 II (mark two). Compared to last year's Xperia 1, the new model for 2020 adds sub-6 5G, wireless charging, and a 3.5mm audio jack. It's also the first Sony phone with Zeiss optics, which were previously exclusive to Nokia-brand phones. The Xperia 1 II has triple rear cameras — standard (f/1.7, 82º), wide (124º), and telephoto (34º) — all of which are 12 megapixel. It also has a unique auto-focus system that focuses up to 60 times per second. Its 6.5-inch OLED display sports 4K resolution (3840 x 1644 pixels) and HDR. It's powered by a Qualcomm Snapdragon 865 chipset with 8 GB of RAM. It also has 256 GB of storage, a 4,000 mAh battery, USB-PD fast charging, NFC, Bluetooth 5.1, and IP68 water resistance. Currently, Sony has only announced a version with support for European 5G networks, although it has 4G LTE support in most of the bands used by US networks.
---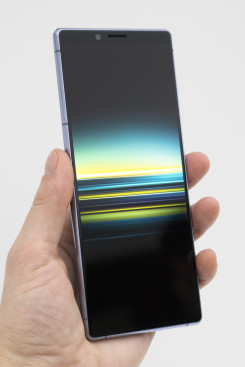 Sony's new phones for 2019 have an unusual display aspect ratio that makes them unusually tall. The Xperia 1 and 10 Plus are a normal width, but much taller than other phones, thanks to extra-tall displays plus a "forehead". The Xperia 10 is a similar shape but smaller, giving it a normal height but narrow width. That makes my impressions of the 10 much different than the other two. Read on for my full hands-on first impressions.
---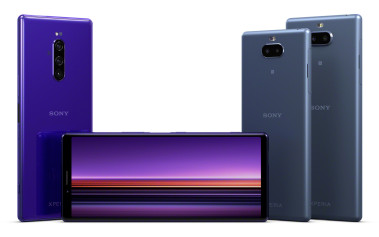 Sony's new phones have unusually tall screens with a 21:9 aspect ratio. The company today announced the Xperia 1, 10, and 10 Plus. The 1 is the new flagship, while the 10 and 10 Plus fill out the mid-range. All three phones ship with Android 9 Pie, support USB-C PD fast charging, and have at least two rear cameras, NFC, Bluetooth 5, memory card slot, and a fingerprint reader.
Xperia 1: The company's new flagship has a 6.5-inch HDR OLED display with 4K resolution (1644 x 3840). It has three rear cameras: standard, wide, and 2x telephoto, all of which are 12 megapixel. The main camera supports 960 fps slow-motion video. It's powered by a Snapdragon 855 processor and 6 GB of RAM. It has a 3,330 mAh battery, water resistance, LTE Cat. 19, USB 3.1, Miracast, and support for PS4 Remote Play.
Xperia 10: This mid-range model has a 6-inch full-HD+ display, 13-megapixel main camera, 5-megapixel depth camera, 2,870 mAh battery, Snapdragon 630 processor, 3 GB of RAM, 64 GB storage, and Cat. 13 LTE.
Xperia 10 Plus: A step up from the 10, it has a larger 6.5-inch display, 3,000 mAh battery, Snapdragon 636 processor, 4 GB of RAM, a better 12-megapixel main camera, and 8-megapixel 2x telephoto camera.
All of the new models have basic support for AT&T and T-Mobile networks, including LTE bands 12, 29, and 66. The 10 and 10 Plus launch today, while the Xperia 1 will be available in "late spring".
---