OnePlus 7 Pro (5G)
Info Photos News Forum 2 Hands-On ›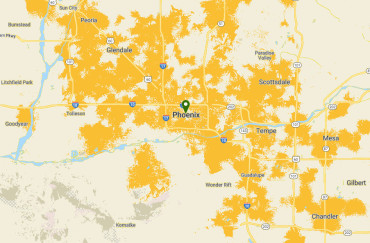 Sprint today launched 5G service in four new cities, and launched one new 5G phone: The OnePlus 7 Pro 5G, available starting today. In New York City, 5G covers 1.7 million people, and parts of Manhattan from Central Park to the southern tip. It also covers La Guardia and JFK Airports, parts of Flushing and Rockaway Beach in Queens, Red Hook in Brooklyn and Concourse in the Bronx. In New Jersey, Sprint will cover areas of Hudson County including Union City and North Bergen. In Los Angeles, 5G now covers covers approximately 1.2 million people with service available from Marina del Rey to Downtown L.A., and West Hollywood to Culver City. In addition, Sprint 5G is also available in parts of Orange County, Pasadena and Cerritos. In Washington, DC, 5G covers approximately 520,000 people with service available in popular parts of the District, as well as areas of Montgomery County, Arlington, and Fairfax County. In Phoenix, 5G covers approximately 740,000 people with service available across the greater Phoenix metro area with service in parts of Phoenix, Tempe, Scottsdale and Glendale. The company also announced expanded 5G coverage in existing 5G cities of Kansas City, Dallas-Ft Worth, Atlanta, and Houston. Sprint also announced that its Unlimited Premium plan now includes a free three-month trial of the Hatch game-streaming service. The OnePlus 7 Pro 5G is very similar to the OnePlus 7 Pro, simply with 5G.
---
Sprint today announced that it will soon offer its first phone from OnePlus, and that it will be a 5G phone. Further details will be announced "soon". OnePlus does offer a 5G version of its newest flagship, the OnePlus 7 Pro, in some markets, including the UK. It only supports sub-6 GHz 5G, the kind Sprint recently launched. OnePlus has not shown interest in developing phones with mmWave 5G the kind deployed so far by Verizon, AT&T, and T-Mobile. Prior to this announcement, T-Mobile was the only major US carrier to carry OnePlus phones. Sprint currently offers 5G in areas of Atlanta, Chicago, Dallas-Fort Worth, Houston and Kansas City, and the company expects to launch service in areas of Los Angeles, New York, Phoenix and Washington, DC, in "the coming weeks".
---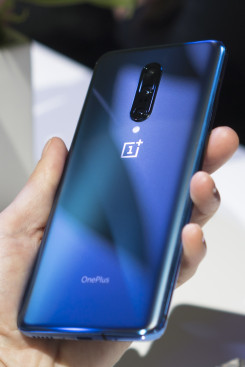 The OnePlus 7 Pro is the company's new flagship, and it's a looker. These days a top-end phone is expected to have an all-screen, all-glass, curvy design. The OnePlus delivers that, along with the top-end specs everyone wants. Instead of a notched or hole-punch screen, OnePlus has solved the selfie camera problem with a motorized pop-up design. So what is it like in person? We checked it out.
---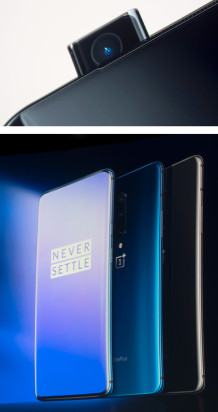 The new OnePlus 7 Pro puts top-end specs and features, such as three rear cameras and a notchless 6.67-inch quad-HD AMOLED display with HDR 10+ and 90 Hz refresh rate, into a new design with a pop-up selfie camera and a glass back, that's just 8.8mm thick. OnePlus announced the phone today at events around the world. The OnePlus 7 Pro is powered by a Snapdragon 855 processor with 6-12 GB of RAM. Its three rear cameras include a 48-megapixel main camera with OIS and f/1.6 aperture. It also has a 16-megapixel wide camera and 8-megapixel telephoto camera. It supports slow motion (1080p at 240 fps), portrait mode, automatic scene detection, and RAW mode. The pop-up front camera clocks in at 16 megapixels and f/2.0. It retracts automatically if the phone is dropped. The fingerprint reader is embedded in the display. Its 4,000 mAh battery can be topped up with "Warp Charge 30" fast charging (5V/6A). Instead of a 3.5mm audio jack, it support audio over USB-C. The phone also has Cat. 18 LTE, NFC, and stereo speakers. The full retail pricing is $669 for the variant with 6 GB of RAM, up to $749 for the 12 GB version. T-Mobile will launch the phone on Friday, May 17th. It will be available in dark gray, blue, and almond/gold. The company also announced a OnePlus 7 model (non-Pro) that is not coming to the US.
---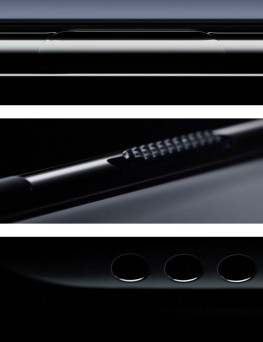 T-Mobile will start selling the forthcoming OnePlus 7 Pro nationwide on May 17th. The phone is set to be announced on Tuesday, May 14th in NYC. T-Mobile will hold its own launch event for the phone at its Times Square store on the same day. On the 15th, T-Mobile will hold additional launch events at its "signature" stores in Chicago, Las Vegas, Miami, San Francisco, and Santa Monica. OnePlus made a name for itself offering "affordable flagship" phones and selling them unlocked. The company scored its first US carrier deal last year when T-Mobile picked up the OnePlus 6T.
---