Hands On with the OnePlus 7 Pro
Article Comments 2
May 14, 2019, 1:38 PM by Rich Brome
updated May 15, 2019, 2:21 PM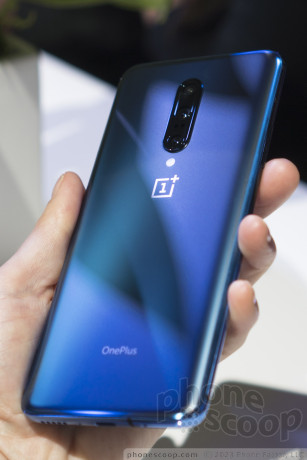 The OnePlus 7 Pro is the company's new flagship, and it's a looker. These days a top-end phone is expected to have an all-screen, all-glass, curvy design. The OnePlus delivers that, along with the top-end specs everyone wants. Instead of a notched or hole-punch screen, OnePlus has solved the selfie camera problem with a motorized pop-up design. So what is it like in person? We checked it out.
OnePlus has a one-size-fits-all approach here, and they've pretty much nailed. I have small hands, and I found the OnePlus to be a good size. It's a truly massive screen, but the width is just narrow enough, the phone is thin and curved enough, and the bezels are thin enough... that it's comfortable for me to hold, which is quite an achievement for a phone with a 6.7-inch display.
The phone feels a tad heavy to me, but it does pack a large 4,000 mAh battery inside. It certainly feels high-quality. The metal frame is thin on the sides, but very glossy. The side keys feel thin and stiff, but work well enough. It does take some getting used to the button placement, which is different from most other phones. The three-position ringer switch is one of my favorite OnePlus features, and I'm delighted to see it on the 7 Pro.
I'm less thrilled to see the lack of 3.5mm audio jack and memory card slot. This is something that's not expensive nor difficult to include. Even Google relented on the 3.5mm jack with the Pixel 3a, so to see none here is a bummer.
The color options are blue, gray (a glossy black to me), and "almond". The blue is the only one with a matte glass back, and it's gorgeous. It collects fingerprints more than you'd expect, but they're not obnoxiously obvious. The shimmer effect is eye-catching yet classy. The matte texture feels amazing to touch. I love it. The almond color has a gold metal frame. It's very Gucci. The gray is very dark and very glossy. It has very little character and fingerprints are super obvious; I didn't care for this "color" in person.
The screen is quad-HD resolution, which is great, and might even be overkill. Quad-HD is most useful for VR, but puzzlingly, the 7 Pro does not seem to support VR such as Google Daydream. Regardless, it's a great display. It supports HDR10 and has numerous options, including advanced color settings, night mode, reading mode, and a "video enhancer".
The triple cameras provide a useful 3x telephoto and wide-angle option. A well-designed toggle at the bottom of the camera app lets you switch to any of the three cameras quickly.
The main camera is 48 megapixel. As with most cameras this high-res, they default to pixel-binning that combines four pixels into one for better photo quality. Only in manual mode can you access a resolution toggle that lets you choose 48 megapixel mode or RAW mode.
The camera is highly customizable, like the rest of the phone. You can choose the primary camera modes and arrange them how you like. The remaining modes are available in a unique swipe-up mode drawer. You can also configure manual mode settings and save them to one of two custom modes. There are of course portrait and night modes. It's a good camera app.
I've been skeptical of pop-up selfie cameras. But I have to admit that, after trying it on the OnePlus 7 Pro, I think I'd get used to it very quickly. It pops up smoothly, quickly, and quietly when it's needed, and disappears just as effortlessly. Honestly, you almost don't even notice it. OnePlus swears they've tested the heck out of it to ensure it's durable, and it does have a clever safety feature that retracts the camera quickly if the phone detects freefall (you just dropped the phone). There is essentially no gap for dust to get into the mechanism. Notches don't bother me, but this is fine, too.
And as we expect from OnePlus, there is a high degree of customization available in the settings. They've really taken the time to offer shortcuts and options that are useful, ambient display, like three nav-bar options, tap-to-wake, lock screen gesture shortcuts, flip-to-mute, gaming mode, and scheduled on/off.
The software is otherwise standard Android with Google's design, and that's good.
The specs are all top-notch and the battery is large. The features missing are wireless charging and a waterproof IP rating. That's how they get you these flagship specs for just $669. And that does make the phone an excellent value.
Maybe, it is expensive but better then what you would spend on a similar phone. I would have liked the option of the lower OP7 being offered. Even before being picked up by T-Mobile, One Plus did rather well in the US read somewhere they were either...
(continues)