Asus ZenFone 6
Info Photos News Forum 3 Hands-On ›
Asus announced that the ZenFone 6 is now on sale from retailers including Amazon and B&H. The flagship phone offers a unique rotating camera, Snapdragon 855 processor, and large 5,000 mAh battery for $499.99.
---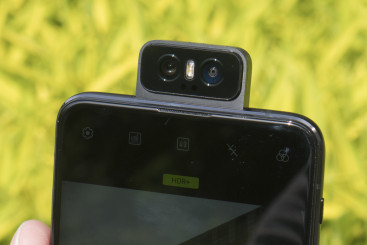 The ZenFone 6 is the latest flagship phone from Asus. As such, it includes the expected amenities like a top-end Snapdragon 855 chip and an edge-to-edge screen, in a premium metal-and-glass design. Where the ZenFone 6 stands out are its unique motorized camera design, and its massive 5,000 mAh battery. The camera design makes it the ultimate selfie phone, plus is does all sorts of neat tricks, using its motor to automate panoramas and motion tracking. You can even control the angle manually. What's it like in person? How do those features work? Is it durable enough? We put it the test.
---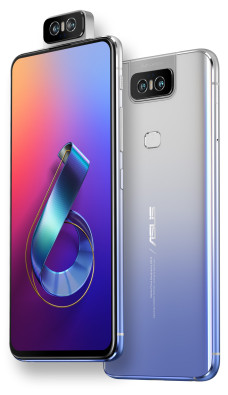 The Asus ZenFone 6 is the company's new flagship phone, sporting a 6.4-inch, full-HD display that covers the front without a notch, thanks to a motorized dual-camera module that flips up from the back to double as a selfie camera. The camera motor can also be used to track subjects while shooting video or automate a panorama, and the camera angle can be controlled manually. The camera contains a 48-megapixel Sony main sensor with laser focusing, plus a 13-megapixel wide-angle (125º) camera. The phone is powered by a Qualcomm Snapdragon 855 processor paired with up to 8 GB of RAM. It contains a huge 5,000 mAh battery. The phone also sports NFC, rear fingerprint sensor, memory card slot, and stereo speakers. A version will be compatible with US networks. The pricing will start at $560.
---