Hands On with the Asus ZenFone 6
Article Comments
May 29, 2019, 3:12 PM by Rich Brome
updated May 29, 2019, 9:58 PM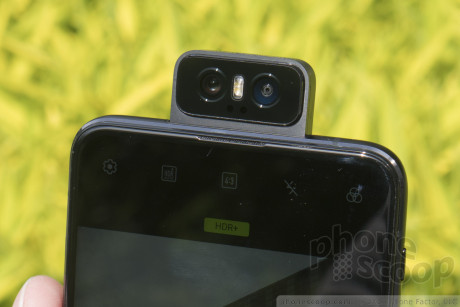 The ZenFone 6 is the latest flagship phone from Asus. As such, it includes the expected amenities like a top-end Snapdragon 855 chip and an edge-to-edge screen, in a premium metal-and-glass design. Where the ZenFone 6 stands out are its unique motorized camera design, and its massive 5,000 mAh battery. The camera design makes it the ultimate selfie phone, plus is does all sorts of neat tricks, using its motor to automate panoramas and motion tracking. You can even control the angle manually. What's it like in person? How do those features work? Is it durable enough? We put it the test.
The ZenFone 6 is a capable flagship-class phone with good specs, good performance, a classy premium design, and a nice clean version of Android. I'm going to focus mostly on what sets it apart, which is mostly that crazy motorized camera.
But first, the basics. The frame is rounded metal, with matte sides and a chamfer. The glass back curves nicely at the sides. The slate color is very professional-looking. It feels excellent and well-made. The thing that stands out when holding it is the size and weight; it's a relatively large and heavy phone. It's about the size of Samsung's Galaxy S10+, but a bit thicker and heavier.
The reason, of course, is the massive 5,000 mAh battery inside. That's the trade-off here: more battery life for a little extra heft.
The side keys work very well. It's nice to see an extra shortcut key, which is mapped to Google Assistant by default, but can be customized with three distinct actions for press, long press, and double press.
It comes with a clear case in the box, which is always nice.
Now onto that crazy motorized camera. There's a lot to talk about, because it does way more than just allow selfies without a screen notch.
One of the best things about this design is that you're able to use the main cameras as selfie cameras. If you take a lot of selfies, this is a phone to take a serious look at. You can take advantage of every single advanced feature with your selfies: night mode, wide-angle mode, high-quality portrait mode, manual mode, 48-megapixel mode, RAW mode... everything.
The camera motor does way more, though. You can also use it to automate your panoramas and physically track objects in motion. You can even control the camera angle manually. How well do these features work? It varies.
The automated panorama feature works well. If you want to take the best-quality panoramas possible, this is a great feature, especially if you have a tripod or some other way to hold the phone still. The interface is great: just line it up at the start, hit the shutter to start, then hit the big checkmark button when you want it to stop. You can also do a manual panorama, and that has a great interface as well: just start moving the camera in any direction to capture.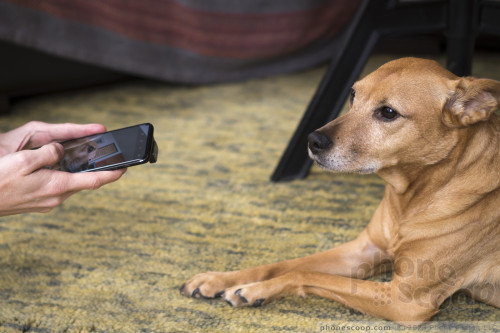 The manual motor control is also excellent. The little icon that flips to selfie mode doubles as a slider: just drag it up or down to set the camera to any angle you want. This is great for getting shots from unusual angles. Want to snap your pet at eye level? No need to lay on the floor, just angle the camera. Want to shoot over a crowd, perhaps at a concert? Just turn the camera 90º so you can still see the screen directly. This is one of those features that, like having a wide-angle camera, you don't know you need until you have it. I never thought I'd use the tilting screen on my professional camera, but now I use it all the time. This works the same way.
The motion tracking mode was perhaps the most disappointing. It does work, but it requires a relatively large subject to track, and it waits until the subject is nearly (or sometimes completely) out of frame before moving the camera to follow. Even then, it sometimes failed to track. These issues could be corrected with a software update. However, you can only start with camera completely closed, which means it can only move in one direction. If you've set it up to move left but your child or pet makes a dash to the right, you're out of luck. So, sure, motion tracking is a cute idea, but perhaps not very practical in the real world.
Of course there is a wide-angle camera, and I'm delighted to see that manual mode works with both the standard and wide-angle cameras; that's not very common. You can even capture RAW and long-exposure shots with either camera. Nice!
The camera software is well-designed and powerful, with just about every feature one could think of. The camera hardware also seems promising, as it's using one of the new 48-megapixel sensors that are all the rage this year. These sensors can technically produce 48-megapixel images, but they're design to output 12-megapixel images most of the time, using pixel binning to combine four pixels into one for better quality.
But what about durability? Surely that moving camera will break, right? Well, I really put it through its paces on that, and I think it should be more durable than you might think.
First, they designed the hinge using a special metal alloy commonly known as Liquid Metal. This is the same stuff Apple has invested a lot of money into, because of its unique properties. It should be much stronger than the usual aluminums used in phones.
I dropped the phone right on the extended camera at some unpleasant angles, and it survived just fine. I dropped it from chest height onto a lawn. Thanks to the height, and the weight of the phone (remember it is on the heavy side), the forces on the camera hinge were significant. I dropped it hard enough to put some serious scratches on both sides of the camera housing, (sorry, Asus!) but the damage was purely cosmetic. The camera mechanism remains perfectly aligned and continues to work perfectly.
I wasn't trying to test it quite this way. The phone is supposed to detect freefall and quickly retract the camera before it hits the ground. That's what I was trying to test. In several tests, that feature worked well only once. But thanks to the durability of the hinge, it still survived just fine.
One thing that helps is that the mechanism is designed to give when a certain amount of pressure is applied, sort of like of clutch. It won't flop around, but if you push it with your finger, you can rotate it pretty easily. That's a good thing, and seems to have helped in our drop tests.
Note that the phone doesn't have an IP rating, so don't get it wet. That's not surprising given the mechanism. The one thing that makes me nervous is dust and dirt getting in there. That shouldn't be an issue if the hinge is designed well enough, but I'd still be careful to keep it clean.
If you're still nervous about the moving parts, keep in mind that the durability of the hinge isn't an issue when it's closed, which is most of the time. Taking it further, if you're someone who never takes selfies... you don't need to worry about the mechanism at all if it's always closed.
At about $560, the ZenFone 6 is a good value. The huge 5,000 mAh battery will be a key selling point for some. And if you want to explore creative photography and/or need the best-quality selfies, this might be the phone to beat in 2019.
Some of these features are best explained in video, so be sure to check out our companion video showing all of this in action:
No messages