Samsung Galaxy A20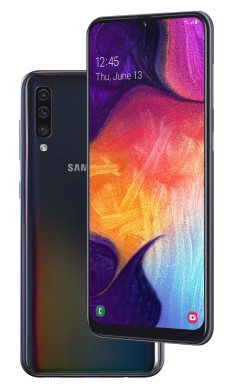 The new Samsung Galaxy A50, A20, and A10e will be available unlocked from samsung.com and other US retail partners starting September 20th. Best Buy and Amazon are now accepting pre-orders for the unlocked A50. Best Buy customers can receive a savings of up to $150 with activation. Amazon customers can receive a free Galaxy Fit fitness tracker band. Samsung.com will accept pre-orders for the A50 "soon after", and Samsung is offering credit up to $300 for a trade-in phone. The unlocked A50 will sell for $350, the A20 for $250, and the A10e for $180.
---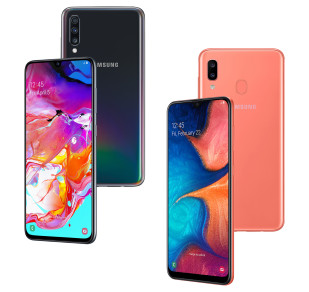 Samsung today published selected details of the new Galaxy A70, A40, A20, and A10 Android phones. These complement the Galaxy A30 and A50 the company announced a month ago. The A70 is the highest-end of the bunch. Although Samsung's A series is generally mid-range, the A10 is a decidedly entry-level model. It's not yet clear which models may come to the US, although the FCC has approved a version of the Galaxy A20 that's relatively friendly with the US networks. All of the new models have extra-tall displays with small centered notches and Android 9.0 (Pie).
A70: Sports a large 6.7-inch AMOLED display with full-HD resolution and 20:9 aspect ratio. It also has 32-megapixel cameras on the front and back, additional wide and depth cameras on the back, a huge 4,500 mAh battery, 25W Super-Fast Charging, in-display fingerprint reader, 6 or 8 GB of RAM, and a "Glasstic" body like the A50.
A40: A compact model around the size of the Galaxy S10e, it has a 5.9-inch AMOLED display with full-HD resolution and 19.5:9 ratio. It also sports a 25-megapixel selfie camera, 16-megapixel main camera, 5-megapixel wide camera, 4 GB of RAM, 3,100 mAh battery, rear fingerprint reader, and a "Glasstic" body. (not pictured)
A20: A more affordable model with a large display and battery. The AMOLED display measures 6.4 inches and has HD resolution. It has a 4,000 mAh battery, fast charging, 13 megapixel main camera with f/1.9 aperture, 5-megapixel wide camera, 3 GB of RAM, and a rear fingerprint reader.
A10: The LCD display measures 6.2 inches and has HD resolution. The battery rates 3,400 mAh, the rear camera is 13-megapixel, and the selfie camera is 5-megapixel. It has 2 GB of RAM and a memory card slot. (not pictured)
An unannounced Galaxy A60 has also been approved by the FCC, although the approval reveals little about that model.
---