Samsung Grows A-Series with Four New Models
Article Comments 8
Mar 26, 2019, 9:56 AM by Rich Brome @rbrome
updated Mar 26, 2019, 11:03 PM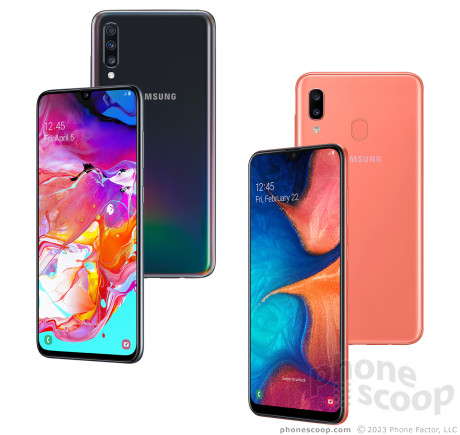 Samsung today published selected details of the new Galaxy A70, A40, A20, and A10 Android phones. These complement the Galaxy A30 and A50 the company announced a month ago. The A70 is the highest-end of the bunch. Although Samsung's A series is generally mid-range, the A10 is a decidedly entry-level model. It's not yet clear which models may come to the US, although the FCC has approved a version of the Galaxy A20 that's relatively friendly with the US networks. All of the new models have extra-tall displays with small centered notches and Android 9.0 (Pie).
A70: Sports a large 6.7-inch AMOLED display with full-HD resolution and 20:9 aspect ratio. It also has 32-megapixel cameras on the front and back, additional wide and depth cameras on the back, a huge 4,500 mAh battery, 25W Super-Fast Charging, in-display fingerprint reader, 6 or 8 GB of RAM, and a "Glasstic" body like the A50.
A40: A compact model around the size of the Galaxy S10e, it has a 5.9-inch AMOLED display with full-HD resolution and 19.5:9 ratio. It also sports a 25-megapixel selfie camera, 16-megapixel main camera, 5-megapixel wide camera, 4 GB of RAM, 3,100 mAh battery, rear fingerprint reader, and a "Glasstic" body. (not pictured)
A20: A more affordable model with a large display and battery. The AMOLED display measures 6.4 inches and has HD resolution. It has a 4,000 mAh battery, fast charging, 13 megapixel main camera with f/1.9 aperture, 5-megapixel wide camera, 3 GB of RAM, and a rear fingerprint reader.
A10: The LCD display measures 6.2 inches and has HD resolution. The battery rates 3,400 mAh, the rear camera is 13-megapixel, and the selfie camera is 5-megapixel. It has 2 GB of RAM and a memory card slot. (not pictured)
An unannounced Galaxy A60 has also been approved by the FCC, although the approval reveals little about that model.
A-Series
Will these models be available in the North American Market or just China and India that usually seems to be the case. Meaning just the J for Junk Series and the S for Super Expensive in the North American market. No M series as well for North America. Notice a trend? Either the Flagship or the Low-End phones for North America. No Mid-range selection at all.
Last year, the A6 came to basically all US carriers except Verizon. That was a good start.

This year, Samsung seems to be expanding and emphasizing the A-series far more than previous years, so I wouldn't be surprised to see two or three models mak...
(continues)
The article states A20 has US LTE friendly bands, so probably will be a replacement for A6