Google Pixel 3a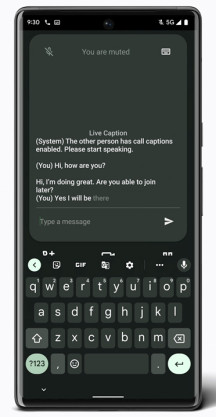 Google has started rolling out a new update for most of its Pixel phones that adds new features. One standout new feature is an enhanced Live Caption function for voice calls. Now it will not only display captions for what the other person is saying, but also let you respond by typing, or by tapping a suggested response. The phone will then speak the response so the other person can hear it. The button to activate Live Caption mode appears after pressing the volume button during a voice call. The update also brings existing features to additional Pixel models. Direct My Call and Wait Times will now be available on the Pixel 3a and newer. This month's update is rolling out now for Pixel 3a and newer, except for the Pixel 6 series, which will roll out later this month.
---
Google has rolled out another "feature drop" for its Pixel phones, adding several new features via software update. The Personal Safety app, previously exclusive to Pixel 4, will now be available on all Pixel phones. It also gains a new "Safety Check" feature that lets you schedule a time for the app to ask if you're safe. If you fail to acknowledge, it will alert your emergency contacts. The app will also support car crash detection on Pixel 3 devices. The feature drop also includes a new "bedtime" feature in the Clock app, which includes an array of features to help you maintain a consistent sleep schedule. Finally, the update also improves battery life and adds Assistant shortcuts for the Recorder app.
---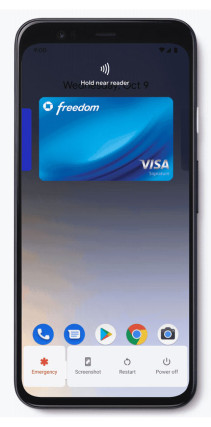 Google today started rolling out a new software update for Pixel phones that adds new capabilities. A long-press of the lock/power button will now surface a simple Google Pay interface that lets you swipe to choose a card or pass before tapping. Another new feature will automatically detect airline boarding pass barcodes when taking a screenshot, and suggest the option to add them as a pass in Google Pay. There is also a new option to have Dark Theme enabled automatically when the sun sets locally. On Pixel 4 phones (which have a RADAR-based gesture sensor), a new mid-air "tap" gesture will pause/play music. Pixel 4 phones will also now be able to capture depth information with the selfie camera, "which improves Portrait Blur and color pop, and lets you create 3D photos for Facebook." Finally, new settings let you configure location-based actions, such as silencing the ringer when at work, or Do Not Disturb mode at home. These can be triggered by either standard location or being in range of a specific Wi-Fi network.
---
Google is rolling out a "feature drop" software update for its Pixel phones, which adds new and improved features to Pixel models going back to the Pixel 2. The Pixel 4 gains improved Call Screen; on-device intelligence will now detect robocalls and keep the phone from ringing at all. Other unknown callers will be screened as before. The Pixel 4 also gains improved Duo video calling. The phone will digitally track and frame your face automatically. It also uses machine learning to automatically fill in small audio gaps when the connection is spotty. A new Google Photos feature lets all Pixel users add portrait effects after a photo is taken, and Duo video calling gains a portrait effect as well. Google is also rolling out certain Pixel 4 features to certain older Pixels, including: Recorder app, Live Caption, Focus Mode, and Flip to Shhh. The update also improves memory management in all Pixel models, allowing more apps to stay open at the same time.
---
Google has stopped selling Daydream VR headsets and the new Pixel 4 phones won't support Daydream VR. The Daydream headset used a phone's display and processor to power a mid-range VR experience.
---
Google released the final version of Android 10 today, after several months of public beta versions. It's available now for all of Google's own Pixel phones, and will be available for other phones in the coming weeks and months. The new OS offers a system-wide dark mode, new gesture navigation, and new privacy controls, among many features and improvements. For the new gesture navigation, a swipe in from the left or right edge of the screen performs the "back" action, while a swipe up from the bottom edge takes users to the home screen. Some apps will need to be updated to avoid triggering the back action accidentally. Users will also be notified when an app requests location data while running in the background, and users can decline those requests. Google recently changed the version naming scheme for Android, switching to simple numbers instead of letters and dessert names.
---
Google has started work to shift its own hardware manufacturing — including Pixel phones — from China to Vietnam, as it seeks to avoid tariffs in Trump's trade war with China as well as rising labor costs in China. An old Nokia factory in Vietnam is being rehabbed to make Pixel phones. Some Pixel 3a phones could be shipping from the new factory in Vietnam before the end of this year. According to sources speaking to Nikkei, Google intends to eventually move production of most of its American-bound hardware outside of China. Samsung also has phone factories in the same Vietnamese province.
---
Google today expanded its Pixel lineup with two mid-range models: the Pixel 3a and Pixel 3a XL. The new models look much like the higher-end Pixel 3 models and have many of the same features, but use software to bring enhanced quality to more affordable hardware components such as a camera module without Google's Visual Core chip. Cost savings also come from dropping water resistance, wireless charging, and the wide-angle selfie camera. The processor is Snapdragon 670 instead of 845, and the rear is made of plastic instead of glass. The Pixel 3a has a 5.6-inch display and sells for $399. The larger Pixel 3a XL has a 6-inch display and sells for $479. The phones are on sale starting today from Google. Tomorrow, Google is expanding distribution of its whole Pixel 3/3a lineup to T-Mobile, Sprint, and US Cellular, in addition to Verizon. The Pixel 3a phones include a 3.5mm audio jack, full-HD OLED displays, Night Sight and Portrait modes in the camera app, call screening, a squeeze shortcut for Google Assistant, USB-C, stereo speakers, Google's Titan M security chip, and a promise of OS updates for three years. The phones support fast charging and come with an 18-watt charger. The Pixel 3a is available in three colors: Just Black, Clearly White, and Purple-ish.
---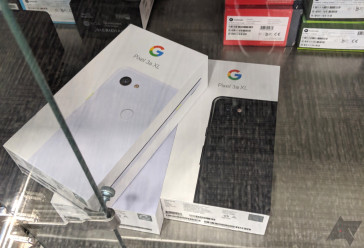 A Best Buy store in Ohio accidentally put an unannounced new Pixel phone on display. The long-rumored Pixel 3a and 3x XL seem to be more-affordable versions of the existing Pixel 3 models. The Pixel 3a XL on display has packaging confirming a 6-inch display, which is smaller than the existing Pixel 3 XL model. Both black and light purple colors are also confirmed. The design looks nearly identical to the existing model. Google's annual developer conference starts Tuesday, May 7th. The company is widely expected to announce the new Pixel phones then.
---