Google Pixel 3a Series Starts at $399
Article Comments 6
May 7, 2019, 1:42 PM by Rich Brome @rbrome
updated May 10, 2019, 8:03 AM
Updated: Added more spec details. Corrected official name of black color. / Clarified that camera hardware is less expensive in lacking a Visual Core chip, not a different sensor.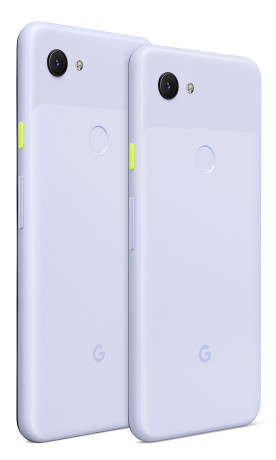 Google today expanded its Pixel lineup with two mid-range models: the Pixel 3a and Pixel 3a XL. The new models look much like the higher-end Pixel 3 models and have many of the same features, but use software to bring enhanced quality to more affordable hardware components such as a camera module without Google's Visual Core chip. Cost savings also come from dropping water resistance, wireless charging, and the wide-angle selfie camera. The processor is Snapdragon 670 instead of 845, and the rear is made of plastic instead of glass. The Pixel 3a has a 5.6-inch display and sells for $399. The larger Pixel 3a XL has a 6-inch display and sells for $479. The phones are on sale starting today from Google. Tomorrow, Google is expanding distribution of its whole Pixel 3/3a lineup to T-Mobile, Sprint, and US Cellular, in addition to Verizon. The Pixel 3a phones include a 3.5mm audio jack, full-HD OLED displays, Night Sight and Portrait modes in the camera app, call screening, a squeeze shortcut for Google Assistant, USB-C, stereo speakers, Google's Titan M security chip, and a promise of OS updates for three years. The phones support fast charging and come with an 18-watt charger. The Pixel 3a is available in three colors: Just Black, Clearly White, and Purple-ish.
Google Pixel 3a
I read that the SoC was supposed to be 710 and not 670 unless they are both the same.
Colors...
Just Black or Dust Black (-:
Fixed. Thanks!

(I was transcribing from the announcement and it definitely sounded like Dust Black. Oh well.)