LG G8 ThinQ
Info Photos News Forum 3 Hands-On ›
LG's flagship phone — the LG G8 ThinQ — now supports magnetic-stripe payment terminals with the LG Pay app, similar to a key feature of many recent Samsung phones. The feature can emit a magnetic signal when held near magnetic-stripe readers, which emulates a credit card being swiped through the reader. LG has signed up a list of just a few, but major, banks to support the feature, including Chase, PNC Bank, US Bank, and Regions Bank. LG says the feature will roll out to additional LG phones soon.
---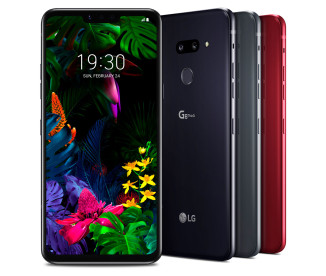 In two weeks, the LG G8 ThinQ will be offered by all major US carriers, with several offering major discounts at launch. This flagship phone from LG has a unique 3D depth camera on the front, supporting mid-air gestures, hand vein scanning, and 3D face scanning. Verizon, AT&T, T-Mobile, Sprint, US Cellular, and Xfinity Mobile will carry the G8, as well as Best Buy and B&H. The standard retail price is $820, although some carriers are offering significant discounts and deals. Read on for carrier deal specifics, color options, and pre-order dates.
---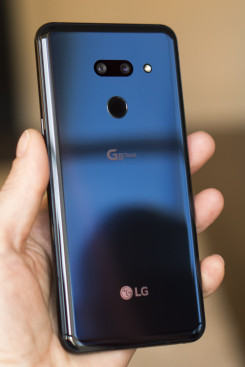 The LG G8 ThinQ has some futuristic new features, like complex mid-air hand gestures and hand vein scanning. Otherwise it's similar to the G7, but makes numerous small upgrades and refinements. How well do the new features work? How does it look and feel in person? What else should you know about this new flagship phone? Read on to find out.
---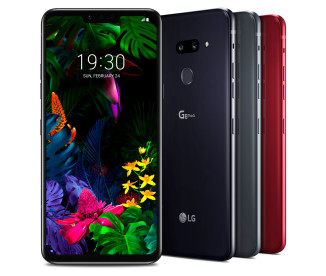 The new LG G8 ThinQ has a 3D depth camera on the front that can sense and recognize detailed hand gestures such as turning a virtual knob in mid-air. The same sensor also provides two different kinds of biometric security: hand vein scanning and 3D face scanning. The sensor also provides a superior selfie portrait mode. LG calls it "Z Camera", referring to "z" as the axis of depth. There's also a fingerprint reader on the back, and all three biometrics (finger, face, and hand) can be active at the same time. The phone uses the whole top half of the display as a speaker, serving as the earpiece during calls, and one of two stereo speakers when watching video. The design is largely similar to last year's G7, but with a sleeker back that puts the standard and wide cameras completely under the smooth glass back. As LG's main flagship phone for 2019, the G8 ThinQ has a 6.1" quad-HD+ OLED display, Snapdragon 855 processor, 6 GB of RAM, 128 GB built-in storage, 32-bit Hi-Fi Quad DAC, IP68 water resistance, and Android 9 (Pie). It has both a 3.5mm audio jack and a memory card slot. The battery rates 3,500 mAh and it supports Quick Charge 3.0. The main camera is 12 megapixels with an f/1.5 aperture, while the wide-angle camera has 16 megapixels and an f/1.9 aperture. A new night mode combines 10 burst shots into one, to reduce noise. It can also apply a bokeh (blurred background) effect to video. The standard portrait mode is adjustable and has studio-effect options. The G8 will be available from major US carriers, including T-Mobile, and national retailers "in the coming weeks", available in black, silver, and red.
---