LG G8 Launches mid-April on All Major US Carriers
Article Comments 3
Mar 28, 2019, 11:41 AM by Rich Brome @rbrome
updated Mar 28, 2019, 1:38 PM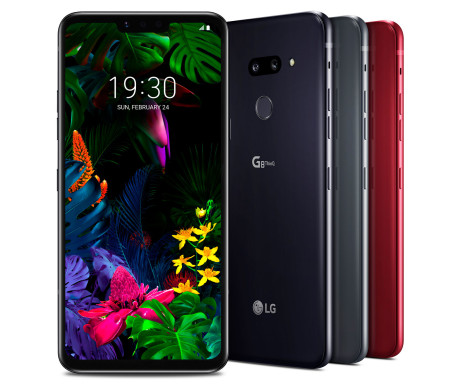 In two weeks, the LG G8 ThinQ will be offered by all major US carriers, with several offering major discounts at launch. This flagship phone from LG has a unique 3D depth camera on the front, supporting mid-air gestures, hand vein scanning, and 3D face scanning. Verizon, AT&T, T-Mobile, Sprint, US Cellular, and Xfinity Mobile will carry the G8, as well as Best Buy and B&H. The standard retail price is $820, although some carriers are offering significant discounts and deals. Read on for carrier deal specifics, color options, and pre-order dates.
Advertisements article continues below...
Verizon is offering several separate deals (which can be combined): When activating a new line and buying the G8 on a payment plan, customers will get a $350 discount. Customers new to Verizon, buying the G8 on a payment plan and signing up for an eligible unlimited plan will receive a $200 prepaid MasterCard. Old-phone trade-in offers include $450 on a new line or $200 on an existing line. Customers purchasing an accessory bundle ($100 or $150) with their G8 will receive a $100 Verizon gift card.
Verizon will carry the Aurora Black and Platinum Gray colors. Verizon will accept pre-orders starting April 1st, with full launch on April 11th.
T-Mobile is offering a flat $200 off the phone price, whether paid up front ($620) or via a payment plan ($25.84/month for 24 months). T-Mobile is also offering an additional half off ($310) in monthly bill credits when customers get the G8 on a payment plan and either: add a new line or trade in an eligible smartphone. (The full $310 is only available with newer-model trade-ins, including iPhone 7, Samsung Galaxy S8, LG G7, or Google Pixel. Older models qualify for smaller discounts.)
T-Mobile will offer the G8 in Aurora Black or Carmine Red. T-Mobile will accept pre-orders starting April 5th, with full launch on April 12th.
AT&T is offering a 2-for-1 deal: when customers buy an LG G8 on a 30-month payment plan and add a new line, they get a free LG G8.
AT&T is accepting pre-orders tomorrow, March 29th, with shipments arriving in less than five business days. It will be available in stores April 12th.
The standard retail price is $820
Remember when a great Nokia wouldn't bankrupt a wallet?
Remember when the "great Nokia" you're referring to was only able to make phone calls and text? I do.