Samsung Galaxy A50
Info Photos News Forum 11 Hands-On ›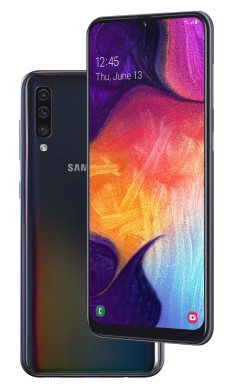 The new Samsung Galaxy A50, A20, and A10e will be available unlocked from samsung.com and other US retail partners starting September 20th. Best Buy and Amazon are now accepting pre-orders for the unlocked A50. Best Buy customers can receive a savings of up to $150 with activation. Amazon customers can receive a free Galaxy Fit fitness tracker band. Samsung.com will accept pre-orders for the A50 "soon after", and Samsung is offering credit up to $300 for a trade-in phone. The unlocked A50 will sell for $350, the A20 for $250, and the A10e for $180.
---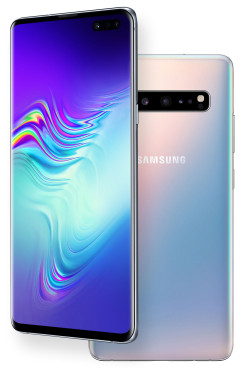 Sprint will offer its second 5G phone — the Samsung Galaxy S10 5G — on June 21 for $1,300. Sprint is offering a $250 discount for customers who pre-order, which is available starting today. Customers choosing a Sprint Flex Lease will pay $40.28 per month after the $13.89/month credit from the $250 discount. The phone is available only in markets where Sprint has launched its 5G network, which currently includes Atlanta, Dallas, Houston, and Kansas City. 5G markets launching "in the coming weeks" are Chicago, Los Angeles, New York City, Phoenix, and Washington, DC. The S10 5G joins the LG V50 in Sprint's 5G phone lineup. Sprint also launched the new, mid-range Samsung Galaxy A50 today.
---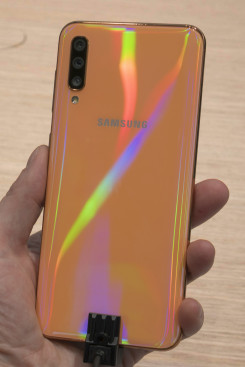 Samsung is going in a new direction with its A series of mid-range phones. Previous models married an understated but very premium design with popular features like Samsung Pay, with mid-range specs and prices. With the A30 and A50, Samsung is getting more adventurous with both the design and the features. They have dazzling prismatic finishes and surprising features like in-display fingerprint reader and 25-megapixel cameras. Now that everyone can make "premium" metal-and-glass designs at almost any price point, Samsung is experimenting with a material it calls "Glasstic" for the back. How is it? We checked 'em out.
---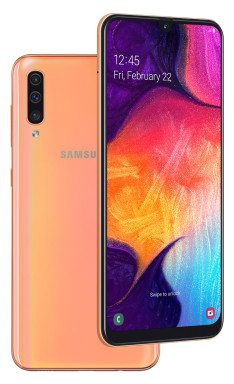 The Galaxy S10 isn't Samsung's only new phone with an in-display fingerprint reader; the Galaxy A50 also has this new technology. Samsung announced two new A-series phones today: the Galaxy A50 and Galaxy A30. Both phones appear similar on the outside, and in fact have the exact same 6.4-inch full-HD+ Super AMOLED display with small notch, same dimensions, and same 4,000 mAh battery. Both phones also have 15W fast charging, dedicated wide-angle camera on the back, Samsung Pay, memory card slot, and a shiny "3D Glasstic" back.
Galaxy A50: Has an in-display fingerprint reader, 25-megapixel main cameras on both sides, an extra depth camera on the back, and 4-6 GB of RAM. Available in Black, White, Blue, and Coral, all with a prismatic finish.
Galaxy A30: Has a standard fingerprint reader on the back, 16-megapixel main cameras on both sides, and 3-4 GB of RAM. (not shown)
Pricing and launch details were not announced.
---