Alcatel 1x (2019) / Onyx
Info Photos News Forum 1 Hands-On ›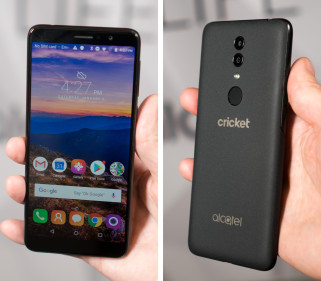 The Alcatel Onyx for Cricket has a fingerprint reader, dual rear cameras, a tall 2:1 display, and sells for $120. It's based on the Alcatel 1x that was launched at CES a few weeks ago. The Onyx does have a fingerprint reader (not all versions of the 1x do). The Onyx also has 32 GB of internal storage instead of the standard 16 GB on the 1x. Otherwise, the Onyx is identical to the 1x. The phone has a 5.5-inch HD display, 3,000 mAh battery, memory card slot, 3.5mm audio jack, and FM radio. Its 13-megapixel main camera is aided by a 2-megapixel depth camera for portrait effects, the focus of which can be adjusted after the photo is taken. The front camera is 5 megapixel. The Onyx comes with Android 8.1 (Oreo). Alcatel and Cricket announced the Onyx today and it's available now, in "Suede Black".
---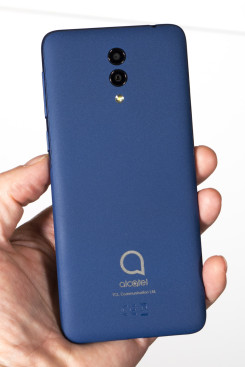 For 2019, Alcatel has refreshed its 1x model with an updated design and updated specs. Despite its entry-level price, it sports camera and display features normally found only on much higher-end phones. It also has unique design touches that set it apart from other entry-level fare. Read on for our first impressions.
---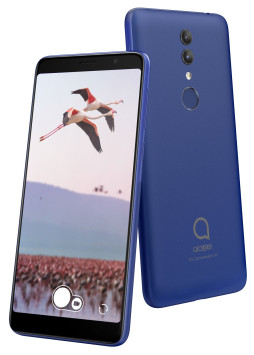 TCL today announced the Alcatel 1x (2019), an update to last year's 1x with significant upgrades and new features, including dual rear cameras. Like the original 1x, it has a 2:1 display shape and fingerprint reader (some versions, depending on region). The display has been upgraded to HD resolution and enlarged from 5.3 to 5.5 inches. The (non-removable) battery is 22% larger, now 3,000 mAh. While last year's 1x ran Android Go, the new version has 2GB of RAM and a full version of Android 8.1 (Oreo). The distinctive design has a rough texture that wraps around the sides on the bottom half. The rear camera has been upgraded to 13 megapixel and is aided by a second camera for depth, offering a portrait mode with focus adjustable after the shot has been taken. The 1x is powered by a MediaTek 6739 processor. It will ship globally — including North America — in the coming weeks, for around $120.
---