Hands On with the new Alcatel 1x
Article Comments
Jan 8, 2019, 11:15 AM by Rich Brome @rbrome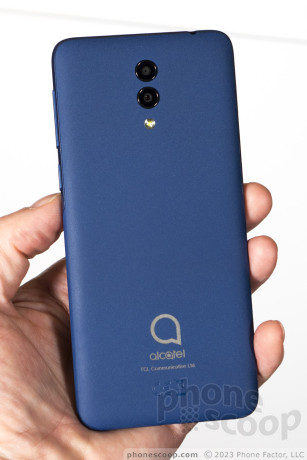 Alcatel 1x (2019)
For 2019, Alcatel has refreshed its 1x model with an updated design and updated specs. Despite its entry-level price, it sports camera and display features normally found only on much higher-end phones. It also has unique design touches that set it apart from other entry-level fare. Read on for our first impressions.
Advertisements article continues below...
Last year, Alcatel's 1x was the first phone to offer a modern 2:1 display shape and fingerprint reader in a truly entry-level device. This year, Alcatel has refreshed the 1x with even more features never seen before in a device this affordable.
The original 1x ran Android Go edition, a special version of Android designed to work with only 1 GB of RAM, keeping hardware costs to the minimum. The Android Go devices we tried last year didn't live up to our expectations. That's why I'm glad to see Alcatel bring 2GB of RAM and a full version of Android to this year's 1x. Alcatel will still offer Android Go devices (like the new 1c) in other markets, just not the in U.S.
The important specs have all been given a hefty boost. The battery is 22% larger (3,000 mAh), the screen is larger (5.5"), and the screen is sharper (HD resolution). That's all pretty great given this is Alcatel's most affordable smartphone for this part of the world.
But what really sets the new 1x apart is dual rear cameras for a real portrait/bokeh effect. This might be the most affordable phone with that feature. Not only can you choose focus and blur the background, but you can change the focus after you've taken the shot, something not all phones with portrait mode can do.
The camera also offers a "light painting" mode for creative long exposures, a fun feature that I wish more phones had. And of course there's the usual HDR and panorama features.
The battery is sealed inside, but there is a memory card slot and 3.5mm audio jack.
Put all of that together and you have a ton of value in a $120 phone.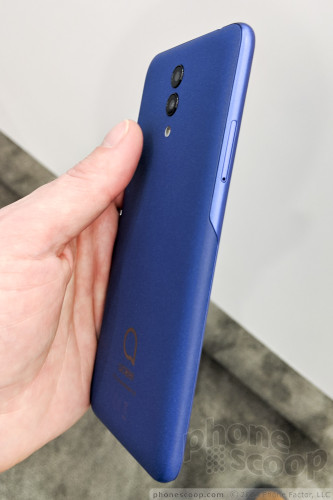 The other interesting aspect is the design. The back is a unique rough texture that's grippy and comfortable. New this year, that texture wraps around the sides on the bottom half, providing a subtle but welcome little design touch. It's particularly appealing in the blue color option.
In person, the phone looks and feels very nice. The plastic feels relatively high-quality and solid. The front glass has rounded edges that match the overall rounded shape of the phone. Put that together with the narrow display shape and you have a phone that's very pleasing to hold. The side buttons seem to work well. The display is made by TCL, the parent company of the Alcatel brand, and it's certainly above-average for this price range.
The 1x will ship globally. Some versions will have the rear-mounted fingerprint reader, while others will not. Colors and the amount of internal storage may also vary. The 2019 1x will come to North America soon. Cricket and Metro have carried Alcatel phones like this in recent years, so I wouldn't be surprised to see it show up there.
No messages