Motorola Moto g7 power / g7 Supra / g7 Optimo Maxx
Info Photos News Forum 9 Hands-On ›
Cricket is offering a choice of eight different phones for free to new customers through the end of the month, and two models after that. Until October 1st, the free choices include several mid-range models such as the Moto g7 Supra, LG Stylo 5, and Nokia 3.1 Plus. Also free are the Samsung Galaxy J2 Pure, LG Harmony 2, LG Fortune 2, Moto e5 Cruise, and Nokia 3.1 C. After Oct. 1st, the Moto e5 Cruise will continue to be free until Nov. 21. The Samsung J2 Pure will be free again Oct. 11 - Nov. 21.
---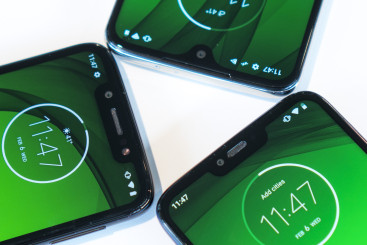 Moto's new g-series phones bring up-to-date features, upgraded specs, and clean Google software to three models ranging from $200 to $300. This year's series moves to a notched-screen design, steps up to a Qualcomm Snapdragon 632 processor, and supports USB-C across the board. They will all launch with Android 9 (Pie). All three will eventually come to US carriers, most by this spring.
Moto g7 play: The most affordable at $199, it has a 5.7" HD display, 3,000 mAh battery, fast charging, fingerprint reader, 13 megapixel camera, 2 GB of RAM, 32 GB of storage, memory card slot, 3.5mm headset jack, and FM radio. It will be available from Boost, Virgin, US Cellular, Ting, and Republic, as well as unlocked from most major retailers.
Moto g7 power: The main feature is its huge 5,000 mAh battery, which Motorola claims will last for three days. It builds on the specs of the g7 play, stepping up to a larger 6.2" display, 3 GB of RAM, and a higher-quality 12-megapixel camera. It will be available for $249 from Verizon, T-Mobile, Metro, Cricket, Xfinity Mobile, Republic, Ting, and Consumer Cellular, as well as unlocked from most major retailers.
Moto g7: Higher-end but with a normal-size (3,000 mAh) battery, this flagship of the g series has a curved glass back, full-HD 6.2" display with a smaller notch, 4 GB of RAM, 64 GB of storage, 4K video capture, and dual cameras for portrait effects. It also has a more advanced camera app, with new features like automatic group smile capture, hi-res digital zoom using multiple frames, hyperlapse video, and RAW output. The camera also integrates with YouTube Live and Google Lens. It will be available unlocked from most major retailers for $299 this spring, followed by launches with Google Fi, Republic Wireless, and Ting.
Read on for our first impressions, including photos and a video.
---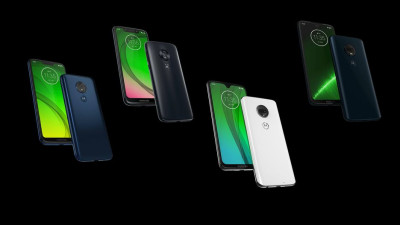 A Brazilian Motorola web site accidentally posted photos and details of the unannounced Moto G7 series of phones. There will be four versions of the G7. All of them have a headphone jack, fingerprint reader, memory card slot, and Android 9 (Pie). The standard Moto G7 model will have a 6.24" full-HD+ display with a small "drop-style" notch, and dual rear cameras. Inside is a Snapdragon 632 processor paired with 4 GB RAM and 64 GB storage, and 3,000 mAh battery. The Moto G7 Plus model is very similar but has a Snapdragon 636 processor and higher-resolution cameras (16 megapixel main / 12 megapixel selfie). A slightly lower-end Moto G7 Power has a huge 5,000 mAh battery, but has a lower-res (720p) HD screen with a larger notch, less internal storage, a single rear camera, and 3 GB RAM. The cheaper-still Moto G7 Play is similar to the G7 Power but with a smaller 5.7-inch display, 2 GB RAM, and a 3,000 mAh battery. An event is scheduled for Feb. 7 in Brazil where the G7 series is expected to be formally announced.
---