Hands On with the Moto g7 Series
Article Comments
Feb 7, 2019, 8:00 AM by Rich Brome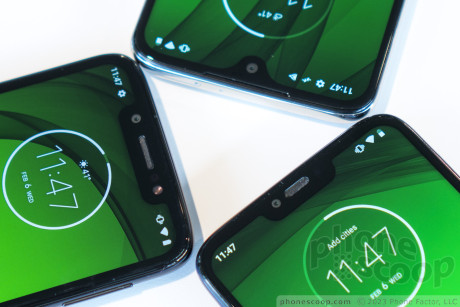 Moto's new g-series phones bring up-to-date features, upgraded specs, and clean Google software to three models ranging from $200 to $300. This year's series moves to a notched-screen design, steps up to a Qualcomm Snapdragon 632 processor, and supports USB-C across the board. They will all launch with Android 9 (Pie). All three will eventually come to US carriers, most by this spring.
Moto g7 play: The most affordable at $199, it has a 5.7" HD display, 3,000 mAh battery, fast charging, fingerprint reader, 13 megapixel camera, 2 GB of RAM, 32 GB of storage, memory card slot, 3.5mm headset jack, and FM radio. It will be available from Boost, Virgin, US Cellular, Ting, and Republic, as well as unlocked from most major retailers.
Moto g7 power: The main feature is its huge 5,000 mAh battery, which Motorola claims will last for three days. It builds on the specs of the g7 play, stepping up to a larger 6.2" display, 3 GB of RAM, and a higher-quality 12-megapixel camera. It will be available for $249 from Verizon, T-Mobile, Metro, Cricket, Xfinity Mobile, Republic, Ting, and Consumer Cellular, as well as unlocked from most major retailers.
Moto g7: Higher-end but with a normal-size (3,000 mAh) battery, this flagship of the g series has a curved glass back, full-HD 6.2" display with a smaller notch, 4 GB of RAM, 64 GB of storage, 4K video capture, and dual cameras for portrait effects. It also has a more advanced camera app, with new features like automatic group smile capture, hi-res digital zoom using multiple frames, hyperlapse video, and RAW output. The camera also integrates with YouTube Live and Google Lens. It will be available unlocked from most major retailers for $299 this spring, followed by launches with Google Fi, Republic Wireless, and Ting.
Read on for our first impressions, including photos and a video.
Article
This year's g7 series is fairly simple: The g7 Play is the small, cheap one; the g7 is the fancier, pricier one; and the new g7 Power is the one in the middle (on price and specs) with a huge battery.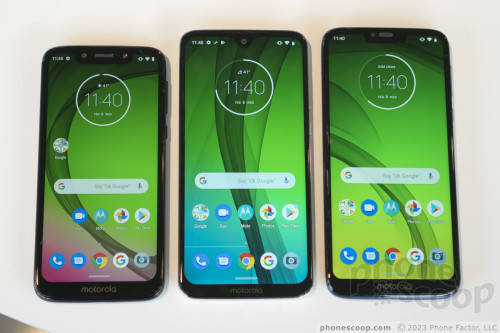 As a whole, the g7 series has three major upgrades over last year's models:
Instead of a Qualcomm Snapdragon 400-series processor, they all have a Snapdragon 632. That's a very nice step up, especially for the cheaper Play model.
The displays are notched. Last year's g-series had modern, tall (2:1 aspect ratio) displays, but with small "foreheads". This year, notches let Motorola put a larger display in the g7, and make the g7 Play a bit shorter overall.
They all have USB-C. The transition from micro-USB to the newer (and superior) USB-C has so far been protracted and painful, so it's nice to see a company moving in the right direction across a whole lineup.
Other upgrades to some models include RAM, storage, and camera abilities.
There's technically only one "downgrade", and it's on the g7 Play: The g6 Play had a large 4,000 mAh battery, while the new g7 Play has a more typical 3,000 mAh battery. That's understandable since the g6 series didn't have a "Power" model. Now, the g7 Power is the option for those seeking a large battery in the g series.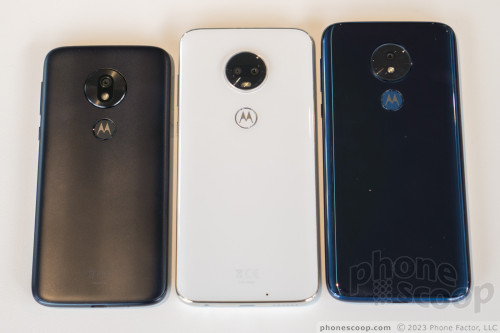 All of the new g7 phones have design and build quality we've come to expect from Motorola, which is excellent. Everything feels well-made. The side keys are a tad small and thin, but work well. There are no exposed metal frames in the 2019 g series; it's all plastic on the sides.
The software is a very clean-looking version of Android that's 99% as Google designed it. That's a good thing.
Moto g7 Power
The g7 Power has a polycarbonate back that may look like glass when it's brand-new, but finger smudges quickly mar the look, and if you drop it — while it may not break — it will probably suffer a mean scratch. In the long run, it may not remain pretty, but it will remain practical. As least a fine pattern of etched dots under the plastic gives it a pretty shimmer in the light.
The build quality feels good, although my fingers cringe upon touching glossy plastic. Most people will probably be fine with the size (the screen measures 6.2 inches), although it's a bit large for me.
The g7 Power is defined, of course, by its power. Literally. Its 5,000 mAh battery is about as big as it gets, and yet the phone doesn't look or feel oversized; it feels like a normal phone for 2019. It also has top-end 15W fast charging, which is crucial in a phone with such a large battery.
The screen's notch isn't tiny, but it allows enough room for indicators.
The closest comparable phone in last year's Motorola lineup was the e5 Plus, which also had a 5,000 mAh battery. This is a very similar phone, just with a better processor chip and USB-C.
The g7 Power is coming to Verizon, T-Mobile, Metro, Cricket, and other carriers, as well as unlocked with most major retailers. Clearly, carriers think US consumers will be drawn to the huge battery as a differentiator.
Moto g7 Play
The g7 Play is the $199 model coming to Boost and Virgin, as well as US Cellular and some MVNOS.
Its huge notch is very reminiscent of the iPhone X proportions, at least on the top... and the front....
g7 play notch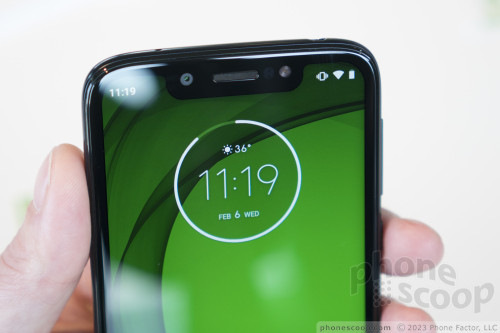 g7 play notch
While I don't mind most notches, I do mind ones that don't leave room for most third-party notification badges. It basically breaks a key part of a smartphone's notification system.
While the diagonal screen size remains unchanged compared to last year's g6 Play, the notch reduces the screen area quite a bit. At least Motorola reduced the phone height to compensate, although height is generally the dimension that matters least in how a phone feels.
Similarly, the battery capacity is reduced, as mentioned earlier. Motorola did reduce the phone thickness to compensate (from 9.1 to 8.2mm). But personally, I'd rather have the extra 1,000 mAh of battery capacity in exchange. Still, given the existence of the g7 Power, I can't blame Motorola for making the choices they did.
The g7 Play feels quite nice indeed. It's wonderfully compact, and feels well-built. A super-fine pattern of wavy ridges graces the back, giving it just the right comfortable, grippy texture, while also giving it an attractive shimmer that somehow also appears matte. I like it, and quite frankly I prefer this to a fragile glass back.
While the higher-end g7 can perform the most camera tricks, Motorola's new camera app offers most of the best features on the other models, including the g7 Play. There's a software-based portrait mode, auto-HDR, slow-motion, time-lapse, and YouTube Live broadcasting.
Moto g7
The higher-end g7 has a curved glass back, which does lend a definite feeling of quality to this model, (at the expense of some durability.)
g7 camera hump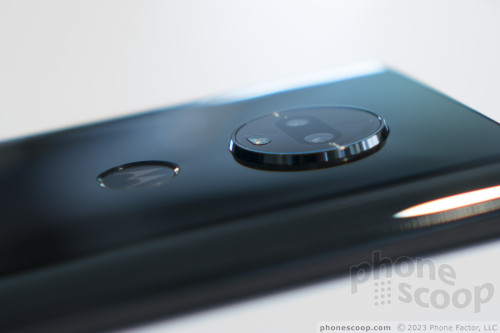 g7 camera hump
While the other two models have their 3.5mm headphone jacks on the top, the g7 places it on the bottom, to the side of the USB-C jack. It's nice to see Motorola still offering 3.5m audio jacks, and all three models offer FM radio as well (which uses the headphone wire as an antenna.)
The g7 comes in white and dark blue, and the effects are very different. The dark blue option has a near-mirror finish that can be lovely one moment and horrifying the next; it's very Jekyll-and-Hyde, dependent on the lighting and what it's reflecting. The white option, on the other hand, is quite lovely.
The g7 looks an awful lot like the g6, but has a few key upgrades and new tricks inside. It has a larger display (6.2" vs. 5.7", and full-HD unlike the other g7 models). It also has more RAM and storage, and can record video in 4K.
Moto's camera app adds new features every year, and has even more on this specific model, such as hyperlapse video and a group portrait option that waits until everyone is smiling then automatically takes the shot.
The best feature might be a "High-res Zoom" that automatically combines multiple rapid shots to create a digital zoom shot with the resolution and sharpness of a non-zoomed photo.
The g7 also has the full suite of Moto gestures and shortcuts available from the Moto app. The Play and Power models have most of these, but not Moto Voice for hands-free activation.
The notch on the g7 is the smaller type that some companies call "teardrop". As many companies do, they manage this by moving the speaker to literally the top edge of the phone, leaving only the selfie camera in the notch. While I personally don't mind most notches, I can certainly appreciate a smaller notch like this one.
The truly strange thing about the g7 is that Motorola's specs say it doesn't support the newest bands for AT&T and T-Mobile, like LTE bands 14, 29, 30, and 71. Our own investigation of FCC records approved to date seems to confirm this. Usually, higher-end models support more bands, and models intended primarily for the US unlocked market prioritize AT&T and T-Mobile bands. But it seems to be the opposite for the g7, since the lower-end Play and Power models fully support all major US bands, including the ones the high-end g7 doesn't. Weird. At least the g7 should run smoothly on Verizon and Sprint networks.
The main outlet for the $299 g7 will be retailers like Amazon, Walmart, and Best Buy, although Google Fi will also carry it.
Check out our video to see these phones in action:
No messages