Apple iPhone Xr
Info Photos News Forum 1 Hands-On ›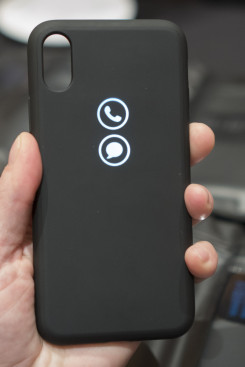 Do you ever wish your iPhone had a notification light? Do you use the LED flash to notify you of incoming calls, but wish it weren't blindingly bright? Iconcase is an attractive new case for iPhones that adds a large notification light to the back. The newest model charges by sipping a little juice whenever the iPhone is wirelessly charging through the case, so you never have to worry about charging it. It communicates with the iPhone via standards built in to Bluetooth LE, so you only need to pair it; no special app or setting is required. The standard model includes one light-up icon for incoming calls and second for messages. The company is also working on a range of cases with fixed full-color designs that light up, and a skull design with eyes that light up red. The company says they are close to a deal to sell the cases through Apple's online store in the US. Pricing has yet to be determined, but is expected to be roughly $50. Read on for our hands-on impressions and photos.
---
Apple today made iOS 12.1.2 available to iPhones and iPads. The update targets several bugs related to eSIM activation on the iPhone XR, XS, and XS Max. It also addresses an issue that could affect cellular connectivity in some markets on those same phones. iOS 12.1.2 is free to download over the air.
---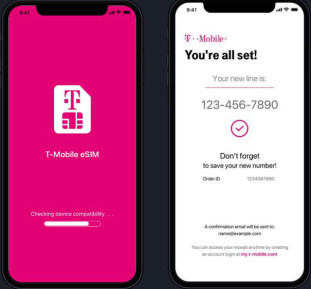 T-Mobile hopes to offer support for the newer iPhones' eSIM by the end of the year, according to a report from PCMag. The carrier is distributing training materials concerning its eSIM app to staff this week. T-Mobile will allow iPhone Xs, Xs Max, and Xr owners to sign up for prepaid T-Mobile service on the eSIM using this new app. T-Mobile will continue to require physical SIM cards for primary lines and family plans. AT&T and Verizon's method for activating the eSIM requires users to visit a store or use a scannable QR code sent via the carrier. AT&T began allowing the eSIM today, and Verizon is expected to support the eSIM tomorrow. The eSIM is already supported by GigSky and Truphone. Sprint is not likely to support the eSIM until 2019.
---
AT&T and Verizon Wireless have confirmed that the latest system update for iPhones from Apple has made it possible to support the eSIM on their networks. AT&T is activating eSIM support on the iPhone XS, iPhone XS Max, and iPhone XR starting today. It won't cost AT&T subscribers to use the feature. "AT&T does not charge for a SIM Card/eSIM Card for device upgrades or new lines of service," said the company in a statement provided to Fierce Wireless. Verizon told Fierce that it will initiate support for the eSIM starting tomorrow, December 7. T-Mobile is still working to make eSIM happen, but has not provided a timeline for bringing the feature to its customers. The eSIM in the newer iPhones allows the devices to act as though they have dual SIM cards. Owners can designate one SIM as the primary and use that for calls, messaging, and data. The secondary SIM acts as a separate account and can handle calls and texts.
---
Apple today released iOS 12.1.1, an update for iPhones and iPads that introduces a handful of new features. To start, iOS 12.1.1 brings dual SIM support, via eSIM, to more carriers for the iPhone XS, XS Max, and XR. The XR gains haptic vibrations for notification previews. The update reinstates the ability to flip between the rear and front-facing cameras during a FaceTime call with a single button tap. The software makes it possible to capture Live Photos during one-to-one FaceTime calls, as well as take advantage of real-time text when using WiFi calling on the iPad. Apple News gives iPad users the option to hide the sidebar when in landscape orientation. As to be expected, a number bug fixes are included in iOS 12.1.1. For example, it makes stability improvements to dictation when using VoiceOver, fixes a Face ID reliability problem, addresses a visual voicemail glitch, and resolves an issue in Messages that sometimes prevented predictive text suggestions when typing in Chinese or Japanese. Other fixes tackle a problem that prevented Voice Memos from backing up to iCloud and a bug that prevented time zones from updating automatically. iOS 12.1.1 is free to download over the air.
---
Apple will give you more money for your old iPhone if you trade it in for a new one. Specifically, Apple has upped the trade-in value of the iPhone 6/Plus, 6s/Plus, 7/Plus, and 8. For example, the iPhone 6 had a trade-in value of $75, but now has a value of $150. The iPhone 7 had a trade-in value of $175 and now has a value of $250. The trade has to be made through Apple when upgrading to an iPhone Xr ($749) or iPhone Xs ($999). The value will be applied as a refund toward the new phone or an Apple Store Gift Card. Phones ineligible for credit can be recycled. Apple said the improved trade-in values will be honored for a limited time.
---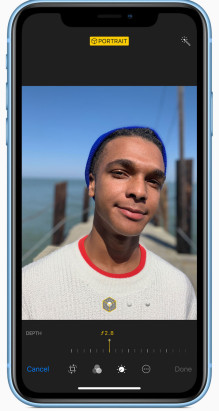 Apple has made the SIM-free variant of the iPhone Xr available from its web site. The phone ships unlocked and without service from any wireless carrier. People who buy the phone will need to use an existing SIM card or purchase one separately. The SIM-free iPhone Xr is compatible with most U.S. networks. Pricing starts at $749, which is the same as the carrier versions.
---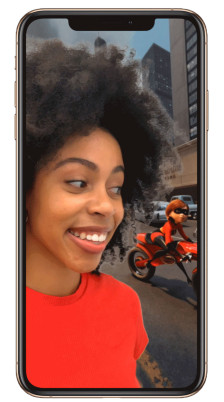 Apple today provided an update to Clips, its app for creating and sharing videos on the iPhone and iPad. First, the new version of Clips adds a half dozen Selfie Scenes, which are Apple's 360-degree background environments that let people put themselves into a 3D scene. The new Scenes rely on the TrueDepth camera on the newer iPhones and iPad Pros so people can record themselves against animated backdrops, such as from "Incredibles 2." Clips gains three new filters, too, including black and white comic book, monochrome watercolor, and aged film. There are new posters for creating title cards with fun scenes. Fresh stickers and text labels let people dress up their Clips, and 17 new soundtracks mean users can add background music to their Selfie Scenes. Clips 2.0.5 is free to download from the iTunes App Store. It is compatible with devices from the iPhone 5s and up, and the iPad Air, and up. Selfie Scenes requires a device with a TrueDepth camera.
---
Verizon Wireless will not support Apple's dual-SIM technology at first due to a software bug that degrades service. The new Apple iPhones (Xs, Xs Max, Xr) support dual-SIM functionality thanks to one physical SIM and one eSIM. The way dual-SIM phones typically work is to designate a primary SIM for voice, text, and data, with a secondary SIM handling voice and messaging through a second subscription. Many dual-SIM phones allow you to switch which SIM is designated as the primary/secondary at will. With the new iPhones, a third option exists that uses the primary SIM for iMessage and FaceTime, and the secondary for data. According to PCMag, when a Verizon physical SIM is designated as the secondary account, it drops to 2G CDMA data, which is slow, not widely available, and doesn't support MMS. Verizon confirmed the issue to PCMag and said it is working on a fix. "Wireless customers will be able to activate Verizon service eSIMs as soon as we're confident you'll be able to have the great, high-quality service you expect from us on both your primary and secondary line. If you are a Verizon customer and you activate another carrier's service on your iPhone's eSIM, your Verizon service will be degraded due to the current software configuration. We believe these concerns will be resolved quickly and you should be able to add our great Verizon service on your secondary line before the end of the year." Verizon said that until the secondary SIM supports all its LTE-based services, it won't activate service on any eSIM for now. Apple is activating the dual-SIM feature on its new iPhones today via iOS 12.1.
---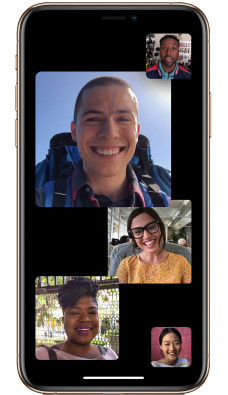 Apple today said it will release iOS 12.1 to the iPhone and iPad on Tuesday, October 30. The updated platform contains a number of new features. For example, all devices will be able to conduct Group FaceTime calls with between 2 and 32 participants. Group FaceTime chats are able to intelligently and automatically prioritize the active speaker in group sessions. Group chats are also integrated with iMessage, feature a silent ringer, and are encrypted end-to-end for privacy. The system software also introduces 70 new emoji that are more representative of peoples' individual appearances. The iPhone Xs, Xs Max, and Xr gain real-time depth control when shooting portrait photos. Last, these same phones gain access to the built-in dual SIM functionality, allowing owners to add service from a second carrier if they wish. iOS 12.1 will be free to download and install starting midday.
---
Apple plans to adjust its software to appease owners of its newest iPhones. Some users complain that pictures captured with the user-facing camera produce images with skin that is overly smooth. The result is lost detail and an unnatural look. Apple explained to the Verge that the Smart HDR tool on the new iPhones is selecting the wrong frame when processing HDR selfies. Smart HDR works by taking a number of exposures and then merging elements of them together into a single frame. The software is sometimes choosing a frame with a longer exposure time as the base image, which results is a small amount of blur and smoothness in the end result. Moving forward, Apple will update the software to base its Smart HDR photos on frames taken with a shorter shutter speed, which generally produces cleaner, sharper results with more detail. The end product should be selfies that look less doctored. Apple will include this update in iOS 12.1, which it is expected to release to the public soon.
---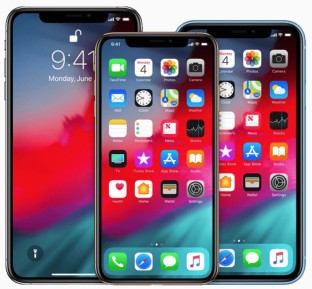 The iPhone XR goes on sale Friday, October 26, and Apple has revealed what it will cost to repair the device should it break. If the screen is broken accidentally due to mishandling, or if the screen breaks on its own, and the device isn't covered by AppleCare+, Apple will charge $199 to repair it. Other breakages for the iPhone XR, such as a cracked rear panel, will cost a weightier $399 to repair. These same repairs cost $279/$549 for the iPhone XS an $329/$599 for the iPhone XS Max. iPhone owners who opt for AppleCare+ will see far lower repair costs. Apple charges AppleCare+ subscribers a straight $29 deductible for screen repairs and a $99 deductible for all other repairs across its entire iPhone range. The standard price for AppleCare+ is $199, which can be broken down into monthly payments if needed.
---
Apple today announced the iPhone Xr, a more affordable all-screen iPhone. The Xr looks similar to the Xs and Xs Max, but has an LCD panel rather than OLED, and a 7000 series aluminum frame rather than stainless steel. The screen size sits between the 5.8-inch and 6.4-inch displays of the Xs and Xs Max, respectively, at 6.1 inches across the diagonal. Apple calls it the Liquid Retina display with 1,792 by 828 pixels and a pixel density of 326ppi. It supports tap-to-wake, and includes true-tone, 120Hz refreshing, and wide-color gamut. This iPhone will come in black, blue, green, yellow, and coral. The chassis are rated IP67 for protection from water and dust. A new shortcut from the home screen takes people directly to the camera. It includes the same bank of sensors for Face ID, such as infrared, proximity, and ambient light sensors. It is faster. This phone also includes the A12 Bionic and real-time machine learning. A single camera adorns the rear. It's a 12-megapixel wide-angle camera at f/1.8, OIS, Smart HDR, portrait mode, bokeh, 6-element lens, focus pixels, and a True Tone flash. The Xr also carries over the selfie camera from the Xs and Xs Max. Apple says the battery delivers more than 90 minutes more uptime than the iPhone 8+. The iPhone Xr starts at $799 and comes in 64 GB, 256 GB, and 512 GB variants. It will be available for preorder October 19 and reaches stores October 26.
---