Huawei Mate 10 Pro
Info Photos News Forum 8 Hands-On › Our Review ›
Netflix has added more smartphones to the list of those capable of supporting HDR10 playback. The newest phones include the LG G7, and the Sony Xperia XZ2 Premium and Xperia XZ3. These phones have the high-contrast displays needed to boost colors and improve the visible range between bright and dark regions of each frame. HDR10 playback is already available to a number of flagship-grade devices, including the LG G7 One, V30, and V35; the Samsung Galaxy Note9, Note8, and S9; the Sony Xperia XZ Premium, XZ1, and XZ2; and the Huawei Mate 10 Pro, P20, and Honor 10. In order to view HDR10 content on mobile devices, people need to subscribe to the premium Netflix plan.
---
Huawei says customers will eventually be able to access and turn on their phone's Performance Mode. The action comes about after Huawei was caught by AnandTech cheating on certain benchmark tests, include 3DMark. Some Huawei and Honor phones could detect the test and boost performance to improve the result. In response, 3DMark delisted the Huawei P20, P20 Pro, Nova 3, and Honor Play from its rankings. Explaining the issue, Huawei said, "The latest Huawei handsets leverage innovative technologies such as artificial intelligence to optimize resource allocation in a way so that the hardware can demonstrate its capabilities to the fullest extent, while fulfilling user demands across all scenarios." 3DMark says it is opposed to this approach, as it believes benchmark apps should be run as if they were any other app. Moving forward, Huawei will provide users with open access to Performance Mode — which boosts speeds at the expense of battery life — in the forthcoming EMUI 9.0 platform. Huawei says EMUI 9.0 will reach select phones, including the Mate 10 Pro and P20 Pro, later this fall.
---
Huawei today announced plans to tweak the graphics performance of its phones. The company will update a number of devices with what it calls GPU Turbo, a graphics processing technology that lets phones run GPU-intense apps, such as games, faster and more efficiently. Huawei claims that GPU Turbo optimizes system software and hardware resources to improve GPU efficiency by 60% while lowering power consumption by 30% thanks to its re-architected method for handling graphics. The end result is a noticeable upgrade in device performance without forcing users to buy a new phone in order to run the latest games and apps. Huawei plans to roll the update out to its flagship devices, the Mate 10, Mate 10 Pro, P20, and P20 Pro in August, with other devices to follow later in the year.
---
Best Buy is expected to drop products made by Huawei over the next few weeks, reports CNET. Citing a source familiar with Best Buy's plan, CNET says the company will sell through the stock of devices such as Huawei's smartphones that are already in its stores, but the electronics retailer will not replenish supplies of Huawei phones. Huawei has faced scrutiny from some in Washington over its ties to the Chinese government. Some believe the Chinese government could use Huawei handsets for espionage purposes. Earlier this year, government pressure led AT&T and Verizon Wireless to cancel plans to sell the Mate 10 Pro from Huawei, the company's flagship smartphone. The Mate 10 Pro is available to Americans online from retailers such as B&H Photo and Amazon. Huawei has been banned from selling telecommunications gear in the U.S. for some time. Neither Best Buy nor Huawei commented directly on the matter concerning smartphone sales.
---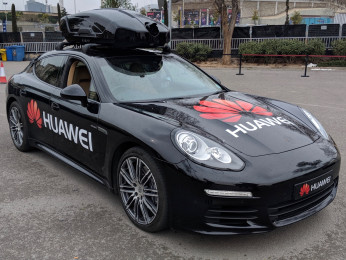 Huawei had some fun in Barcelona this year. The phone maker put the artificial intelligence inside its flagship Mate 10 Pro smartphone to use steering a Porsche around an obstacle course. Want to know what it was like for a phone to drive a car? We recount the experience here.
---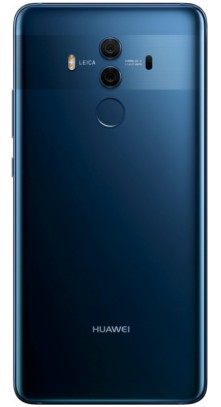 Huawei today starting taking orders for its Mate 10 Pro flagship smartphone. The handset is available for purchase online from a number of retailers, including Amazon, BestBuy, Microsoft, Newegg, and B&H. Those who preorder the Mate 10 Pro between now and February 17 will receive a $150 gift card from the associated retailer. The device itself costs $799 and comes in black, blue, gray, or copper. The Mate 10 Pro has a 6-inch 2:1 display, Kirin 970 processor with 6 GB of RAM, dual Leica cameras with portrait and monochrome modes, fingerprint reader, and Android 8 Oreo. The company had hoped to sell the device through U.S. carriers, but pressure from the government put the kibosh on carrier distribution deals. It is sold unlocked and is compatible with AT&T and T-Mobile. The Mate 10 Pro will ship starting February 18.
---
Verizon Wireless has cancelled any and all plans it had to sell handsets from Chinese phone maker Huawei due to pressure from the federal government, according to sources cited by Bloomberg. Verizon Wireless was on deck to sell Huawei's flagship device, the Mate 10 Pro, but has bowed to the government's wishes. AT&T bagged plans to sell the Mate 10 Pro earlier this month. Some members of the federal government label Huawei a threat and suggest it has ties to the Chinese government. Huawei is the third-largest maker of phones in the world, and the largest maker of telecommunications gear. While some U.S. network operators offer handsets from Huawei's rival ZTE, none use either Huawei's or ZTE's telecommunications gear. The news coincides with word that some in the Trump administration at one point sought to create a government-run, national 5G network in order to protect from supposed Chinese threats. The administration later said the proposal was never seriously considered. Verizon and Huawei declined to comment on Bloomberg's story regarding the Mate 10 Pro.
---
Some people who work for the U.S. government don't want AT&T and other firms doing business with Huawei, according to Reuters. Unnamed U.S. lawmakers are "urging" AT&T "to cut commercial ties to Chinese phone maker Huawei" due to national security concerns. The lawmakers in question suggested that AT&T cease working with Huawei on the development of the 5G network standard. Moreover, the lawmakers don't want AT&T or its discount subsidiary Cricket Wireless to sell Huawei handsets. The lawmakers, including members of the Senate and the House, further suggested that any U.S. firm doing business with Huawei may see its ability to do business with the U.S. government hindered. Earlier this month, AT&T canned plans to sell the Huawei Mate 10 Pro smartphone due to government pressure. The two companies were widely expected to kick off sales of the phone at the Consumer Electronics Show. The phone will still be made available to U.S. consumers directly from Huawei online. Neither AT&T nor Huawei commented on Reuters' story. Huawei is the world's third-largest supplied of handsets and the largest supplier of telecommunications gear. Reuters suggests the change in tone with respect to Chinese technology firms comes from the Trump Administration. The U.S. has recently blocked a handful of other Chinese acquisitions, and is actively seeking to prevent China Mobile from dipping its toe in the U.S. market. Last week, lawmakers introduced legislation that would prevent the U.S. government from using equipment or devices from Huawei and ZTE.
---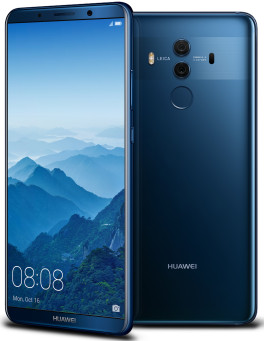 Huawei today announced a range of efforts it is taking to increase visibility for its Mate 10 Pro flagship smartphone. To start, the device will be available for pre-order between February 7 and February 17, with a ship date of February 18. The phone will retail for $799 and will be sold online, unlocked from Amazon.com, Best Buy, Newegg, B&H, and Microsoft. The phone will not be sold by any U.S. carriers, at least not in the near future, but it is compatible with the GSM-based networks of AT&T/Cricket and T-Mobile/MetroPCS. People who pre-order the phone during the initial 10-day window will receive a $150 gift card from the associated retailer. Huawei said it plans to increase its marketing in the U.S. in order to help sell the phone. To start, it has partnered with "Wonder Woman" actor Gal Gadot to serve as the brand's Chief Experience Officer. Gadot has long used Huawei phones, according to the company, and has offered the firm honest feedback over the years. Moreover, Huawei plans to increase its advertising budget in the U.S. to raise awareness of the brand and the Mate 10 Pro. It has already begun to put up billboards with the "the best phone you never heard of" slogan around the U.S. Huawei was expected to announced a distribution deal with AT&T this week, but the arrangement fell apart in recent days for unspecified reasons. Huawei is also making the Porsche Design Mate 10 variant available through the same channels as the standard version. The Porsche Design model costs $1,225.
---
AT&T will not sell the Huawei Mate 10 Pro smartphone, according to a report in the Wall Street Journal. Huawei was widely expected to announce a distribution deal with AT&T during its CES keynote address, scheduled for Jan. 9. The deal has collapsed for reasons unknown. Huawei has not yet been able to strike a carrier deal in the U.S., leaving it essentially shut out of the market. If and when it sells devices in the U.S., it generally does so through the open market through partners such as Amazon.com. The Mate 10 Pro is a flagship handset that Huawei has been selling abroad since late last year. Huawei didn't immediately comment on the matter. Official word may come from the company during its CES address later this week.
---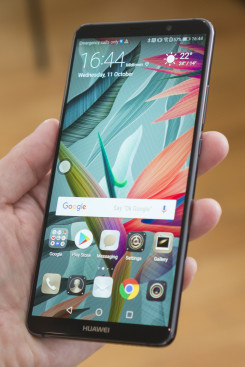 Huawei is taking aim at Apple, Samsung, and LG with its latest flagship handsets, the Mate 10 and Mate 10 Pro. These high-quality devices feature stunning hardware, top specs, and table-stakes features such as fingerprint readers. Huawei is banking on its NPU-based artificial intelligence to take the phones' dual camera systems to the next level. The Mate 10 and Mate 10 Pro run Android 8 Oreo with EMUI 8 from Huawei to take advantage of the powerful Kirin processor. Here are Phone Scoop's first impressions of Hauwei's new smartphones.
---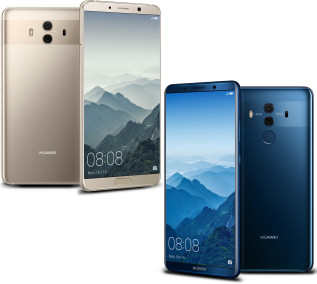 Huawei today announced the Mate 10 and Mate 10 Pro, the Chinese company's flagship smartphones heading into the end of the year. The Mate 10 (left) and Mate 10 Pro (right) are high-end devices with curved glass panels front and back, and a metal frame in between. Huawei created a distinct reflective band that runs across the rear of the phones to call out the cameras. The phones share nearly all features and primarily differ with respect to screen aspect ratio and resolution. Where the Mate 10 has a quad HD 5.9-inch LCD panel with a 16:9 aspect ratio, the Mate 10 Pro has an HD+ 6-inch OLED panel with an 18:9 aspect ratio. The Mate 10's fingerprint reader is located on the front and the phone supports microSD memory cards, where the Mate 10 Pro's fingerprint reader is on the back and the phone doesn't support memory cards. The phones rely on Huawei's new Kirin 970 processor, its homegrown 8-core CPU, which includes a 12-core GPU and dedicated neural network processing unit, or NPU. The NPU is primarily put to use with the camera, where it is able to recognize objects and adjust the camera's parameters accordingly. At launch, the Mate 10 and Mate 10 Pro will, for example, be able to recognize the difference between flowers and plants, or cats and dogs in order to more accurately capture photos. The phones feature a dual-camera system on the back with a 12-megapixel RGB sensor and a 20-megapixel monochrome sensor, both at f/1.6. Some of the tools include scene recognition, bokeh, optical image stabilization, and AI-assisted focusing and zooming. The front camera has an 8-megapixel sensor at f/2.0. The phone will launch with Android 8 Oreo and EMUI 8, a new version of Huawei's Android skin. EMUI 8 was built to take advantage of the Kirin 970 and supports advanced split screen multitasking and a full desktop computing experience sans dock. The Mate 10 and Mate 10 Pro also include 4,000mAh batteries with rapid and wireless charging, NFC, Bluetooth 4.2, GPS, WiFi, high-definition audio, USB-C, and high-speed LTE. The Mate 10 is available only with 4 GB of RAM and 64 GB of storage, while the Mate 10 Pro is available in either a 4 GB / 64 GB or 6 GB / 128 GB configuration. Pricing and availability was not disclosed.
---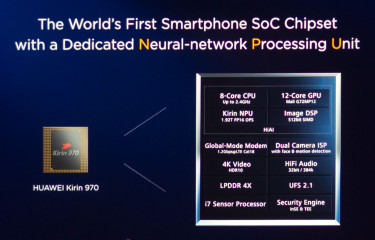 Today at IFA in Berlin, Huawei announced its next flagship mobile SoC, the Kirin 970. Huawei claims the chip is the first to have a dedicated co-processor for AI, which it calls an NPU (Neural-network Processing Unit). The NPU allows AI tasks such as image recognition to run 5-25 times faster than chips without an NPU, and with up to 50x better battery life. The NPU supports a variety of AI platforms, including Google's TensorFlow, Facebook's Caffe2, and Android NN. The Kirin 970 also includes a Cat. 18 LTE modem supporting up to 1.2 Gigabit speeds. It has eight CPU cores (4 A73 at 2.4 GHz and 4 A53 at 1.8 GHz) and 12 GPU cores, plus a dual ISP. It has 5.5 billion transistors and is based on a 10nm process for high energy efficiency. The company also announced that its Mate 10 and Mate 10 Pro device with "full display" will be powered by the Kirin 970 chip. The Mate 10 and Mate 10 Pro will be announced October 16th in Munich.
---