Huawei Announces Kirin 970 With AI Co-Processor
Article Comments 1
Sep 2, 2017, 7:47 AM by Rich Brome @rbrome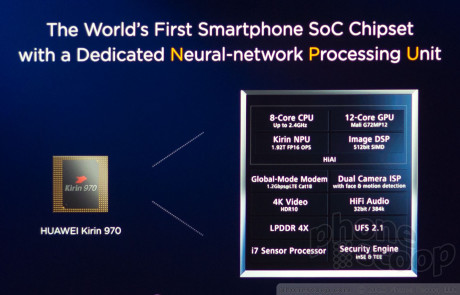 Today at IFA in Berlin, Huawei announced its next flagship mobile SoC, the Kirin 970. Huawei claims the chip is the first to have a dedicated co-processor for AI, which it calls an NPU (Neural-network Processing Unit). The NPU allows AI tasks such as image recognition to run 5-25 times faster than chips without an NPU, and with up to 50x better battery life. The NPU supports a variety of AI platforms, including Google's TensorFlow, Facebook's Caffe2, and Android NN. The Kirin 970 also includes a Cat. 18 LTE modem supporting up to 1.2 Gigabit speeds. It has eight CPU cores (4 A73 at 2.4 GHz and 4 A53 at 1.8 GHz) and 12 GPU cores, plus a dual ISP. It has 5.5 billion transistors and is based on a 10nm process for high energy efficiency. The company also announced that its Mate 10 and Mate 10 Pro device with "full display" will be powered by the Kirin 970 chip. The Mate 10 and Mate 10 Pro will be announced October 16th in Munich.
source: Huawei
Kirin 970
I truly hope this gives Snapdragon and Samsung a true run for the money.
Their duopoly in the Android market needs more competition so price-points can be more consumer friendly .