Nokia 6
Info Photos News Forum 5 Hands-On › Our Review ›
HMD Global today said it has raised $100 million in funding in order to help the company grow. HMD Global is the sole licensee of the Nokia brand and makes and sells Nokia-branded phones that run Google's Android operating system. The company brought its first phones to market in early 2017 and has seen modest success in overseas markets. The company claims to have sold more than 70 million phones in over 80 countries at some 250,000 retail outlets. This year, HMD Global plans to "aggressively expand its portfolio of Nokia smartphones" while also finding more places in which it can sell those phones. "It is our ambition to deliver great smartphones that delight our fans while staying true to our Finnish roots and the hallmarks that the Nokia brand has always been known for," said Florian Seiche, CEO of HMD Global. "We aim to be among the top smartphone players globally and our success to date gives us the confidence to further continue on a growth path in 2018 and beyond." The company has released 11 phones to date. HMD Global was created by former Nokia employees. Its phones are manufactured in China. The most recent Nokia phone made available to U.S. buyers is the Nokia 6 (2018), which can be purchased from Amazon.
---
HMD Global today said that it is rolling out the Android 8.1 Oreo update to the Nokia 5 and Nokia 6 phones. The company has been beta testing Oreo for these devices for the last few months. The update is available over the air. The Nokia 5 and Nokia 6 are inexpensive Android phones released by HMD Global last year. They are available unlocked from Amazon.com.
---
HMD Global is delivering an Oreo treat to owners of the Nokia 5 and Nokia 6 smartphones. The company said it has begun pushing Android 8 to both handsets. Android 8 Oreo includes notification dots, picture-in-picture, quicker boot times, autofill passwords, Google Play Protect scans, and the January 2018 security patch. HMD Global said the update will roll out in phases over the next few weeks. HMD Global makes and markets phones under the Nokia brand.
---
HMD Global has made Android 8 Oreo available in beta form to the Nokia 6 smartphone. As expected, the beta software adds notification dots, picture-in-picture, autofill passwords, quicker boot times, and the latest security patch. Nokia 6 owners will need to join the Nokia Phones Beta Lab in order to gain access to Android 8. HMD Global didn't say how long it will test Android 8 on the Nokia 6 before a final release is made available. The company recently tested Oreo on the Nokia 8 and later made the update available in full. The Nokia 6 is HMD Global's mid-range handset with a 5.5-inch screen, NFC, fingerprint reader, 3 GB of RAM, 16-megapixel camera, and memory card slot.
---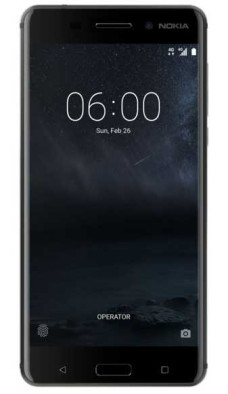 HMD Global, the company that makes Nokia-branded handsets, today said it will sell the Nokia 6 smartphone in the U.S. via Amazon. The 6 is the best of the three Nokia Android phones currently available, though it still falls in the entry-level segment. The Nokia 6 runs Android 7 Nougat, has a 5.5-inch full HD screen, includes stereo speakers with Dolby Atmos sound, relies on a Snapdragon 430 processor with 3 GB of RAM, and a boasts a 16-megapixel main camera with an 8-megapixel front camera. It packs a 3,000mAh battery, as well as Bluetooth, GPS, NFC, WiFi, fingerprint sensor, 3.5mm headphone jack, and microUSB. LTE 4G support for U.S. networks is limited at best. It supports LTE Bands 2, 3, 4, 7, 12/17, 28, 38. It is only partially compatible with AT&T's 4G network because it is missing LTE Bands 29 and 30. The Nokia 6 is more compatible with T-Mobile's LTE 4G network. The matte black and silver color options are expected to go on sale in July for $229, with the blue and copper colors arriving later.
---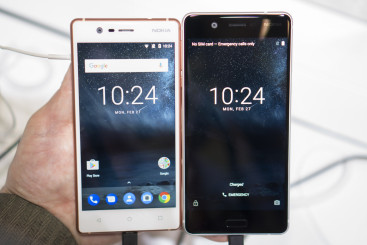 Nokia is back in the phone game, now with proper Android smartphones. Their strategy is affordable, mass-market phones with premium design and construction. They have three models in this lineup, all with solid metal bodies, generic Android software, and low, low prices. We checked them out. Read on for our impressions.
---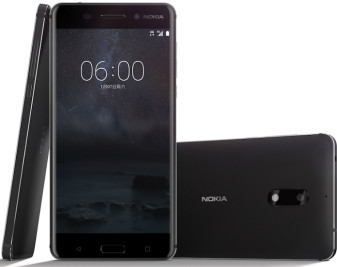 HMD Global this week announced the Nokia 6, the first smartphone to fall under the company's plan to resurrect the Nokia brand. HMD Global is a Finland-based business with the sole license to design smartphones using the Nokia brand. Foxconn is HMD Global's exclusive manufacturer. The Nokia 6 is milled from a single block of aluminum and then anodized 2 times over 10 hours to ensure a smooth finish. The device has a 5.5-inch full HD screen with 2.5D Gorilla Glass. The Nokia 6 is powered by a Snapdragon 430 processor with 4 GB of RAM, 64 GB of storage, and Qualcomm's X6 LTE modem. HMD says the main camera has a 16-megapixel sensor at f/2.0 with automatic scene detection and phase-detection autofocus, while the selfie camera has an 8-megapixel sensor. Dual amplifiers provide plenty of audio power and Dolby Atmos software helps shape the sound. The Nokia 6 will ship with Android 7 Nougat. Pricing is going to be set around $245. The device will ship during the early months of 2017. HMD Global did not say what LTE bands the phone supports, but it will only be sold in a China.
---