Nokia 3220
Info Photos News Forum 100+ Reviews 69
Philips, together with Cingular, Nokia and Chase Bank, is bringing contactless payment to the Philips arena in Atlanta. Thrashers and Hawks season ticket holders with a Cingular and Chase account can then use a Nokia 3220 with an NFC shell to pay for items or download content at over 150 concession stands and kiosks around the arena. Near Field Communication (NFC) is a technology similar to RFID, but only works when the chip is within a few inches of the reader. It can work as a credit card, debit account, or a myriad of other functions such as train ticket or door key. FeLiCa, a technology based on NFC, has already been adopted as the standard contactless system by all Japanese carriers, banks, and many transportation systems as well. Previously Motorola conducted NFC trials in Florida with the help of Mastercard, which brands NFC as "PayPass."
---
Nokia has introduced an enhanced version of their Near Field Communication (NFC) shell for the 3220. The shell will allow users to pay for items using debit or credit accounts as well as act as an electronic ticket, just by touching the shell to an NFC reader. Both MasterCard and Visa have worked with Nokia to support NFC. Along with other credit banks and NFC creators Sony and Philips, they have made sure it will be a common standard, and is fairly easy for business to add as a payment or ticket technology. Users in Japan can already pay for items, board trains, and even open doors using NFC enhanced phones.
---
Nokia today announced the Nokia NFC Shell for the Nokia 3220. This new accessory enables to the Nokia 3220 to perform "digital wallet" functions via NFC. NFC is a very-short-range wireless (contactless) technology designed to connect devices no more than a few centimeters apart. The technology is similar to the FeliCa technology deployed recently by NTT DoCoMo and Sony in Japan, except that NFC technology is an international standard created by the NFC Forum. Philips, Nokia, and Sony are all charter members of the NFC Forum.
---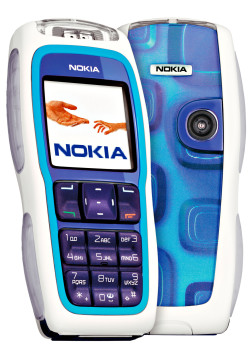 Nokia today announced the 3220 camera phone and a new Xpress-on™ Fun Shell accessory. The 3220 is a tri-band GSM phone with pulsating light effects, custom cut-out covers, and a VGA camera that records video clips. The 3220 is also Nokia's first mass-market phone with a 65,536-color active-matrix LCD display. The optional Xpress-on™ Fun Shell for the 3220 adds a tilt sensor for controlling games, and Light Messaging, which allows users to "write" a message in mid-air by waving the phone side to side. The 3220 and Fun Shell will be available globally this summer, including a GSM 850/1800/1900 version for the Americas.
---