Motorola Moto Z Play Droid
Info Photos News Forum 9 Reviews 3
Verizon Wireless is distributing the Android 7 Nougat system update to the Moto Z Droid Play handset. Nougat includes several marquee features, such as native split-screen multitasking and more granular control over the home screen experience. The Moto Z Droid Play smartphone scores a number of new features with the improved OS. Some include fast app switching, bundled notifications, expanded emoji selection, data saver, and improved doze mode. Nougat users will also enjoy greater control over notifications, the Quick Settings panel, and the main settings tools. Android 7 Nougat is free to download over WiFi. The update is being rolled out over the next few days.
---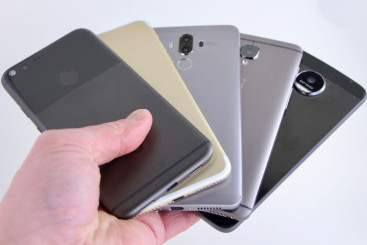 Unlocked smartphones let you use your device on the carrier of your choice, whether at home or travelling overseas. Though unlocked phones tend to be pricey, you can't really put a price on the freedom they offer. Here are our picks for the five best flagship-class unlocked phones available right now.
---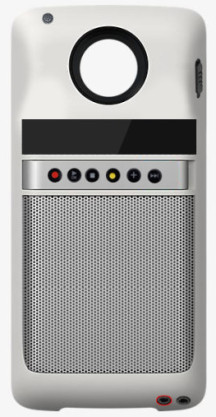 Motorola today highlighted a dozen developers whose ideas have been accepted as potential Moto Mods. Motorola has been working with developers for several months to bring more Mods to the modular ecosystem compatible with its Z-branded smartphones. The 12 finalists have launched crowd-funding campaigns via Indiegogo and Motorola expects to name the top 10 designs in March. Some of the Mods include a wireless charger, solar charger, digital walkie-talkie, digital recorder (pictured), smart wallet, smart remote, and more. The Mods range widely in price and the campaigns vary between 30 and 60 days. As per the norm, early backers will receive a discount off the expected full retail price.
---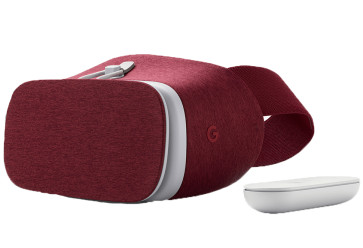 Google has added a variety of new Daydream virtual reality applications and games to the Google Play Store. People who own the Pixel, Pixel XL, Moto Z, and Moto Z Force can access and download the new content directly from their phone. Some of the new titles include Lego BrickHeadz, HBO Now and HBO Go, Netflix, NextVR, and Need for Speed. Last, both the snow and crimson Daydream View headsets are more widely available online in the U.S., U.K., and Australia. The View costs $79.
---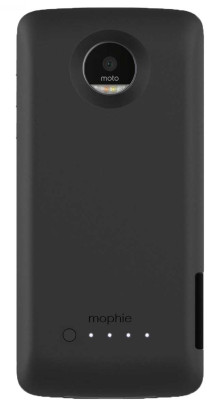 Motorola today took the wraps off two additional Moto Mods for its Moto Z series of handsets. The first mod is a juice pack from Mophie (pictured) that packs a 3,000mAh power cell and 15W USB-C charging. A series of LED lights indicates how much power is within the juice pack and both the phone and the juice pack will charge when attached to one another and plugged in. The Mophie juice pack is available for preorder for $80 from Verizon Wireless' web site. The second mod is an in-car dock from Incipio. The $65 accessory holds, charges, and connects Moto Z handsets to most cars via the air conditioning fins. When docked, the phone automatically launches Android Auto for safer in-car use. Motorola didn't say when the two new mods will ship. The company did mention that it intends to release an average of four new mods per quarter moving through 2017.
---
The Moto Z series of handsets might be given the power of Project Tango through a modular accessory, according to Motorola CEO Aymar de Lencquesaing. Speaking to journalists today Lencquesaing said, "The tablet folks did a phablet and worked with Google, the Tango team, to come out with a Tango phablet." That device is the Lenovo Phab2 Pro. "Going forward, we'll have to address as a group how do we reconcile the products that are at the fringe? We're likely to have a Tango module to basically enable the Z to have Tango functionality." Project Tango as realized on the Phab2 Pro uses a series of cameras to measure the environment and then map over it with augmented reality content. Lencquesaing did not say if a module for the Z is already in the works, nor when such a module might be released.
---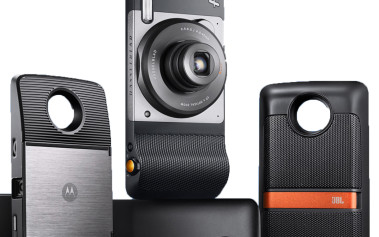 Motorola today said it has partnered with crowd-funding service Indiegogo in order to improve the selection of Moto Mods for its Z-series smartphones. Motorola is encouraging creators to share their Moto Mods ideas through its Moto Mods Developer contest. Motorola will reward select entrants with the Moto Mods Developer Kit, which includes a Moto Z phone. With the kit in hand, developers can then bring their prototypes to fruition with a small amount of help from Motorola. Mods that reach the working prototype stage can then apply to Indiegogo for initial funding. Motorola said it and partner Verizon Wireless will assist developers that make it this far by promoting the Indiegogo campaigns. Ten finalists will then have a chance to pitch their idea to Motorola and Verizon directly in Chicago. Winners will move on to production, shipping, and marketing, all of which will be aided in part by Motorola and Verizon. The Moto Z Play Droid, Moto Z, and Moto Z Force Droid are all compatible with Moto Mods, which are magnetic snap-on accessories. So far, some of the available Mods include a speaker from JBL, a camera from Hasselblad, and several battery packs.
---
Lenovo today announced a workforce reduction that will see close to 2% of the company's 55,000 employees losing their jobs. Most of the more-than-1,000 cuts impact Lenovo-owned Motorola. Lenovo said the job cuts are "part of the ongoing strategic integration between Lenovo and its Motorola smartphone business." The company is still working to align its businesses and streamline its product portfolio. The company claims it is "making adjustments in other areas of the business" to manage costs and improve efficiencies. It insists the job cuts are necessary to ensure the company's long-term future. Lenovo said it "is absolutely committed to Chicago and we plan to maintain our Motorola Mobility headquarters there" where it will pursue research and development for its smartphone business. "We expect to take advantage of local talent to continue developing Moto products there." Lenovo bought Motorola from Google in 2014 for $2.91 billion. It has already cut more than 3,000 people from Motorola's payroll. Motorola's most recent handsets are the Moto Z, Z Force, and Z Play, which are sold unlocked as well as via Verizon Wireless under the Droid brand.
---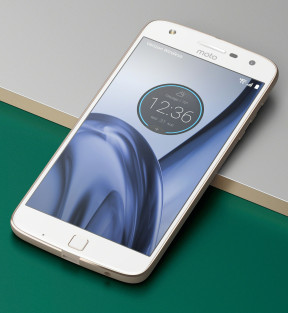 Lenovo today said it will offer unlocked GSM variants of the Moto Z and Moto Z Play handsets later this fall. Pre-orders will kick off on September 15, with availability expected in early October. The Moto Z will cost $700 and the Moto Play will cost $450. Both devices will be compatible with the Moto Mods ecosystem of attachable modules.
---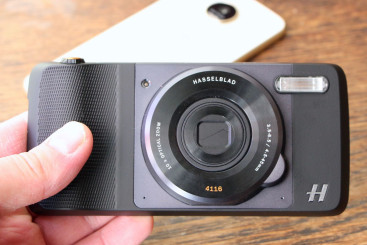 Here are our first impressions of the mid-range Lenovo Moto Z Play Droid smartphone and the new True View camera mod from Hasselblad.
---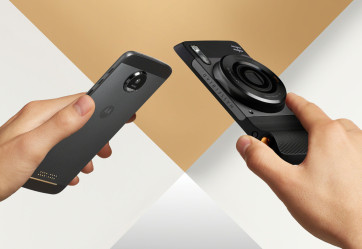 Hasselblad and Motorola today announced the Hasselblad True Zoom mod for the Moto Z Play Droid. Like other Moto Mods, the Hasselblad True Zoom attaches to the rear of the Z Play via magnets. The Hasselblad is a full camera that covers and replaces the Z Play's built-in camera. The True Zoom has its own 12-megapixel sensor with 10x optical zoom lens and optical image stabilization for photos. It can capture full HD video with electronic image stabilization. The mod includes a grip for easy holding, a hardware zoom dial, and physical shutter button. Moreover, the Hasselblad True Zoom has a xenon flash for brighter lighting. Last, the Hasselblad True Zoom has a unique camera application for the Z Play that allows it to shoot in RAW mode. The mod will be compatible with the Z Play Droid out of the box. Motorola says the Z Droid and Z Droid Force will receive a software update on or about September 15 that adds compatibility with the mod. The Hasselblad True Zoom will be available in the U.S. for pre-order starting September 8 and in Verizon stores September 15 for $249.99. For a limited time, when you buy a Moto Mod, Verizon is offering 50% off another Mod of equal or lesser value. The Hasselblad True Zoom will also be sold on Motorola.com for $299.
---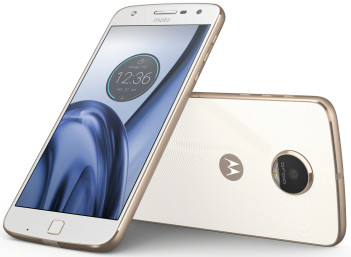 Motorola today announced the Z Play Droid, a more affordable Android smartphone that is compatible with the company's Moto Mods system of modular attachments. The Z Play Droid is almost indistinguishable from the Z Force Droid: it has a thick profile with a metal frame and glass front panel. The device scales back specs in order to reduce the price. The Z Play Droid has a 5.5-inch full HD screen. It is powered by a Snapdragon 625 processor with eight cores clocked at 2 GHz. The processor is joined by 3 GB of RAM and 32 GB of storage. The Z Play Droid includes a 16-megapixel main camera with laser autofocus and an aperture of f/2.0, while a wide-angle, 5-megapixel selfie camera with LED flash is around front. Like the Z Droid and Z Force Droid, the Z Play Droid has a fingerprint reader, water-repellant coating, and USB-C port. The Z Play, however, adds a 3.5mm headset jack. The Z Play is the first of the new Droids to be compatible with the new Hasselblad True Zoom camera module, which offers 10x optical zoom. The Moto Z Play Droid will be available in the U.S. beginning September 8 at Motorola.com and at Verizon for $17 per month on a Verizon device payment plan. The full retail price is $408.
---